FAKTOR YANG BERHUBUNGAN DENGAN NIAT DAN PERILAKU SANTRI PESANTREN AL FITRAH UNTUK TERLIBAT AKTIF DALAM POSKESTREN
Faishal Farisy

STIKES WIDYAGAMA

Pulung Siswantara

STIKES WIDYAGAMA
Keywords:
Niat dan Perilaku aktif, Poskestren, Theory of Planned Behavior
Abstract
Poskestren adalah wujud Upaya Kesehatan Bersumberdaya Masyarakat di pondok pesantren yang memeberikan pelayanan kesehatan dasar yang difokuskan pada pelayanan promotif, preventife, rehabilitative (melindungi, mencegah memelihara kesehatan) menuju perilaku Hidup Bersih Sehat (PHBS). Namun demikian, poskestren ternyata belum sepenuhnya dimanfaatkan oleh warga yang ada di pesantren terutama para santri. Penelitian ini bertujuan untuk mengetahui faktor-faktor yang berhubungan dengan pemanfaatan poskestren oleh santri di poskestren Pondok Pesantren Al Fitrah Kota Surabaya. Penelitian ini termasuk jenis penelitian  kuantitatif dengan  pendekatan  Cross  Sectional.  Sampel  sebanyak  93  respnden. Berdasarkan hasil dari analisis statistik terhadap 93 responden menunjukkan bahwa santri yang mempunyai pengetahuan yang baik (60,2%), mempunyai sikap yang baik (94,6%), mempunyai norma subjektif yang baik (74,2%), mempunyai kontrol perilaku yang dirasakan baik (65,6%), mempunyai niat yang baik untuk terlibat aktif dalam Poskestren (75,3%) dan perilaku aktif terlibat aktif dalam Poskestren baik (74,2%) . Berdasarkan uji statistic dengan menggunakan Theory of Planned Behavior terdapat hubungan yang signifikan antara sikap dan kontrol perilaku terhadap niat serta kontrol perilaku dan niat terhadap perilaku dengan nilai P Value<0,05. Berdasarkan hasil penelitian diatas, disarankan bagi Poskestren perlunya melakukan usaha-usaha untuk meningkatkan pemanfaatan poskestren berupa : memberikan informasi mengenai tujuan, peran dan fungsi poskestren, serta melakukan usaha-usaha meningkatkan akses pelayanan poskestren kepada para santri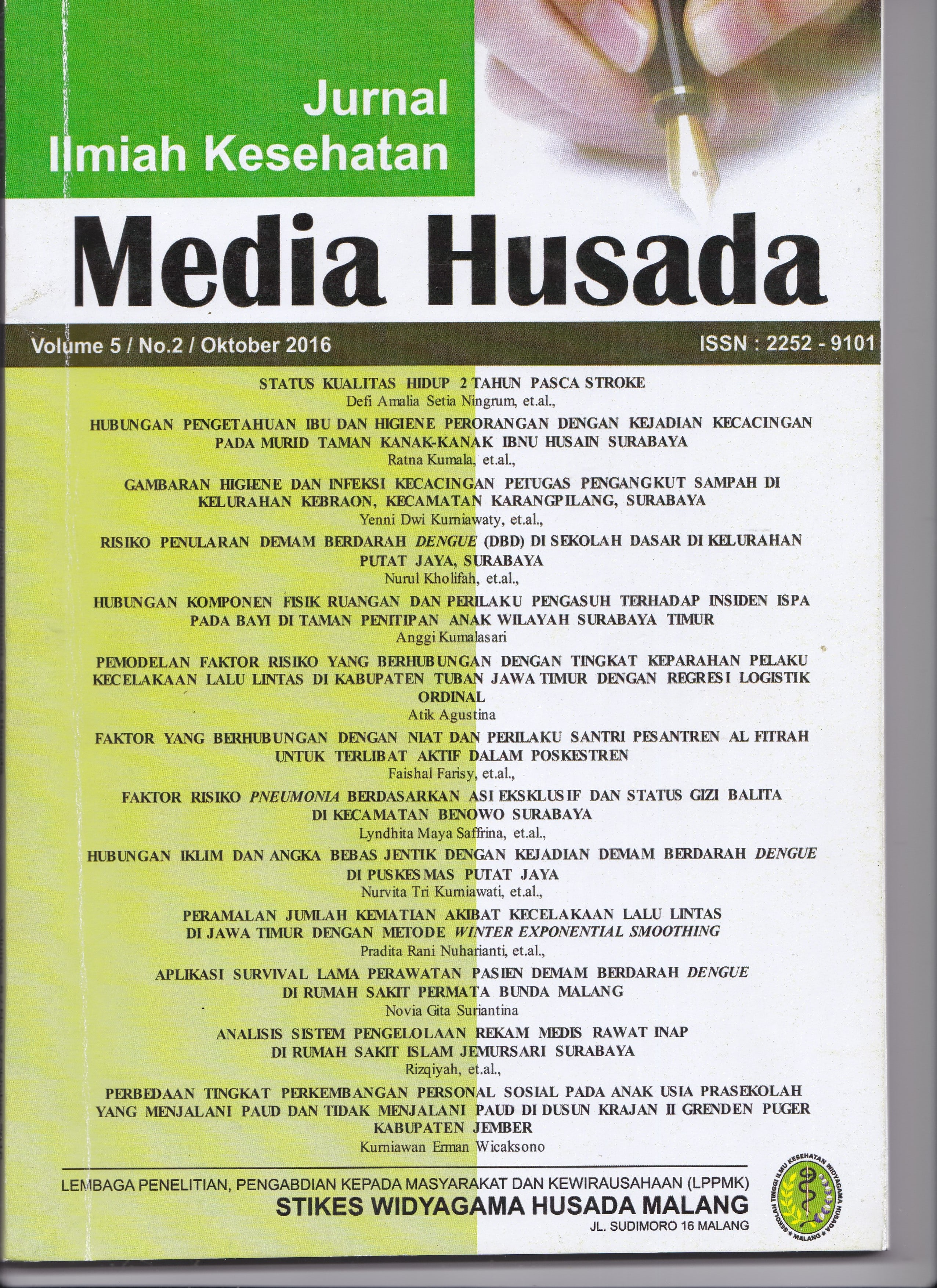 How to Cite
FarisyF., & SiswantaraP. (2016). FAKTOR YANG BERHUBUNGAN DENGAN NIAT DAN PERILAKU SANTRI PESANTREN AL FITRAH UNTUK TERLIBAT AKTIF DALAM POSKESTREN. Jurnal Ilmiah Kesehatan Media Husada, 5(2), 129-142. https://doi.org/10.33475/jikmh.v5i2.173
The authors who publish their articles in Jurnal Ilmiah Kesehatan Media Husada must approve the copyright statement as follows :
1. The authors agree to automatic transfer of the copyright to the publisher
2. All material contained in this site is protected by law.
3. If you find one or more articles contained in the journal that violate or potentially infringe your copyright, please contact us via email lppmkwidyagamahusada@ac.id
4. The formal legal aspect of access to any information and articles contained in this journal site refers to the terms of the licensed under a Creative Commons Attribution 4.0 International License. . This allows authors and others to share (copy and redistribute the material in any medium or fomat) and adapt (remix, transform, and build upon the material) for non-commercial purposes.
4. All Information contained in the journal is academic. The journal is not liable for any losses incurred by misuse of information from this site.