ANALISIS IMPLEMENTASI PROGRAM KELAS IBU HAMIL OLEH BIDAN PUSKESMAS DI KOTA MALANG
Jiarti Kusbandiyah

Stikes Widyagama husada
Keywords:
implementation, class, pregnant
Abstract
Maternal Mortality Rate ( MMR ) in Malang, East Java, is higher than that in 2010. (90.43). K4 Coverage in Malang decreased from 98.7 % in 2009 to 87.1 % in 2011 and is still below the target ( 95 % ) . Efforts to improve the coverage of K4 has been implemented since 2009 through the class of pregnant women but has yet to show optimal results. The results of preliminary studies indicate that the implementation class of pregnant women has not been going well. The purpose of this study was to analyze the factors that affect the implementation class of pregnant women by midwives clinic in the city of Malang . This research is an observational cross-sectional approach. Subjects were 25 midwives who organizes classes for pregnant women. Data were collected by interviews using a structured questionnaire and observation sheet. Bivariate analysis performed with the Fisher Exact test correlation, and multivariate logistic regression. The results showed the class of pregnant women has not been executed well by 40 % of respondents. Standards and unclear policy goals for 32 % of the respondents, the resources have not been adequate for 36 % of respondents, communication between organizations is not going well for the 60 % of respondents, characteristics of the implementing agencies have not been well for 72 % of the respondents and the disposition has not been good by 32 % of respondents. There is a relationship together between standard and policy objectives as well as the disposition of the class implementation to the implementation of programs of pregnant women. To correct class implementation pregnant women need to be disseminated more intensive classroom guidance of pregnant women , include independent midwife to hold classes for pregnant women as well as motivational enhancement midwife attitude towards the class to be more positive pregnant women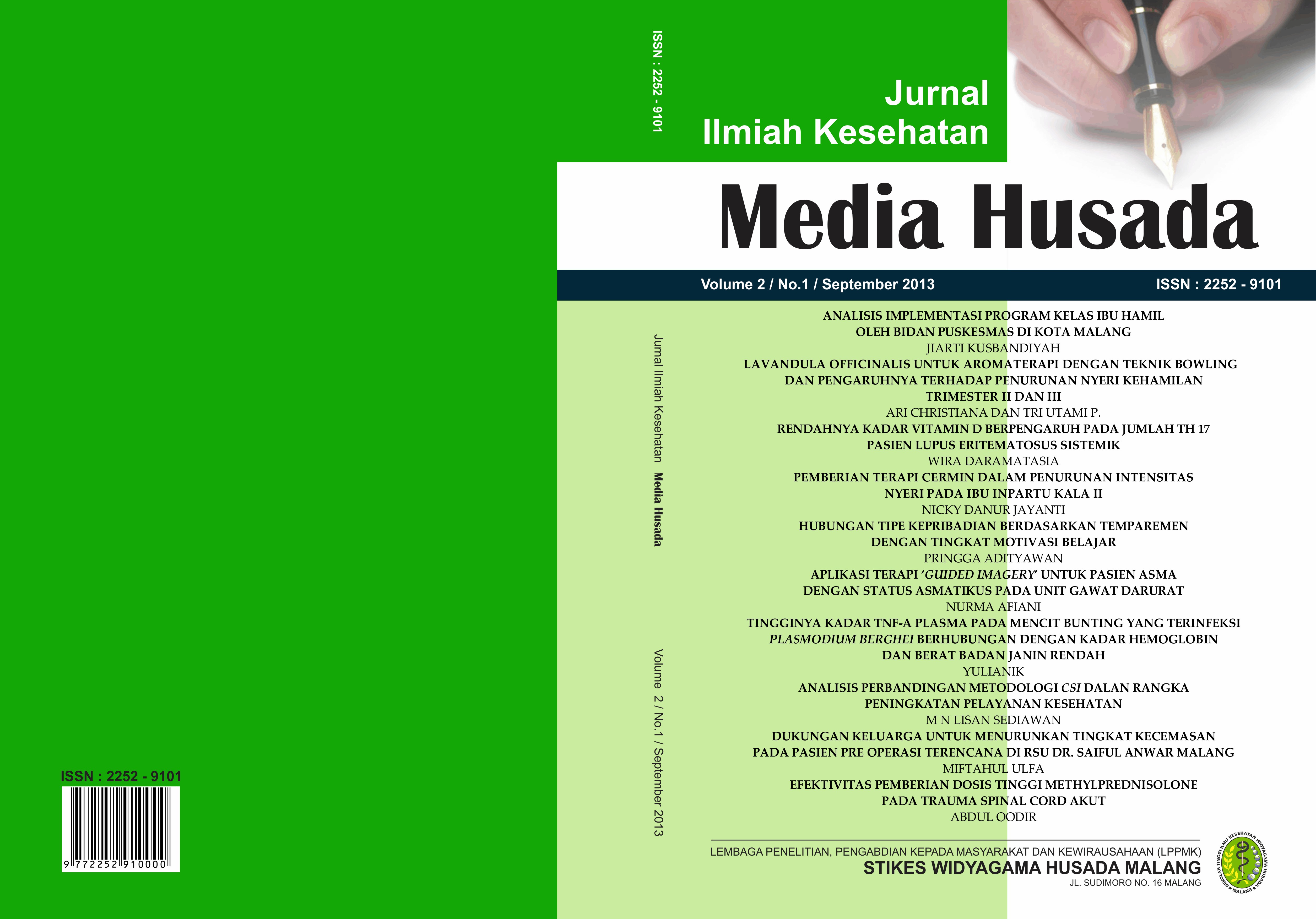 How to Cite
KusbandiyahJ. (2013). ANALISIS IMPLEMENTASI PROGRAM KELAS IBU HAMIL OLEH BIDAN PUSKESMAS DI KOTA MALANG. Jurnal Ilmiah Kesehatan Media Husada, 2(1), 1-9. https://doi.org/10.33475/jikmh.v2i1.94
The authors who publish their articles in Jurnal Ilmiah Kesehatan Media Husada must approve the copyright statement as follows :
1. The authors agree to automatic transfer of the copyright to the publisher
2. All material contained in this site is protected by law.
3. If you find one or more articles contained in the journal that violate or potentially infringe your copyright, please contact us via email lppmkwidyagamahusada@ac.id
4. The formal legal aspect of access to any information and articles contained in this journal site refers to the terms of the licensed under a Creative Commons Attribution 4.0 International License. . This allows authors and others to share (copy and redistribute the material in any medium or fomat) and adapt (remix, transform, and build upon the material) for non-commercial purposes.
4. All Information contained in the journal is academic. The journal is not liable for any losses incurred by misuse of information from this site.