Kajian Pustaka Tentan Apoptosis Pada Kehamilan Normal dan Abnormal
Zainabur Rahmah

Universitas Islam Malang
Keywords:
apoptosis, kehamilan, normal, abnormal
Abstract
Apoptosis terjadi selama kehamilan normal dan abnormal. Apoptosis telah ditunjukkan terjadi di dalam smooth muscle cell (VSMC) membran desidua dan membran amnion. Tujuan dari makalah ini adalah untuk menentukan mekanisme apoptosis smooth muscle cell (VSMC), desidua dan membran ketuban pada kehamilan yang normal dan abnormal. Apoptosis pada kehamilan normal VSMC mensekpresikan TRAIL (DR4 dan DR5) yang menyebabkan apoptosis pada VSMC terkait dengan renovasi arteri spiralis uterus pada trimester pertama kehamilan. Apoptosis pada desidua diinduksi oleh hormon steroid seperti estrogen, progesteron dan hCG sehingga meningkatkan regulasi FasL dalam desidua basalis yang memainkan peran dalam proses implantasi. Apoptosis pada membran ketuban ada dua jalur yaitu jalur kematian reseptor dan jalur mitokondria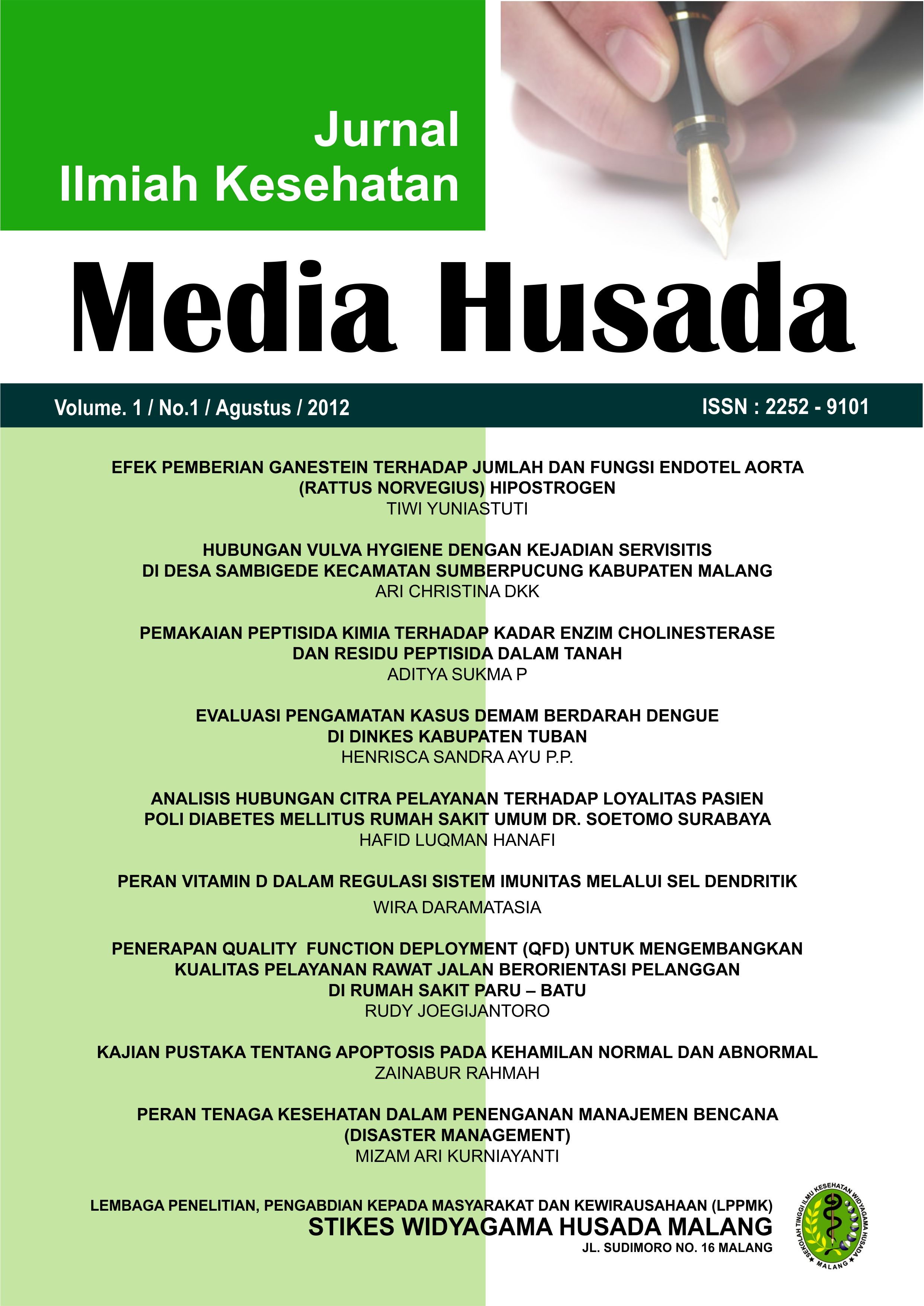 How to Cite
RahmahZ. (2012). Kajian Pustaka Tentan Apoptosis Pada Kehamilan Normal dan Abnormal. Jurnal Ilmiah Kesehatan Media Husada, 1(1), 77-84. https://doi.org/10.33475/jikmh.v1i1.85
The authors who publish their articles in Jurnal Ilmiah Kesehatan Media Husada must approve the copyright statement as follows :
1. The authors agree to automatic transfer of the copyright to the publisher
2. All material contained in this site is protected by law.
3. If you find one or more articles contained in the journal that violate or potentially infringe your copyright, please contact us via email lppmkwidyagamahusada@ac.id
4. The formal legal aspect of access to any information and articles contained in this journal site refers to the terms of the licensed under a Creative Commons Attribution 4.0 International License. . This allows authors and others to share (copy and redistribute the material in any medium or fomat) and adapt (remix, transform, and build upon the material) for non-commercial purposes.
4. All Information contained in the journal is academic. The journal is not liable for any losses incurred by misuse of information from this site.