Efek Pemberian Ekstrak Biji Jintan Hitam (Nigella Sativa) Terhadap Konsentrasi GLUT-4 Pada Tikus Putih (Rattus Norvegicus) Strain Wistar Model Diabetes Melitus Tipe 2
Efta Triastusi

Meutia Tamimi Auli

Ema Pristi Yunita
Keywords:
Diabetes Melitus tipe 2 (DM tipe 2), pakan tinggi kalori, STZ 30mg/kgBB, ekstrak biji jintan hitam, konsentrasi GLUT-4
Abstract
Diabetes Melitus (DM) merupakan masalah yang banyak terjadi di negara berkembang, salah satunya adalah di Indonesia.DM tipe 2 ditandai dengan keadaan resistensi insulin yang dapat terjadi karena penurunan sintesis dan translokasi GLUT-4 ke permukaan sel, hal tersebut disebabkan oleh hambatan aktivitas AMPK di jaringan otot karena produksi TNF-α yang berlebihan.  Biji  jintan  hitam  mengandung thymoquinone  yang memiliki  aktivitas  sebagai antiinflamasi. Penelitian ini bertujuan untuk mengetahui efek ekstrak biji jintan hitam terhadap konsentrasi GLUT-4 di jaringan otot. Desain penelitian ini adalah true experimentaldengan sampel 25 ekor tikus putih jantan strain Wistar model DM tipe 2 yang dibagi ke dalam 5 kelompok yaitu kontrol negatif (10% tween 80), kontrol positif (metformin 75 mg/kgBB), 3 kelompok mendapat ekstrak biji jintan hitam dengan dosis yang berbeda (24 mg/kgBB, 48 mg/kgBB, dan 96 mg/kgBB). Induksi DM tipe 2 dilakukan selama 2 bulan dengan menggunakan pakan tinggi kalori yang mengandung 10% lemak babi dan 20% sukrosa serta injeksi STZ 30 mg/kgBB, lalu dilakukan terapi selama 1 bulan. Konsentrasi GLUT-4 diukur dengan menggunakan ELISA, hasilnya tidak terdapat perbedaan konsentrasi GLUT-4 yang signifikan antar kelompok (ANOVA, p > 0,05).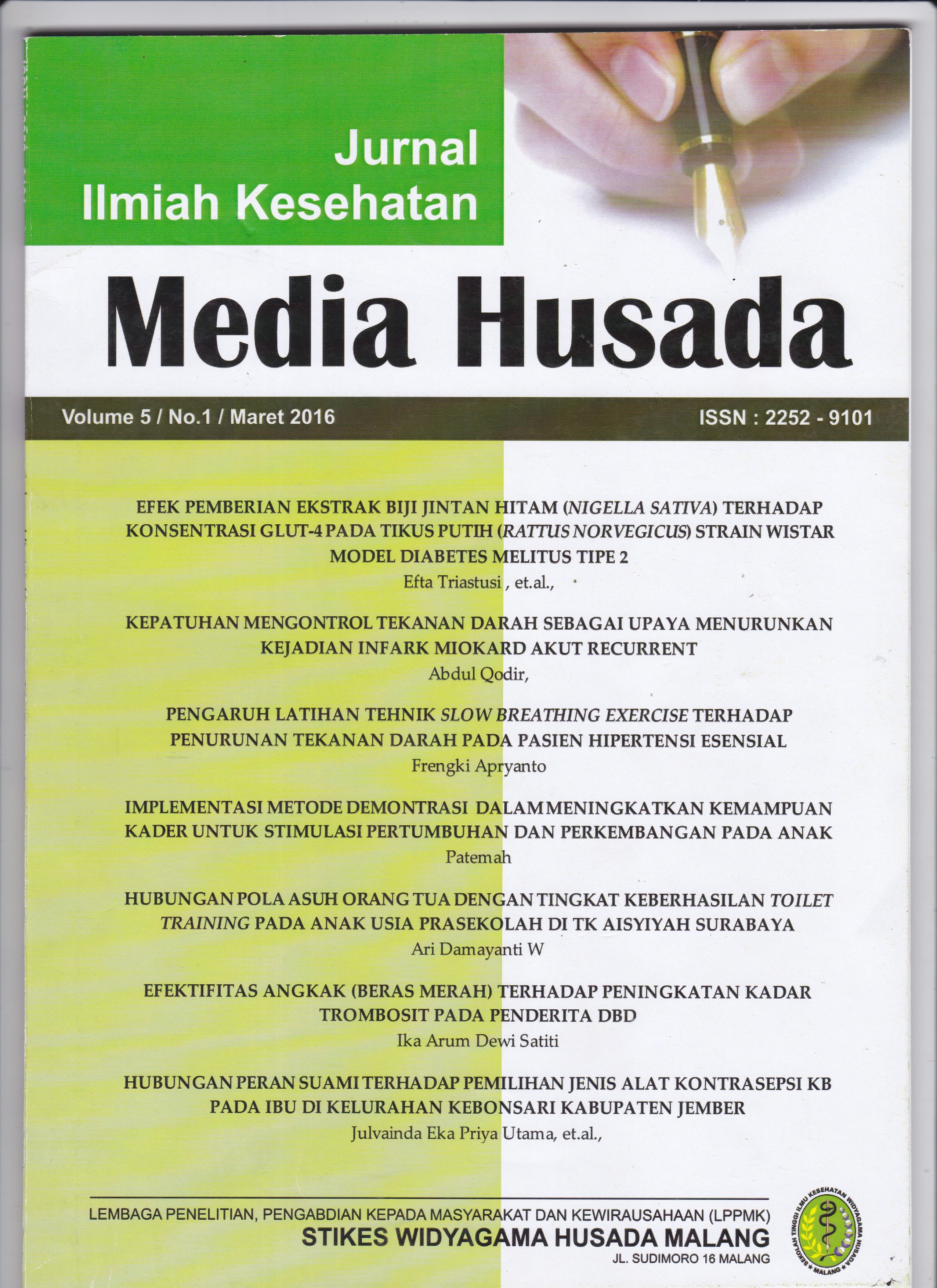 How to Cite
TriastusiE., AuliM., & YunitaE. (2016). Efek Pemberian Ekstrak Biji Jintan Hitam (Nigella Sativa) Terhadap Konsentrasi GLUT-4 Pada Tikus Putih (Rattus Norvegicus) Strain Wistar Model Diabetes Melitus Tipe 2. Jurnal Ilmiah Kesehatan Media Husada, 5(1), 01-10. https://doi.org/10.33475/jikmh.v5i1.84
The authors who publish their articles in Jurnal Ilmiah Kesehatan Media Husada must approve the copyright statement as follows :
1. The authors agree to automatic transfer of the copyright to the publisher
2. All material contained in this site is protected by law.
3. If you find one or more articles contained in the journal that violate or potentially infringe your copyright, please contact us via email lppmkwidyagamahusada@ac.id
4. The formal legal aspect of access to any information and articles contained in this journal site refers to the terms of the licensed under a Creative Commons Attribution 4.0 International License. . This allows authors and others to share (copy and redistribute the material in any medium or fomat) and adapt (remix, transform, and build upon the material) for non-commercial purposes.
4. All Information contained in the journal is academic. The journal is not liable for any losses incurred by misuse of information from this site.