Dukungan Social Capital Dalam Keberlangsungan Program Desa Siaga Aktif Berstrata Mandiri Di Kabupaten Lumajang
SITI A'ISYAH

M. BAGUS QOMARUDDIN
Keywords:
Desa Siaga Aktif, jaringan, kepercayaan, norma
Abstract
Desa siaga aktif merupakan salah satu program pemerintah untuk menanggulangi banyaknya masalah kesehatan masyarakat di Indonesia. Inti kegiatan dari desa siaga aktif adalah memberdayakan masyarakat agar mau dan mampu untuk hidup sehat (Depkes RI, 2007). Keputusan Menteri Kesehatan RI (2011) menyatakan bahwa dari seluruh desa/kelurahan yang ada, desa siaga ditargetkan akan tercapai sebesar 80% menjadi desa siaga aktif pada tahun 2015. Di Provinsi Jawa Timur yang mendapatkan penghargaan tertinggi terkait desa siaga aktif salah satunya yaitu Kabupaten Lumajang, tepatnya di Desa Kenongo, Kecamatan Gucialit, Kabupaten Lumajang. Desa tersebut mendapatkan penghargaan desa siaga aktif dan menjadi desa percontohan desa siaga aktif yang memiliki nilai tertinggi sesuai dengan kriteria desa siaga aktif yang ditetapkan oleh Departemen Kesehatan Republik Indonesia. Salah satu kunci keberhasilan dan kelestarian program desa siaga aktif di Kabupaten Lumajang adalah adanya dukungan social capital yang dimiliki masyarakat seperti norma, kepercayaan dan jaringan. Penelitian ini merupakan penelitian deskriptif dengan menggunakan pendekatan kualitatif. Rancang bangun yang digunakan adalah studi kasus yang dilakukan secara intensif dan mendalam terhadap informan. Penelitian ini bertujuan untuk menggambarkan dukungan social capital dalam keberlangsungan program desa siaga aktif di Kabupaten Lumajang. Berdasarkan hasil penelitian menunjukkan bahwa ketiga variabel penelitian yang meliputi norma, kepercayaan dan jaringan dapat memperkuat masyarakat dalam melaksanakan program Desa Siaga Aktif di Kabupaten Lumajang. Kesimpulan dalam penelitian ini adalah pemanfaatan social capital yang dimiliki masyarakat desa dapat mendukung dalam keberlangsungan program desa siaga aktif di Kabupaten Lumajang. Oleh sebab itu, apapun bentuk social capital yang dimiliki masyarakat perlu untuk dimanfaatkan, sehingga desa siaga aktif lebih mudah untuk bergerak dan berjalan.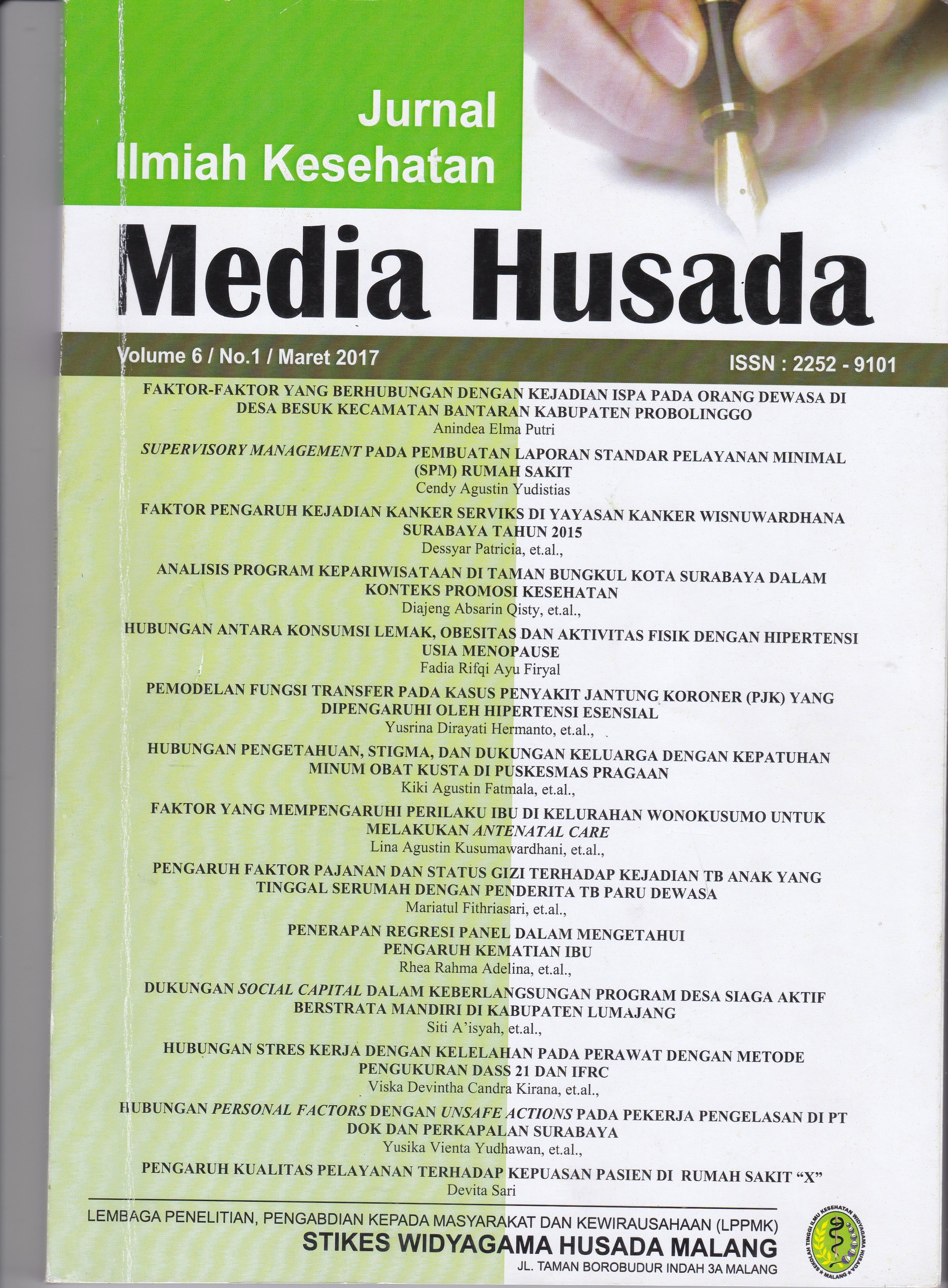 How to Cite
A'ISYAHS., & QOMARUDDINM. B. (2017). Dukungan Social Capital Dalam Keberlangsungan Program Desa Siaga Aktif Berstrata Mandiri Di Kabupaten Lumajang. Jurnal Ilmiah Kesehatan Media Husada, 6(1), 121-132. https://doi.org/10.33475/jikmh.v6i1.68
The authors who publish their articles in Jurnal Ilmiah Kesehatan Media Husada must approve the copyright statement as follows :
1. The authors agree to automatic transfer of the copyright to the publisher
2. All material contained in this site is protected by law.
3. If you find one or more articles contained in the journal that violate or potentially infringe your copyright, please contact us via email lppmkwidyagamahusada@ac.id
4. The formal legal aspect of access to any information and articles contained in this journal site refers to the terms of the licensed under a Creative Commons Attribution 4.0 International License. . This allows authors and others to share (copy and redistribute the material in any medium or fomat) and adapt (remix, transform, and build upon the material) for non-commercial purposes.
4. All Information contained in the journal is academic. The journal is not liable for any losses incurred by misuse of information from this site.