Penerapan Regresi Panel Dalam Mengetahui Pengaruh Kematian Ibu
Rhea Rahma Adelina

Diah Indriani
Keywords:
regresi panel, kematian ibu
Abstract
Penggunaan regresi panel saat ini banyak digunakan dalam bidang ekonomi, contohnya untuk melihat dinamika pendapatan, survey pendapatan dan partisipasi program ekonomi dan lain-lain. Pada bidang kesehatan, masih sedikit yang menggunakan analisis ini salah satunya adalah penelitian untuk melihat pengaruh pelayanan kesehatan bayi terhadap angka kematian bayi di Banten. Oleh karena penggunaan regresi panel yang sedikit untuk penelitian dibidang kesehatan maka akan diterapkan analisis regresi panel pada bidang kesehatan. Dalam pengaplikasian regresi panel yang diinginkan, studi kasus yang diambil adalah mengenai kematian ibu.
Penelitian ini menggunakan data jumlah kematian ibu, eklamsi, partus lama, perdarahan hamil, perdarahan persalinan, infeksi, perdarahan nifas, cakupan k1 k4, anemia dan penolong persalinan oleh tenaga kesehatan di 38 kabupaten/kota Provinsi Jawa Timur selama periode 2009 – 2014 yang didapatkan dari Dinas Kesehatan Provinsi Jawa Timur. Analisis regresi panel pada penelitian ini dibantu oleh aplikasi komputer.
Hasil penelitian ini adalah diketahui variabel independen yang mempengaruhi yaitu eklamsi dan partus lama dengan nilai R-Square sebesar 82,9%. Hal ini berarti bahwa kemampuan menjelaskan variabel independen terhadap dependen sebesar 82,9%.
Kesimpulan pada penelitian ini menunjukkan   bahwa model terbaik regrsi panel dalam menjelaskan jumlah kematian ibu tinggi adalah dengan fixed effect model dan variabel yang berpengaruh dalam jumlah kematian ibu di Provinsi Jawa Timur yaitu eklamsi dan partus lama.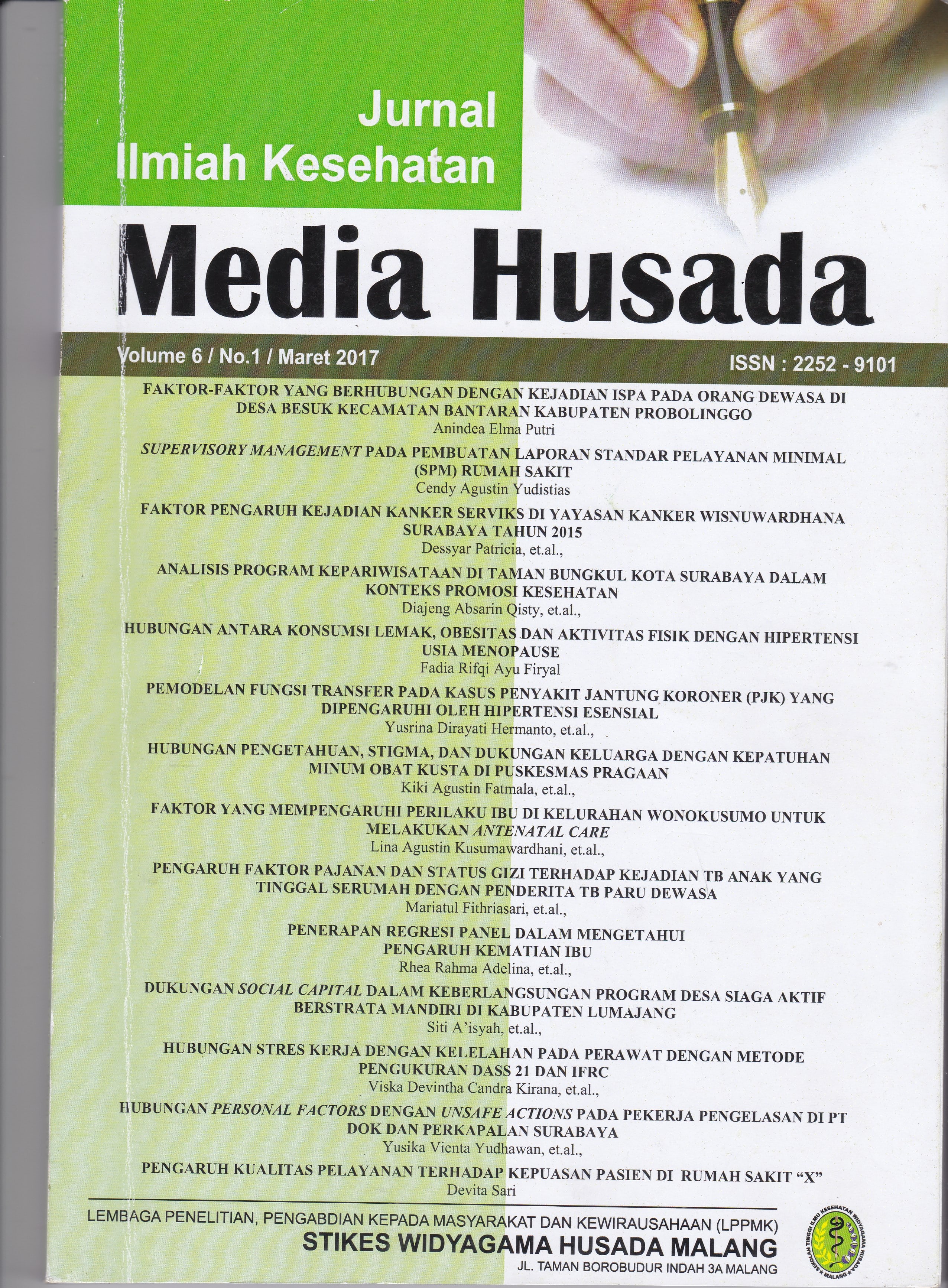 How to Cite
AdelinaR., & IndrianiD. (2017). Penerapan Regresi Panel Dalam Mengetahui Pengaruh Kematian Ibu. Jurnal Ilmiah Kesehatan Media Husada, 6(1), 109-120. https://doi.org/10.33475/jikmh.v6i1.66
The authors who publish their articles in Jurnal Ilmiah Kesehatan Media Husada must approve the copyright statement as follows :
1. The authors agree to automatic transfer of the copyright to the publisher
2. All material contained in this site is protected by law.
3. If you find one or more articles contained in the journal that violate or potentially infringe your copyright, please contact us via email lppmkwidyagamahusada@ac.id
4. The formal legal aspect of access to any information and articles contained in this journal site refers to the terms of the licensed under a Creative Commons Attribution 4.0 International License. . This allows authors and others to share (copy and redistribute the material in any medium or fomat) and adapt (remix, transform, and build upon the material) for non-commercial purposes.
4. All Information contained in the journal is academic. The journal is not liable for any losses incurred by misuse of information from this site.