FAKTOR YANG MEMPENGARUHI PERILAKU IBU DI KELURAHAN WONOKUSUMO UNTUK MELAKUKAN ANTENATAL CARE
LINA AGUSTIN KUSUMAWARDHANI

SHRIMARTI RUKMINI DEVY
Keywords:
antenatal care, perilaku, ibu
Abstract
Kota Surabaya menduduki peringkat tertinggi Angka Kematian Ibu (AKI) di wilayah Provinsi Jawa Timur. Hal tersebut dikarenakan kurangnya kesadaran dan perilaku ibu hamil untuk memeriksakan kehamilannya di pelayanan kesehatan, sehingga terlambat terdeteksinya tanda bahaya kehamilan. Hal tersebut dapat dicegah dengan perilaku ibu hamil untuk rutin dalam melakukan kunjungan antenatal care (ANC) di pelayanan kesehatan. Salah satu Puskesmas di Surabaya yang memiliki tingkat kunjungan antenatal care terendah adalah Puskesmas Wonokusumo Tujuan umum dari penelitian ini adalah untuk mengidentifikasi dan menganalisis faktor yang mempengaruhi ibu untuk melakukan kunjungan antenatal care di wilayah kerja Puskesmas Wonokusumo. Tujuan umum dari penelitian ini adalah untuk menganalisis faktor yang mempengaruhi perilaku ibu untuk melakukan kunjungan antenatal care di wilayah kerja Puskesmas Wonokusumo. Penelitian ini menggunakan studi observasional dengan pendekatan kuantitatif, dengan rancangan cross sectional. Teknik sampling yang digunakan adalah Proportional Stratified Random Sampling dengan sampel 75 responden. Variabel independen yang digunakan adalah umur, pendidikan, pekerjaan, status ekonomi, pengetahuan, sikap, personal reference, pelayanan petugas kesehatan, sedangkan untuk variabel dependen adalah perilaku ibu untuk kunjungan antenatal care. Hasil penelitian ini didapat melalui kuesioner dan dianalisis menggunakan uji regresi logistic. Hasil penelitian menunjukkan bahwa variabel pekerjaan ibu mempunyai pengaruh terhadap perilaku ibu dalam melakukan kunjungan antenatal care dengan sig.0,026<α0,05.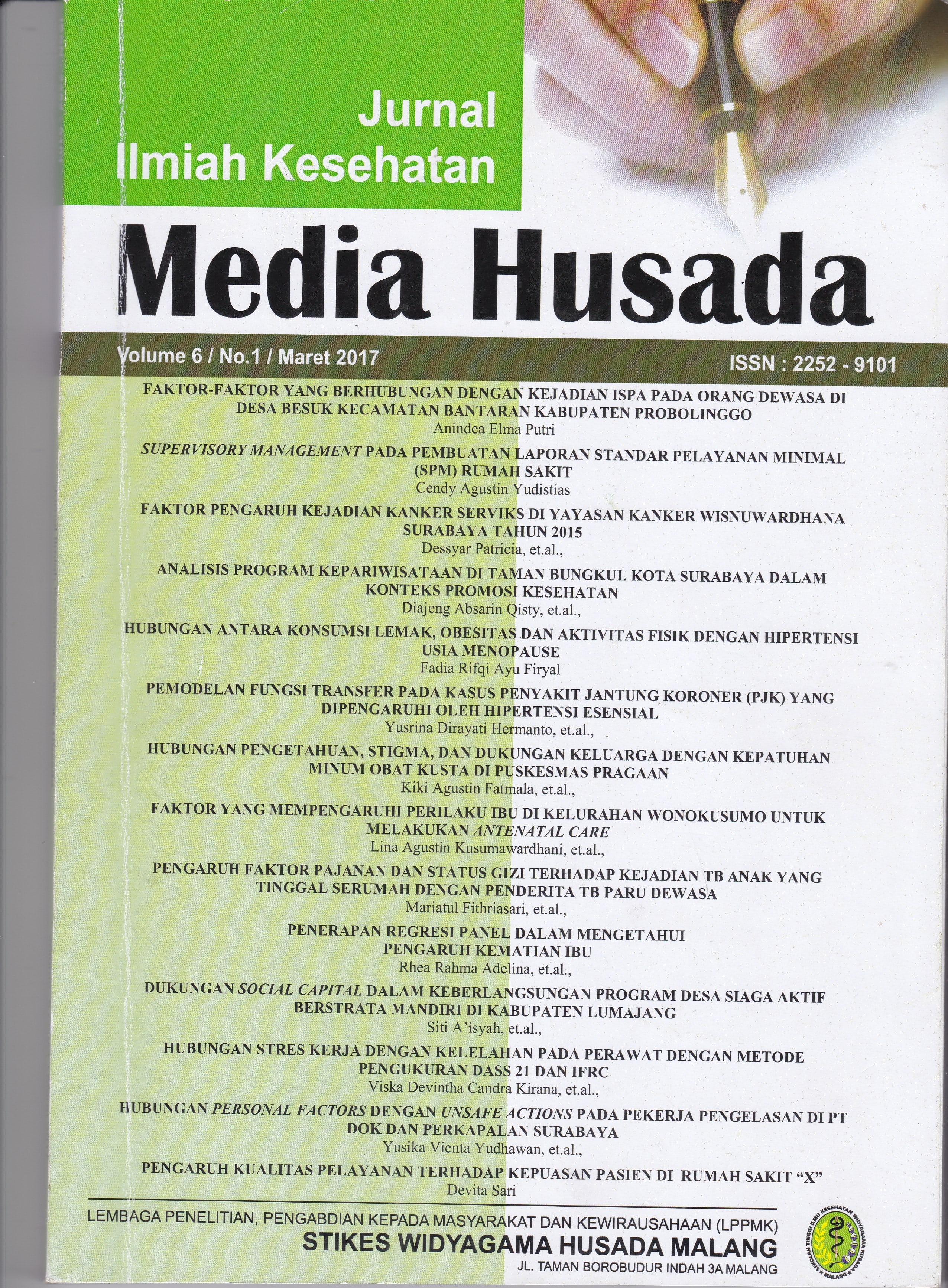 How to Cite
KUSUMAWARDHANIL., & DEVYS. (2017). FAKTOR YANG MEMPENGARUHI PERILAKU IBU DI KELURAHAN WONOKUSUMO UNTUK MELAKUKAN ANTENATAL CARE. Jurnal Ilmiah Kesehatan Media Husada, 6(1), 79-92. https://doi.org/10.33475/jikmh.v6i1.64
The authors who publish their articles in Jurnal Ilmiah Kesehatan Media Husada must approve the copyright statement as follows :
1. The authors agree to automatic transfer of the copyright to the publisher
2. All material contained in this site is protected by law.
3. If you find one or more articles contained in the journal that violate or potentially infringe your copyright, please contact us via email lppmkwidyagamahusada@ac.id
4. The formal legal aspect of access to any information and articles contained in this journal site refers to the terms of the licensed under a Creative Commons Attribution 4.0 International License. . This allows authors and others to share (copy and redistribute the material in any medium or fomat) and adapt (remix, transform, and build upon the material) for non-commercial purposes.
4. All Information contained in the journal is academic. The journal is not liable for any losses incurred by misuse of information from this site.