Evaluasi Pengamatan Kasus Demam Berdara Dengue Di Dinkes Kabupaten Tuban
Henrisca Sandra Ayu P.P

Stikes Widyagama husada
Keywords:
kasus, DBD, Input, proses, ouput
Abstract
Demam Berdarah Dengue (DBD) masih menjadi masalah kesehatan cukup serius yang tidak pernah bisa dieradikasi. Data di Kabupaten Tuban tahun 2010, 553 kasus dan 16 meninggal.Surveilans epidemilogi sangat penting dilakukan untuk tindakan kewaspadaan dini dan penanggulangan, termasuk pengamatan kasus DBD. Tujuan penelitian untuk mengevaluasi pelaksanaan pengamatan kasus DBD di Dinas Kesehatan Kabupaten Tuban dari komponen input, process, dan output. Desain penelitian bersifat deskriptif, berdasarkan tujuannya merupakan penelitian evaluasi dengan membandingkan sesuai petunjuk teknis pengamatan penyakit DBD. Pengumpulan data dilakukan dengan cara observasi. Pemilihan informan dilakukan secara purposive. Hasil penelitian evaluasi menunjukkan variabel yang telah sesuai standar meliputi sumber data, jenis data, form pencatatan dan pelaporan, kelengkapan laporan mingguan, SOP, pengumpulan data, kompilasi, pengolahan dan analisis, diseminasi informasi, penentuan wilayah rawan, grafik pola maksimal minimal, penentuan musim penularan, dan kecenderungan situasi DBD. Variabel kelengkapan laporan bulanan, ketepatan waktu laporan mingguan dan bulanan, kecukupan anggaran, interpretasi data, pemantauan mingguan DBD, laporan bulanan program P2 DBD belum sesuai standar.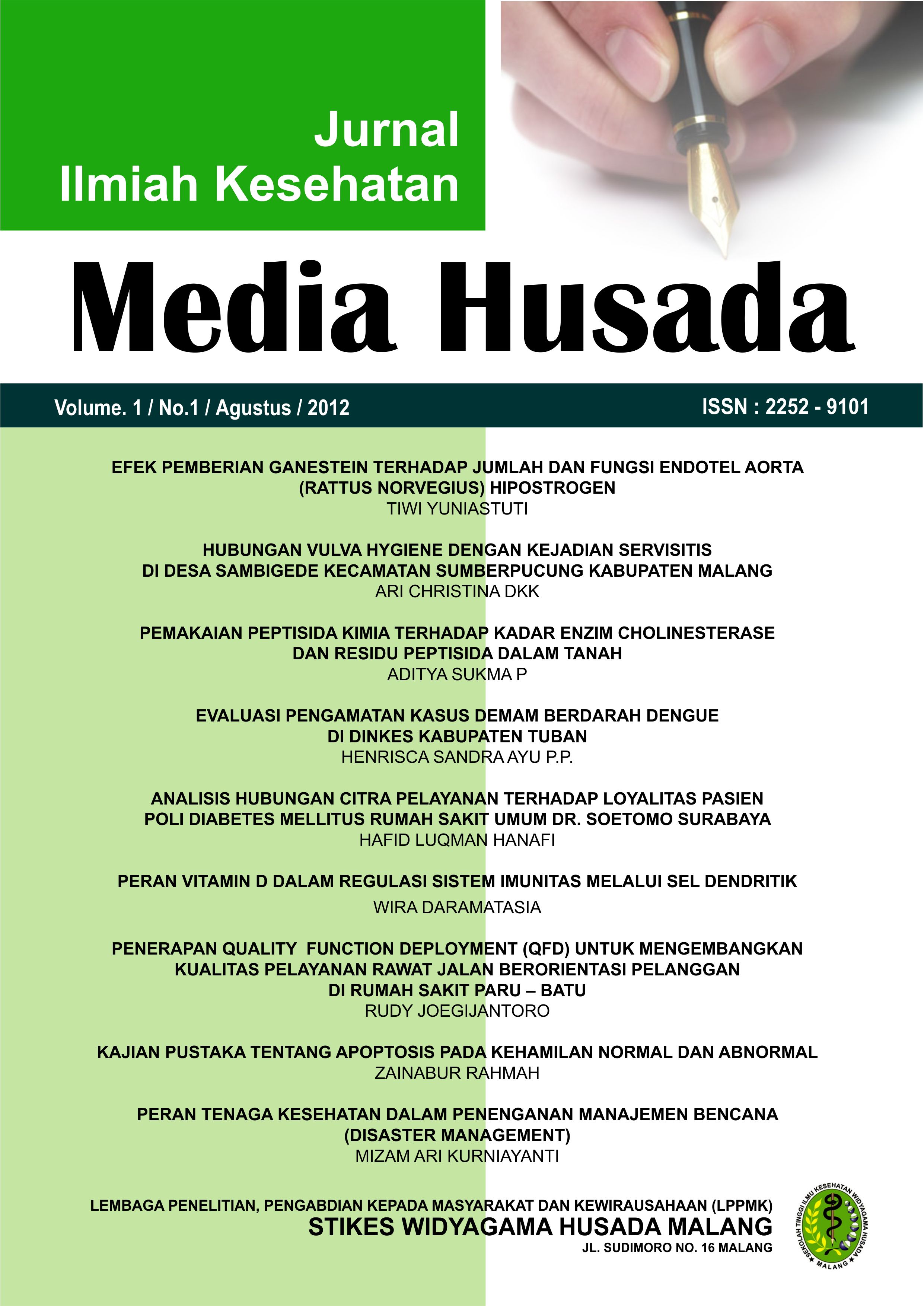 How to Cite
Ayu P.PH. (2012). Evaluasi Pengamatan Kasus Demam Berdara Dengue Di Dinkes Kabupaten Tuban. Jurnal Ilmiah Kesehatan Media Husada, 1(1), 31-40. https://doi.org/10.33475/jikmh.v1i1.61
The authors who publish their articles in Jurnal Ilmiah Kesehatan Media Husada must approve the copyright statement as follows :
1. The authors agree to automatic transfer of the copyright to the publisher
2. All material contained in this site is protected by law.
3. If you find one or more articles contained in the journal that violate or potentially infringe your copyright, please contact us via email lppmkwidyagamahusada@ac.id
4. The formal legal aspect of access to any information and articles contained in this journal site refers to the terms of the licensed under a Creative Commons Attribution 4.0 International License. . This allows authors and others to share (copy and redistribute the material in any medium or fomat) and adapt (remix, transform, and build upon the material) for non-commercial purposes.
4. All Information contained in the journal is academic. The journal is not liable for any losses incurred by misuse of information from this site.