Hubungan Vulva Higiene dengan Kejadian Servisitis di Desa Sambigede Kecamatan Sumberpucung Kabupaten Malang
Ari Christina

Stikes Widyagama husada
Keywords:
vulva, higiene, servisitis
Abstract
Kejadian servisitis memang belum ada angka pasti yang menjelaskannya. Namun berdasarkan temuan saat pemeriksaan IVA tes di wilayah Puskesmas Sumberpucung Kabupaten Malang pada Pebruari 2011, dari 63 WUS yang diperiksa (tidak sedang haid) ternyata ditemukan 19 orang (30,2%) yang mengalami tanda-tanda servisitis. Berdasarkan pengamatan lebih lanjut, sebagian besar WUS tersebut kebersihan dirinya kurang bagus, diantaranya terlihat pada saat dilakukan pemeriksaan, kebersihan genetalianya kurang yaitu daerah vulva tampak lembab dan tidak bersih, keputihan yang banyak dan berbau serta celana dalam yang tampak lembab. Tujuan penelitian ini adalah untuk mengetahui hubungan vulva hygiene dengan kejadian servisitis. Desain penelitian ini adalah studi korelasional dengan pendekatan cross sectional. Populasi dalam penelitian ini adalah WUS Desa Sambigede RW I Kecamatan Sumberpucung Kabupaten Malang, sebanyak 639 orang. Sampel yang digunakan 10% dari populasi dengan teknik purposive sampling sehingga didapat 64 responden yang memenuhi kriteria inklusi yang kemudian diberi kuesioner. Dari hasil penelitian yang dianalisis dengan Chi SquareTest didapatkan tingkat signifikasi 0,000 < nilai  0,05 maka H0 ditolak yang berarti ada hubungan yang signifikan antara vulva hygiene dengan kejadian servisitis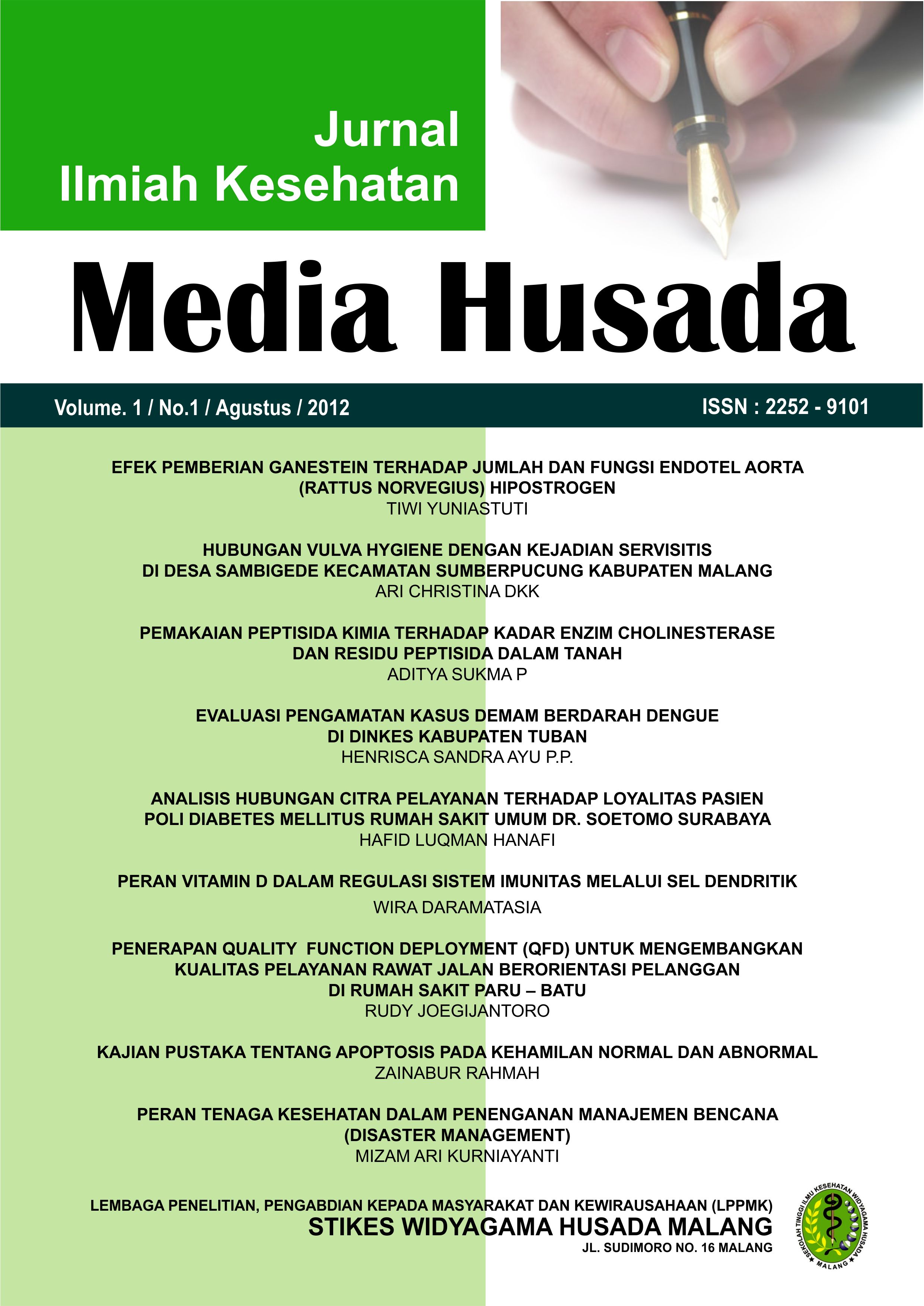 How to Cite
ChristinaA. (2012). Hubungan Vulva Higiene dengan Kejadian Servisitis di Desa Sambigede Kecamatan Sumberpucung Kabupaten Malang. Jurnal Ilmiah Kesehatan Media Husada, 1(1), 11-18. https://doi.org/10.33475/jikmh.v1i1.57
The authors who publish their articles in Jurnal Ilmiah Kesehatan Media Husada must approve the copyright statement as follows :
1. The authors agree to automatic transfer of the copyright to the publisher
2. All material contained in this site is protected by law.
3. If you find one or more articles contained in the journal that violate or potentially infringe your copyright, please contact us via email lppmkwidyagamahusada@ac.id
4. The formal legal aspect of access to any information and articles contained in this journal site refers to the terms of the licensed under a Creative Commons Attribution 4.0 International License. . This allows authors and others to share (copy and redistribute the material in any medium or fomat) and adapt (remix, transform, and build upon the material) for non-commercial purposes.
4. All Information contained in the journal is academic. The journal is not liable for any losses incurred by misuse of information from this site.