Pemodelan Fungsi Transfer Pada Kasus Penyakit Jantung Koroner (PJK) Yang Di Pengaruhi Oleh Hipertensi Esensial
Yusrina Dirayati hermanto

Mahmudah Mahmudah
Keywords:
model time series, fungsi transfer single input, PJK, Hipertensi
Abstract
Pemodelan fungsi transfer saat ini banyak digunakan dalam penelitian di bidang ekonomi dan pertanian tetapi penggunaan dalam bidang kesehatan dirasa masih sedikit. Oleh karena itu dalam penelitian ini diterapkan pemodelan fungsi transfer pada kasus PJK di Provinsi JawaTimur. Pemodelan fungsi transfer merupakan suatu model yang menggambarkan bahwa nilai prediksi dari suatu time series (output atau   ) berdasarkan pada nilai masa lalu dari time series itu sendiri dan berdasarkan pada suatu data time series yang berhubungan dengan input atau     dengan output series. Penelitian ini menggunakan data sekunder yang diperoleh dari Dinas Kesehatan Provinsi Jawa Timur mulai bulan Januari tahun 2010 sampai bulan Agustus tahun 2015 dengan metode penelitian kuantitatif yaitu pemodelan fungsi transfer single input dengan tujuan mendapatkan model fungsi transfer yang diterapkan pada kasus PJK dengan melihat seberapa besar pengaruh kasus hipertensi esensial terhadap PJK berdasarkan kurun waktu tertentu. Hasil analisis menunjukkan bahwa terdapat pengaruh positif yang signifikan terhadap terjadinya PJK yaitu sebesar 0,54631. Kegiatan cek darah secara rutin sangat diperlukan untuk mengurangi bertambahnya kasus PJK akibat hipertensi esensial.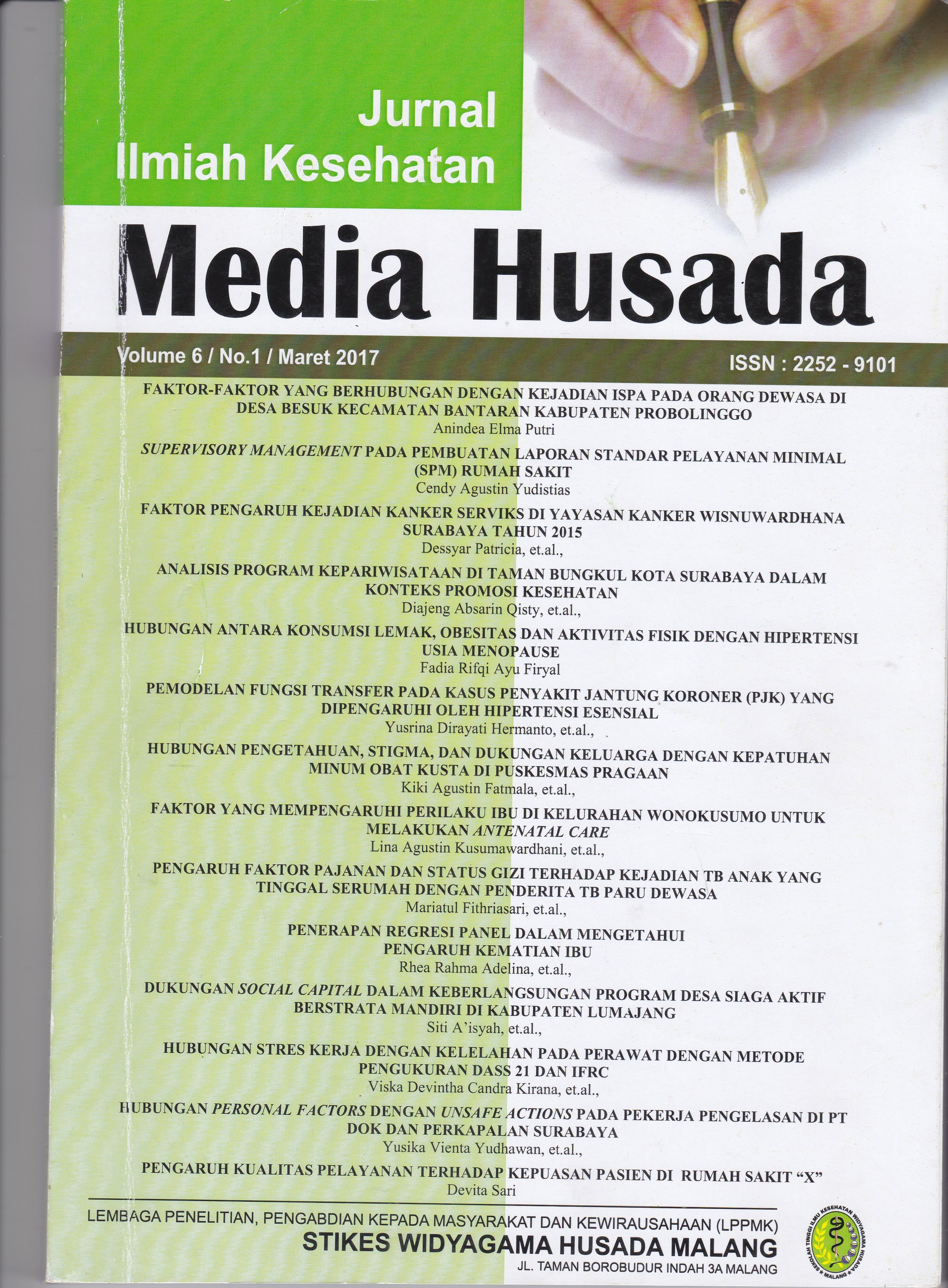 How to Cite
hermantoY., & MahmudahM. (2017). Pemodelan Fungsi Transfer Pada Kasus Penyakit Jantung Koroner (PJK) Yang Di Pengaruhi Oleh Hipertensi Esensial. Jurnal Ilmiah Kesehatan Media Husada, 6(1), 59-66. https://doi.org/10.33475/jikmh.v6i1.54
The authors who publish their articles in Jurnal Ilmiah Kesehatan Media Husada must approve the copyright statement as follows :
1. The authors agree to automatic transfer of the copyright to the publisher
2. All material contained in this site is protected by law.
3. If you find one or more articles contained in the journal that violate or potentially infringe your copyright, please contact us via email lppmkwidyagamahusada@ac.id
4. The formal legal aspect of access to any information and articles contained in this journal site refers to the terms of the licensed under a Creative Commons Attribution 4.0 International License. . This allows authors and others to share (copy and redistribute the material in any medium or fomat) and adapt (remix, transform, and build upon the material) for non-commercial purposes.
4. All Information contained in the journal is academic. The journal is not liable for any losses incurred by misuse of information from this site.