Supervisory Management Pada Pembuatan Laporan Standar pelayanan Minimal (SPM) Rumah Sakit
Keywords:
kedisiplinan, laporan SPM, supervisory management
Abstract
Setiap pelayanan di rumah sakit mengacu kepada Standar Pelayanan Minimal Rumah Sakit berdasarkan KMK Nomor 129 Tahun 2008. Beberapa data indikator pelayanan harus dibuat dengan frekuensi setiap bulan. Namun RSI Jemursari Surabaya mengalami permasalahan mengenai ketepatan waktu pengumpulan laporan SPM. Untuk mengatasi permasalahan tersebut, RSI Jemursari membentuk tim yang diberi nama link champion yang bertanggung jawab memberikan pengawasan pada ketepatan pembuatan laporan SPM seluruh pelayanan. Penelitian ini menganalisis pelaksanaan supervisory management yang dilakukan oleh link champion berdasarkan penilaian dari kepala unit. Penelitian ini merupakan penelitian observasional deskriptif dengan rancang bangun cross sectional. Data diperoleh melalui penyebaran kuisioner kepada seluruh kepala unit sebanyak 24 orang. Metode pengambilan sampel  yang digunakan adalah total sampling. Penelitian ini dilakukan di RSI Jemursari Surabaya pada Bulan Mei 2016. Hasil dari penelitian ini adalah seluruh tahapan dalam supervisory management pembuatan laporan SPM telah terlaksana namun belum merata untuk seluruh kepala unit. Tabel tabulasi silang menunjukkan bahwa ada hubungan yang searah dan positif antara nilai yang didapatkan link champion dengan ketepatan waktu kepala unit dalam membuat laporan. Kesimpulan dan saran dari penelitian ini adalah komite mutu RS dan link champion perlu meningkatkan dan memperbaiki penerapan supervisory management pada pembuatan laporan SPM agar dapat mendisiplinkan seluruh kepala unit, bukan hanya beberapa kepala unit saja.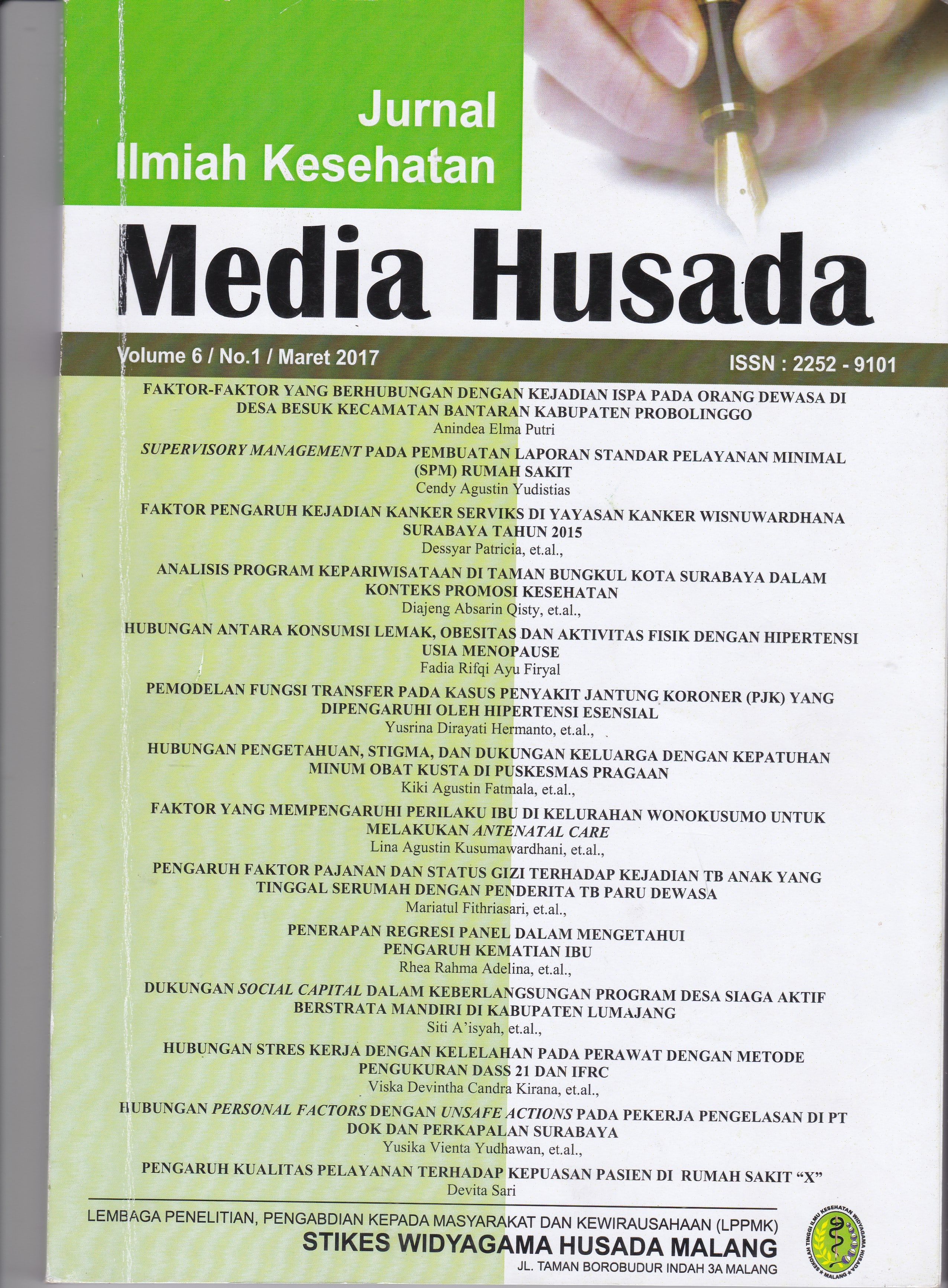 How to Cite
Yudistias, cendy. (2017). Supervisory Management Pada Pembuatan Laporan Standar pelayanan Minimal (SPM) Rumah Sakit. Jurnal Ilmiah Kesehatan Media Husada, 6(1), 11-20. https://doi.org/10.33475/jikmh.v6i1.50
The authors who publish their articles in Jurnal Ilmiah Kesehatan Media Husada must approve the copyright statement as follows :
1. The authors agree to automatic transfer of the copyright to the publisher
2. All material contained in this site is protected by law.
3. If you find one or more articles contained in the journal that violate or potentially infringe your copyright, please contact us via email lppmkwidyagamahusada@ac.id
4. The formal legal aspect of access to any information and articles contained in this journal site refers to the terms of the licensed under a Creative Commons Attribution 4.0 International License. . This allows authors and others to share (copy and redistribute the material in any medium or fomat) and adapt (remix, transform, and build upon the material) for non-commercial purposes.
4. All Information contained in the journal is academic. The journal is not liable for any losses incurred by misuse of information from this site.