Analisis Faktor Penggunaan Kontrasepsi metode Operatif Wanita (MOW) Pada Wanita Usia Subur
Keywords:
kontrasepsi, MOW, wanita usia subur, determinan
Abstract
Kontrasepsi MOW merupakan metode kontrasepsi jangka panjang yang mempunyai nilai kegagalan relatif kecil dan bebas efek samping. Namun peminat kontrasepsi MOW masih rendah, dibandingkan dengan kontrasepsi jangka panjang lainnya. Penelitian ini dilakukan untuk mengetahui faktor apa yang mempengaruhi penggunaan kontrasepsi MOW pada wanita usia subur. Faktor wanita usia subur untuk menggunakan kontrasepsi MOW dipengaruhi oleh dukungan suami, dukungan keluarga, biaya psikologis, biaya pelayanan kontrasepsi dan motivasi pengaturan kelahiran.
Penelitian ini merupakan penelitian analitik dengan pendekatan observasional. Jenis penelitian adalah case control. Sampling menggunakan teknik random sampling dengan sampel sebanyak
80 responden (40 sampel kasus dan 40 sample kontrol). Uji yang digunakan adalah Uji Regresi Logistik Multivariat dengan hasil variabel dukungan suami dan biaya psikologis yang berpengaruh secara signifikan.
Variabel dukungan suami memiliki nilai p=0,027 dengan OR= 4,143. Sedangkan variabel biaya psikologis memiliki nilai p= 0,039 dengan OR= 2,698. Wanita usia subur yang memiliki dukungan suami akan berpeluang 4,143 menggunakan kontrasepsi MOW dan yang tidak memiliki biaya psikologis berpeluang 2,698 menggunakan kontrasepsi MOW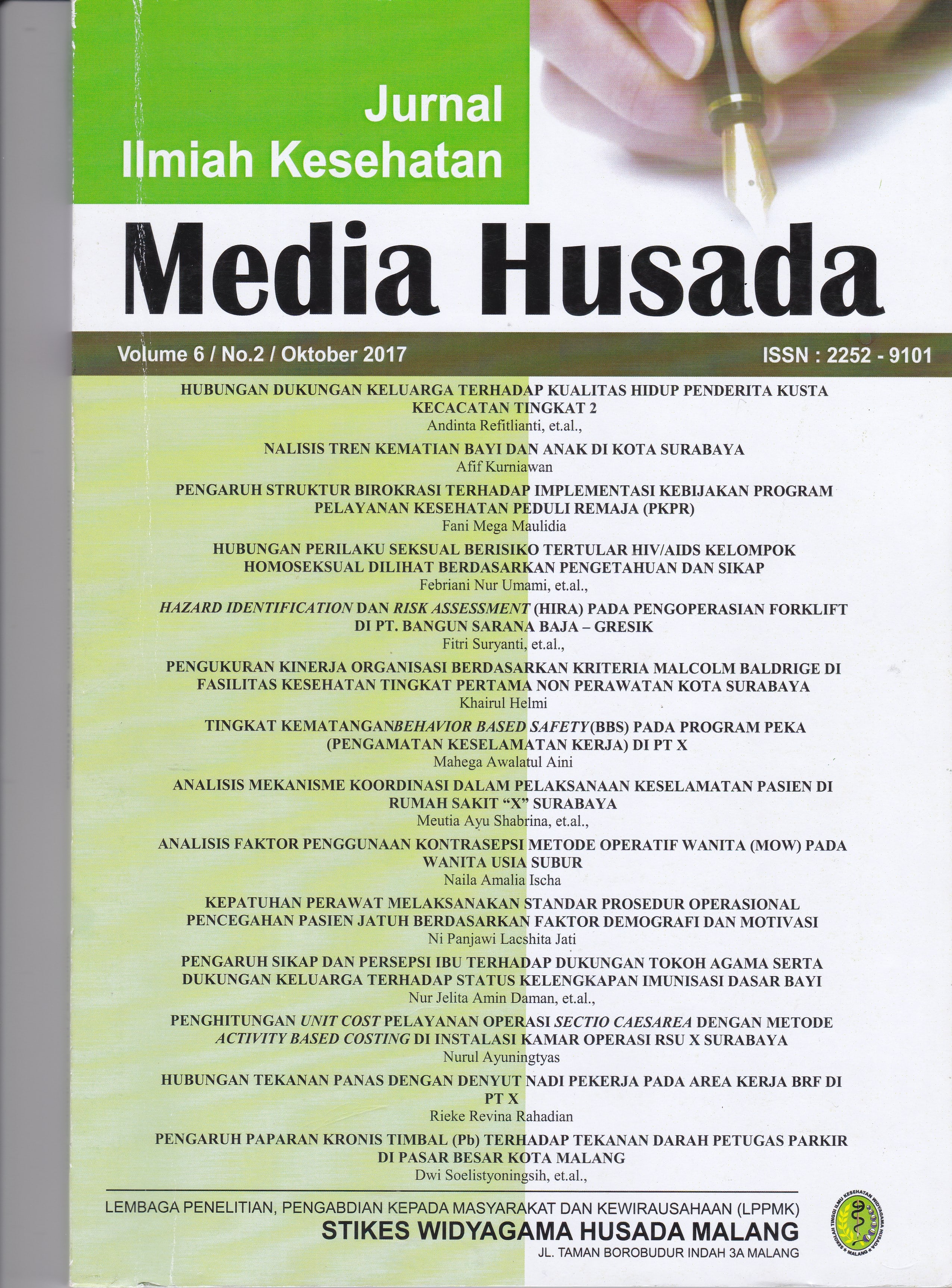 How to Cite
Ischa, naila. (2018). Analisis Faktor Penggunaan Kontrasepsi metode Operatif Wanita (MOW) Pada Wanita Usia Subur. Jurnal Ilmiah Kesehatan Media Husada, 6(2), 245-254. https://doi.org/10.33475/jikmh.v6i2.43
The authors who publish their articles in Jurnal Ilmiah Kesehatan Media Husada must approve the copyright statement as follows :
1. The authors agree to automatic transfer of the copyright to the publisher
2. All material contained in this site is protected by law.
3. If you find one or more articles contained in the journal that violate or potentially infringe your copyright, please contact us via email lppmkwidyagamahusada@ac.id
4. The formal legal aspect of access to any information and articles contained in this journal site refers to the terms of the licensed under a Creative Commons Attribution 4.0 International License. . This allows authors and others to share (copy and redistribute the material in any medium or fomat) and adapt (remix, transform, and build upon the material) for non-commercial purposes.
4. All Information contained in the journal is academic. The journal is not liable for any losses incurred by misuse of information from this site.