Pengaruh Struktur Birokrasi terhadap Implementasi Kebijakan Program Pelayanan Kesehatan Peduli Remaja (PKPR)
Abstract
Masa remaja merupakan periode dimana fisik, psikologi, dan intelektual tumbuh dan berkembang dengan cepat. Pada masa remaja cenderung memiliki rasa ingin tahu yang sangat besar, ketika mereka mengambil keputusan yang salah, mereka akan terjebak dalam keadaan beresiko. Salah satu solusi untuk mengatasi masalah remaja adalah melalui Pelayanan Kesehatan Peduli Remaja atau PKPR. PKPR adalah pelayanan kesehatan yang diberikan untuk remaja.
Penelitian ini dilakukan dengan metode analitik kuantitatif. Sesuai dengan waktu penelitian yang dilakukan, penelitian ini diklasifikasikan sebagai studi cross-sectional; sebuah studi yang dilakukan bersamaan pada satu waktu tertentu. Penelitian menggunakan data primer dengan Puskesmas  sebagai unit analisis, yang terdiri dari 24 Puskesmas di Kabupaten Gunung Kidul. Hasil penelitian menunjukkan bahwa variabel SOP dan fragmentasi secara signifikan mempengaruhi implementasi kebijakan program PKPR.
Saran yang dapat diberikan yaitu petugas PKPR di Puskesmas diharapkan agar  bekerjasama dengan petugas program lain sebagai lintas program karena sangat berpengaruh bagi keberhasilan program PKPR.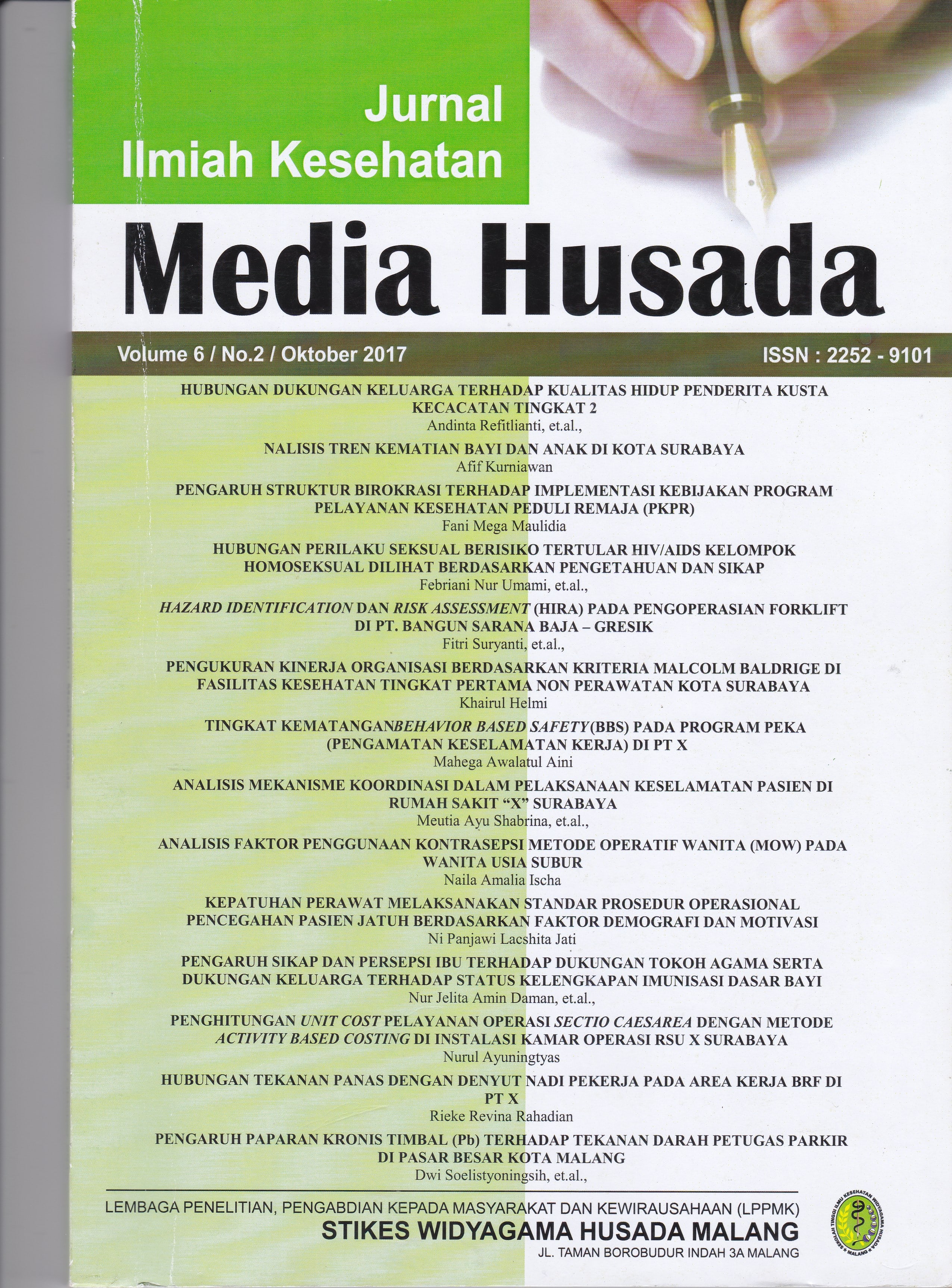 How to Cite
MaulidiaF. (2018). Pengaruh Struktur Birokrasi terhadap Implementasi Kebijakan Program Pelayanan Kesehatan Peduli Remaja (PKPR). Jurnal Ilmiah Kesehatan Media Husada, 6(2), 183-192. https://doi.org/10.33475/jikmh.v6i2.37
The authors who publish their articles in Jurnal Ilmiah Kesehatan Media Husada must approve the copyright statement as follows :
1. The authors agree to automatic transfer of the copyright to the publisher
2. All material contained in this site is protected by law.
3. If you find one or more articles contained in the journal that violate or potentially infringe your copyright, please contact us via email lppmkwidyagamahusada@ac.id
4. The formal legal aspect of access to any information and articles contained in this journal site refers to the terms of the licensed under a Creative Commons Attribution 4.0 International License. . This allows authors and others to share (copy and redistribute the material in any medium or fomat) and adapt (remix, transform, and build upon the material) for non-commercial purposes.
4. All Information contained in the journal is academic. The journal is not liable for any losses incurred by misuse of information from this site.