Nalisis Tren Kematian Bayi Dan Anak Di Kota Surabaya
Keywords:
Kota Surabaya, kematian bayi, kematian anak, analisis tren, lingkungan, kesehatan
Abstract
Masalah sosial, kesehatan, lingkungan kumuh, kepadatan penduduk dan kriminalitas adalah masalah  yang diakibatkan oleh derasnya arus  urbanisasi. salah satu daerah  utama tujuan urbanisasi adalah Kota Surabaya. Masalah klasik yang dialami Kota Surabaya adalah lingkungan dan kepadatan penduduk. Hingga pada akhirnya kedua masalah tersebut menimbulkan masalah baru, yakni meningkatnya Angka Kematian Bayi dan Angka Kematian Anak yang terjadi di Kota Surabaya. Penelitian ini bertujuan untuk menganalisis model tren jumlah kematian bayi dan kematian anak serta meramalkannya untuk tahun berikutnya. Data penelitian adalah jumlah kematian usia 0-1 tahun dan usia 1-4 tahun periode 2012-2015 dengan total 48 titik data historis. Data ini dianalisis dengan 4 metode tren menggunakan bantuan program komputer, yakni Minitab 16.  Hasil analisis tren dibandingkan satu sama lain dengan melihat nilai MAPE, MAD, dan MSD pada masing-masing metode. Hasil analisis tren menunjukkan kedua kategori usia tersebut lebih tepat menggunakan metode S-CurveTrend Model. Hasil peramalan pada tahun 2016 diperkirakan jumlah kematian bayi meningkat 23,6% dan jumlah kematian anak 3,9%. Hasil peramalan tersebut menunjukkan bahwa jumlah kematian usia dibawah 5 tahun di Kota surabaya masih tinggi.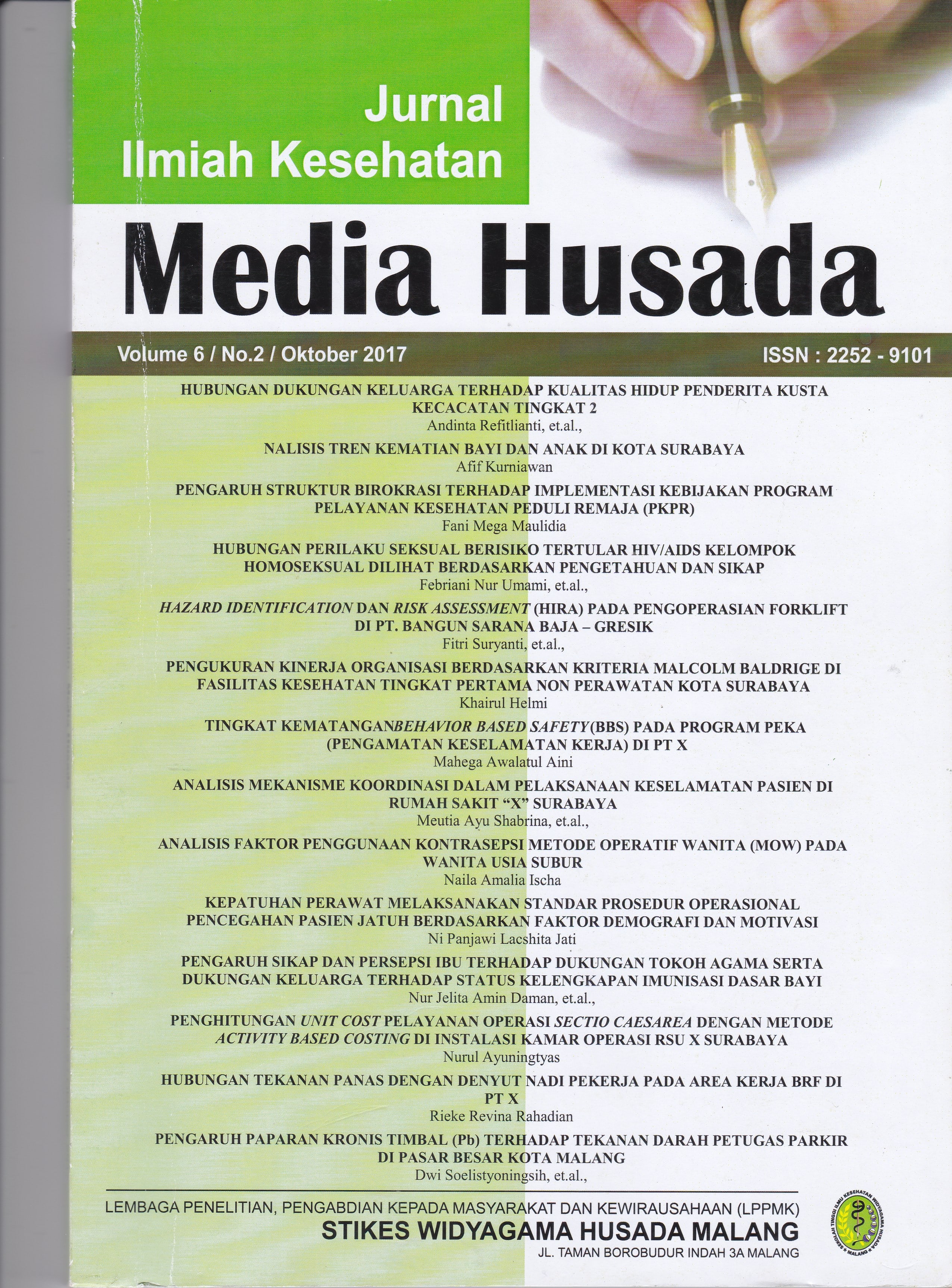 How to Cite
KurniawanA. (2018). Nalisis Tren Kematian Bayi Dan Anak Di Kota Surabaya. Jurnal Ilmiah Kesehatan Media Husada, 6(2), 175-182. https://doi.org/10.33475/jikmh.v6i2.36
The authors who publish their articles in Jurnal Ilmiah Kesehatan Media Husada must approve the copyright statement as follows :
1. The authors agree to automatic transfer of the copyright to the publisher
2. All material contained in this site is protected by law.
3. If you find one or more articles contained in the journal that violate or potentially infringe your copyright, please contact us via email lppmkwidyagamahusada@ac.id
4. The formal legal aspect of access to any information and articles contained in this journal site refers to the terms of the licensed under a Creative Commons Attribution 4.0 International License. . This allows authors and others to share (copy and redistribute the material in any medium or fomat) and adapt (remix, transform, and build upon the material) for non-commercial purposes.
4. All Information contained in the journal is academic. The journal is not liable for any losses incurred by misuse of information from this site.