trend Angka kematian Ibu (AKI) Dan Angka Kematian Bayi (AKB) Di Propinsi Jawa Timur Tahun 2011-2015
Keywords:
Tren, Kematian, AKI, AKB, Jawa Timur
Abstract
Kematian ibu adalah kasus kematian selama kehamilan atau dalam periode 42 hari setelah berakhirnya kehamilan, akibat semua sebab yang terkait dengan atau diperberat oleh kehamilan atau penanganannya, tetapi bukan disebabkan oleh kecelakaan/ cedera. Sedangkan kasus kematian bayi adalah kasus kematian bayi yang terjadi antara saat setelah bayi  lahir sampai bayi belum berusia tepat satu tahun. Rendahnya kesadaran masyarakat tentang kesehatan saat kehamilan, persalinan, masa nifas dan komplikasinya menjadi faktor penentu angka kematian ibu di Provinsi Jawa Timur. Program kesehatan ibu yang telah dilaksanakan untuk menurunkan AKI di provinsi Jawa Timur yaitu dengan memperhatikan kesehatan saat ibu hamil, saat ibu bersalin, saat ibu nifas. Meningkatnya AKB di Provinsi Jawa Timur dapat terjadi karena faktor pelayanan neonatal. Penelitian ini bertujuan adalah untuk mengetahui trend angka kematian ibu (AKI) dan angka kematian bayi (AKB) di Provinsi Jawa Timur pada tahun 2011-2015. Desain penelitian ini merupakan cross sectional, analisis menggunakan data laporan kesehatan ibu Provinsi Jawa Timur. Hasil yang diperoleh trend angka kematian ibu (AKI) di Provinsi dari tahun 2011-2015 adalah menurun, hal ini dapat terjadi karena capaian program kesehatan ibu terjadi peningkatan. Begitu juga dengan trend angka kematian bayi (AKB) menurun dari tahun 2011-2015.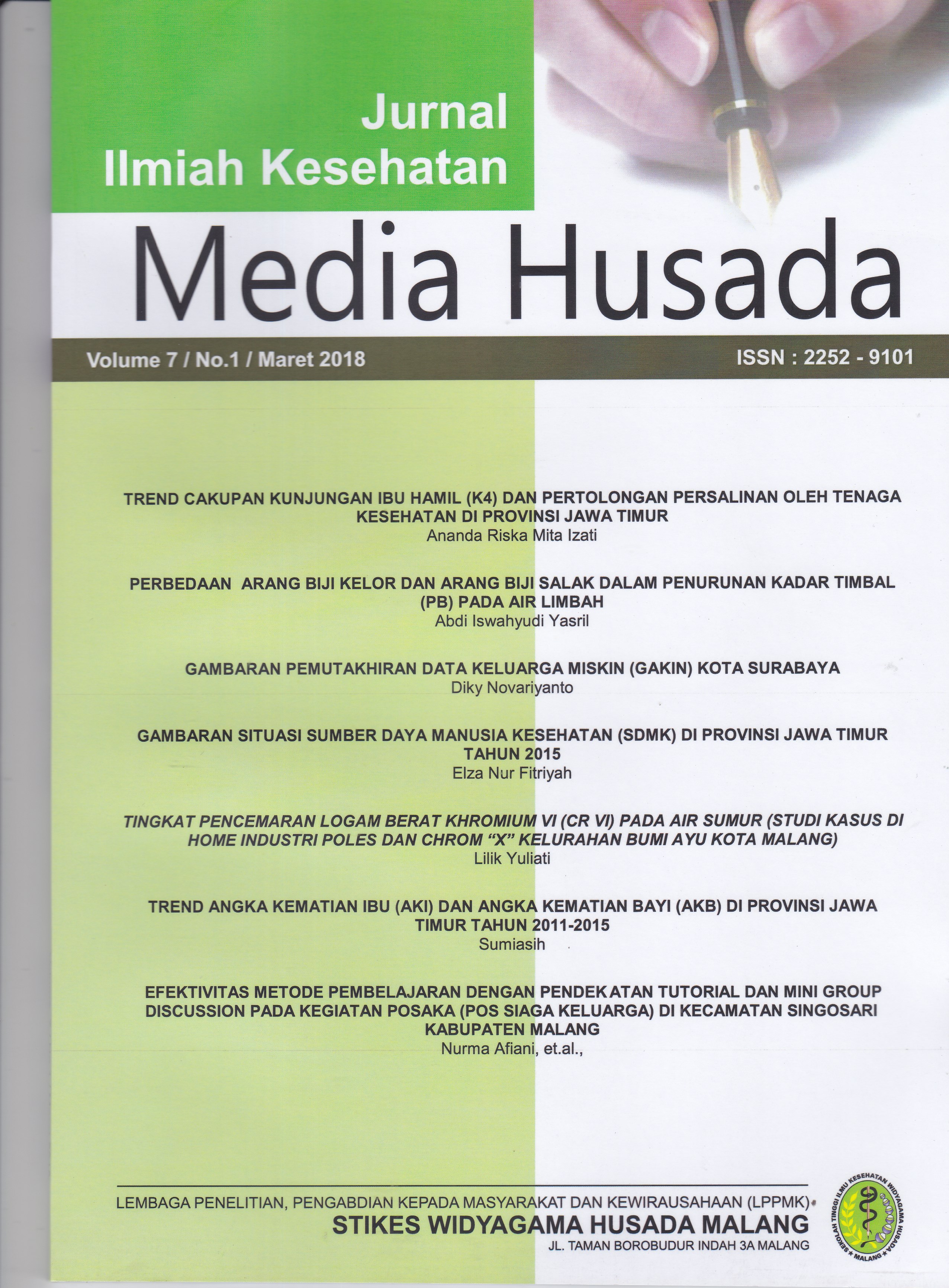 How to Cite
SumiasihS. (2018). trend Angka kematian Ibu (AKI) Dan Angka Kematian Bayi (AKB) Di Propinsi Jawa Timur Tahun 2011-2015. Jurnal Ilmiah Kesehatan Media Husada, 7(1), 47-56. https://doi.org/10.33475/jikmh.v7i1.33
The authors who publish their articles in Jurnal Ilmiah Kesehatan Media Husada must approve the copyright statement as follows :
1. The authors agree to automatic transfer of the copyright to the publisher
2. All material contained in this site is protected by law.
3. If you find one or more articles contained in the journal that violate or potentially infringe your copyright, please contact us via email lppmkwidyagamahusada@ac.id
4. The formal legal aspect of access to any information and articles contained in this journal site refers to the terms of the licensed under a Creative Commons Attribution 4.0 International License. . This allows authors and others to share (copy and redistribute the material in any medium or fomat) and adapt (remix, transform, and build upon the material) for non-commercial purposes.
4. All Information contained in the journal is academic. The journal is not liable for any losses incurred by misuse of information from this site.