DIABETES INSIPIDUS DENGAN HIPOKALEMIA REFRAKTER
Case Report
Achmad Rifa'i

RSUD dr. Saiful Anwar/Fakultas Kedokteran Universitas Brawijaya Malang
Abstract
Abstract
Diabetes insipidus is a poluuria polydipsia syndrome with hyperexcretion of hypotonic urine. It is still rare in the world. Generally, diagnosed by dehydration and vasopressin test. It was reported that woman experienced with recurrent hypokalemia, the cause is unknown. After examination of collected urine and urine and plasma osmolarity, it was found that diabetes insipidus waspresent. A test was performed using intranasal desmopressin and it was proven that patient had nephrogenic diabetes insipidus. Woman, 44-years old with refractory hypokalemia and polyuria, suspected of having diabetes insipidus. The patient underwent a desmopressin test using 20mcg of intranasal desmopressin and there was no change in urine osmolarity. The patient was diagnosed with nephrogenic diabetes insipidus and received supportive treatment using NDAIDs.
Keywords : diabetes insipidus; refractory hypokalemia.
Abstrak
Penyakit Diabetes Insipidus merupakan sindroma polyuria polidipsi dengan hiperekskresi urin yang hipotonis. Kejadiannya masih sangat jarang di dunia. Penentuan diagnosis umumnya dengan tes dehidrasi dan tes vasopressin. Dilaporkan seorang wanita dengan hipokalemia berulang, belum diketahui sebabnya. Setelah pemeriksaan urin tampung dan osmolaritas urin serta plasma diketahui adanya diabetes insipidus. Dilakukan tes menggunakan desmopressin intranasal dan terbukti bahwa pasien menderita diabetes insipidus nefrogenik. Wanita 44 tahun dengan hipokalemia refrakter dan polyuria, dicurigai diabetes insipidus. Pasien menjalani tes desmopressin menggunakan 20 mcg desmopressin intranasal dan tidak didapatkan perubahan dari osmolarita urin. Pasien didiagnosa diabetes insipidus nefrogenik dan mendapatkan pengobatan suportif menggunakan NSAID.
Kata kunci: diabetes insipidus; hypokalemia refrakter.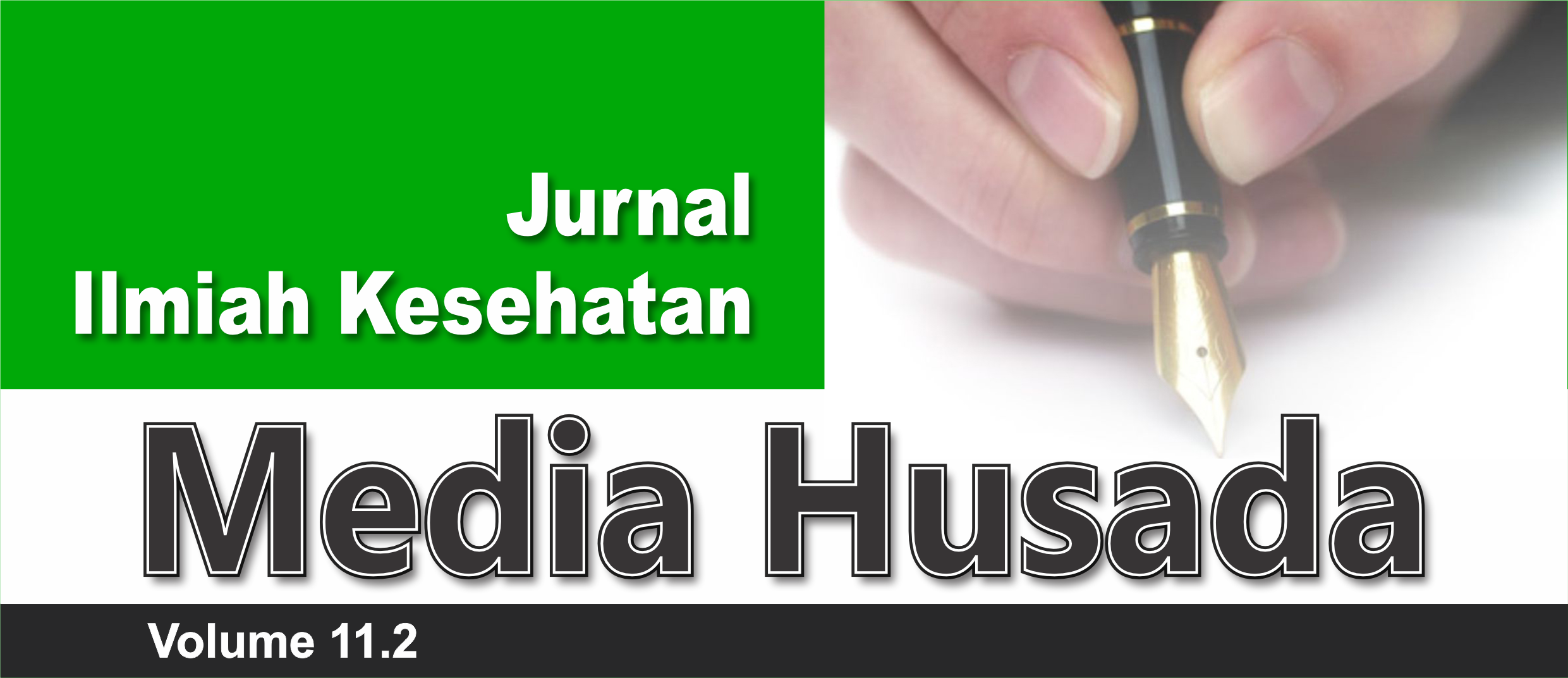 How to Cite
Rifa'iA. (2022). DIABETES INSIPIDUS DENGAN HIPOKALEMIA REFRAKTER. Jurnal Ilmiah Kesehatan Media Husada, 11(2), 105-109. https://doi.org/10.33475/jikmh.v11i2.319
Copyright (c) 2022 Jurnal Ilmiah Kesehatan Media Husada
This work is licensed under a Creative Commons Attribution 4.0 International License.
The authors who publish their articles in Jurnal Ilmiah Kesehatan Media Husada must approve the copyright statement as follows :
1. The authors agree to automatic transfer of the copyright to the publisher
2. All material contained in this site is protected by law.
3. If you find one or more articles contained in the journal that violate or potentially infringe your copyright, please contact us via email lppmkwidyagamahusada@ac.id
4. The formal legal aspect of access to any information and articles contained in this journal site refers to the terms of the licensed under a Creative Commons Attribution 4.0 International License. . This allows authors and others to share (copy and redistribute the material in any medium or fomat) and adapt (remix, transform, and build upon the material) for non-commercial purposes.
4. All Information contained in the journal is academic. The journal is not liable for any losses incurred by misuse of information from this site.