THE THE EFFECT OF BOWEL MASSAGE ON BODY NOISE FREQUENCY IN POST TREPANATION PATIENTS
Galih Pandu Sinaga

healty
Keywords:
BOWEL MASSAGE, BODY NOISE FREQUENCY
Abstract
Trepanation is one of the most serious and soul-critical traumas. The main goal of anesthetic management for patients with brain injury is optimization of cerebral perfusion pressure and brain oxygenation. As a result of anesthetic drugs reduce peristalsis in the large intestine and small intestine. Bowel massage is a mechanism of action to reduce contractions and tension in the abdominal muscles, increase motility in the digestive system, increase secretions in the intestinal system and have an effect on sphincter relaxation so that this mechanism of action will facilitate and facilitate expulsion of feces. The universal aim of this research is to identify the comparison of bowel sounds frequency in post trepanation patients between being treated and not being treated in the ICU room at RSUD dr. Saiful Anwar Malang. This study uses a quantitative approach with a Quasi Experimental design with a Non Equivalent Control Group Design approach. The sampling technique used in this research is accidental sampling. Linear regression test between time and bowel sounds in the treatment group obtained a p value of 0.048 (p <0.05), it can be concluded that time has a significant effect on bowel sounds in the treatment group. Test the difference in bowel bissing between the control group with the Mann Whitney test at 3 different times. The p value is (p < 0.05), meaning that there is a difference in bowel sounds after bowel massage.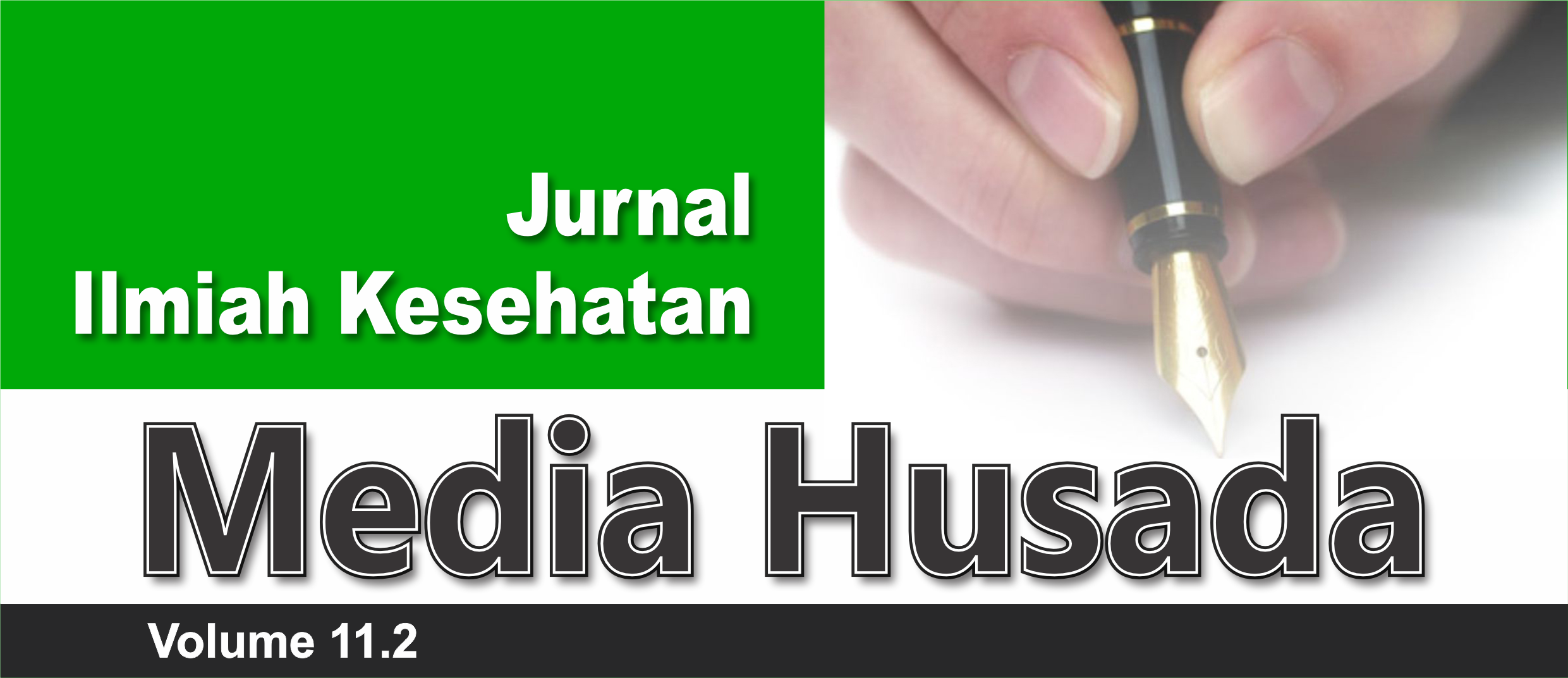 How to Cite
SinagaG. (2022). THE THE EFFECT OF BOWEL MASSAGE ON BODY NOISE FREQUENCY IN POST TREPANATION PATIENTS. Jurnal Ilmiah Kesehatan Media Husada, 11(2), 135-145. https://doi.org/10.33475/jikmh.v11i2.307
Copyright (c) 2022 Jurnal Ilmiah Kesehatan Media Husada
This work is licensed under a Creative Commons Attribution 4.0 International License.
The authors who publish their articles in Jurnal Ilmiah Kesehatan Media Husada must approve the copyright statement as follows :
1. The authors agree to automatic transfer of the copyright to the publisher
2. All material contained in this site is protected by law.
3. If you find one or more articles contained in the journal that violate or potentially infringe your copyright, please contact us via email lppmkwidyagamahusada@ac.id
4. The formal legal aspect of access to any information and articles contained in this journal site refers to the terms of the licensed under a Creative Commons Attribution 4.0 International License. . This allows authors and others to share (copy and redistribute the material in any medium or fomat) and adapt (remix, transform, and build upon the material) for non-commercial purposes.
4. All Information contained in the journal is academic. The journal is not liable for any losses incurred by misuse of information from this site.