PERBEDAAN KADAR HEMOGLOBIN PRE DAN POST HD PADA PASIEN CHRONIC KIDNEY DISEASE (CKD) YANG MENJALANI TERAPI HEMODIALISIS DENGAN MENGGUNAKAN REUSE DIALIZER DI RUANG HEMODIALISA RSUD Dr.SAIFUL ANWAR MALANG
Abstract
Chronic Kidney Disease (CKD) is an irreversible decline in kidney function. Dializer reuse is the act of using a dialyzer more than once on the same patient. The purpose of this study was to determine the difference in hemoglobin levels in CKD patients who underwent hemodialysis therapy using a reuse dialyzer in the Hemodialysis Room of Dr. Saiful Anwar Hospital Malang. The design of this research is quantitative research with cross sectional design. Using a purposive sampling technique a number of 40 respondents. Based on the Wilcoxon test showing p>0.05, it can be concluded that there is no difference in hemoglobin levels before and after hemodialysis and dialyser reuse. The results of the One Way ANOVA test of 0.648>0.05 and the results of the Kruskal Wallis test of 0.716>0.05 can be concluded that there is no difference in the average hemoglobin level before hemodialysis, dialyzer reuse remains safe for up to 7 times use and does not affect the decrease in patient's HB levels. 
Keyword : Chronic Kidney Disease, Hemodialysis, Hemoglobin Level, Reuse Dialyzer
ABSTRAK
chronic Kidney Disease (CKD) merupakan penurunan fungsi ginjal yang irreversible. Pemakaian ulang dializer (dializer reuse) merupakan tindakan pemakaian dializer lebih dari satu kali pada pasien yang sama. Tujuan penelitian ini mengetahui perbedaan kadar  hemoglobin pada pasien CKD yang menjalani terapi hemodialisis dengan menggunakan reuse dializer di Ruang Hemodialisa RSUD Dr.Saiful Anwar Malang. Rancangan penelitian ini adalah penelitian kuantitatif dengan desain cross sectional. Menggunakan teknik purposive sampling sejumlah 40 responden. Berdasarkan uji Wilcoxon menunjukkan nilai p>0.05 dapat disimpulkan tidak ada perbedaan kadar hemoglobin sebelum dan sesudah hemodialisa dengan dialiser reuse. Hasil uji One Way ANOVA sebesar 0.648>0.05 dan hasil uji Kruskal Wallis  sebesar 0.716>0.05 dapat disimpulkan bahwa tidak ada perbedaan rerata kadar hemoglobin sebelum hemodialisa, dializer reuse tetap aman hingga pemakaian 7x dan tidak mempengaruhi penurunan kadar HB paisen.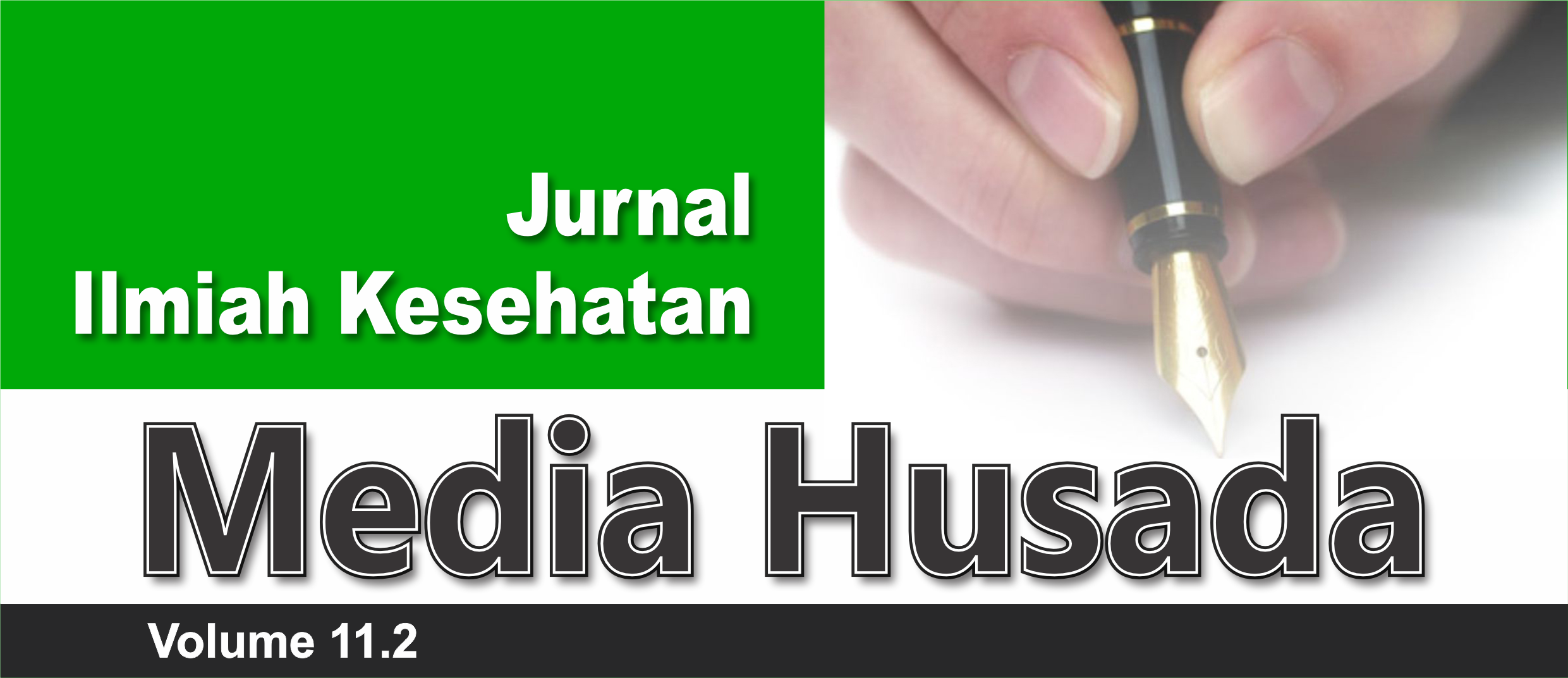 How to Cite
IndriastutikA. (2022). PERBEDAAN KADAR HEMOGLOBIN PRE DAN POST HD PADA PASIEN CHRONIC KIDNEY DISEASE (CKD) YANG MENJALANI TERAPI HEMODIALISIS DENGAN MENGGUNAKAN REUSE DIALIZER DI RUANG HEMODIALISA RSUD Dr.SAIFUL ANWAR MALANG. Jurnal Ilmiah Kesehatan Media Husada, 11(2), 120-134. https://doi.org/10.33475/jikmh.v11i2.301
Copyright (c) 2022 Jurnal Ilmiah Kesehatan Media Husada
This work is licensed under a Creative Commons Attribution 4.0 International License.
The authors who publish their articles in Jurnal Ilmiah Kesehatan Media Husada must approve the copyright statement as follows :
1. The authors agree to automatic transfer of the copyright to the publisher
2. All material contained in this site is protected by law.
3. If you find one or more articles contained in the journal that violate or potentially infringe your copyright, please contact us via email lppmkwidyagamahusada@ac.id
4. The formal legal aspect of access to any information and articles contained in this journal site refers to the terms of the licensed under a Creative Commons Attribution 4.0 International License. . This allows authors and others to share (copy and redistribute the material in any medium or fomat) and adapt (remix, transform, and build upon the material) for non-commercial purposes.
4. All Information contained in the journal is academic. The journal is not liable for any losses incurred by misuse of information from this site.