Gambaran pemutakhiran Data keluarga Miskin (GAKIN) Kota Surabaya
Keywords:
Gambaran, Data Gakin, Surabaya
Abstract
Pemerintah Kota Surabaya menerapkan kebijakan pemberian bantuan bagi keluarga miskin. Data-data penerima bantuan keluarga miskin perlu diperbarui setiap dua tahun sekali. Kegiatan tersebut dinamakan pemutakhiran data Gakin. Pemutakhiran data Gakin tersebut terdiri-dari serangkaian kegiatan pengumpulan data keluarga dengan menggunakan daftar pertanyaan yang sudah ditentukan dan mengolah data untuk memperoleh status kemiskinan keluarga. Tujuan Pemutakhiran Data Gakin adalah memberikan efektivitas dalam rangka penentuan sasaran. Pihak yang bertugas dalam menangani pemutakhiran data Gakin adalah bidang Pemberdayaan Masyarakat dari Dinas Pengendalian Penduduk Pemberdayaan Perempuan dan Perlindungan Anak Kota Surabaya melalui kegiatan DDKM. Kegiatan DDKM diawali oleh sosialisasi kegiatan DDKM, pengisian kuisioner dan verifikasi berjenjang. Berdasarkan data pemutakhiran Gakin tahun 2008, 2010 dan 2012 terdapat efektifitas dalam penerapan kebijakan.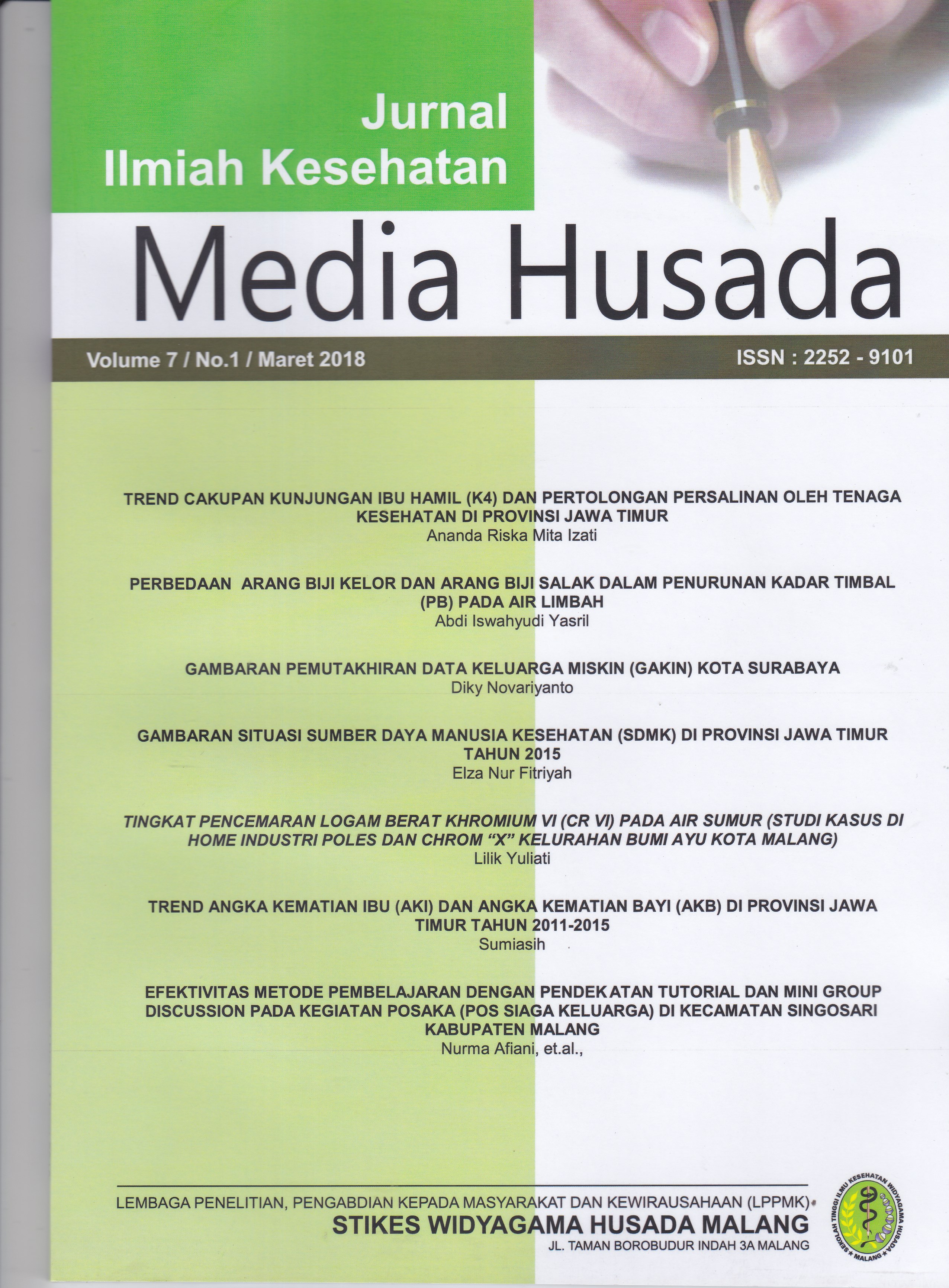 How to Cite
NovariyantoD. (2018). Gambaran pemutakhiran Data keluarga Miskin (GAKIN) Kota Surabaya. Jurnal Ilmiah Kesehatan Media Husada, 7(1), 25-30. https://doi.org/10.33475/jikmh.v7i1.30
The authors who publish their articles in Jurnal Ilmiah Kesehatan Media Husada must approve the copyright statement as follows :
1. The authors agree to automatic transfer of the copyright to the publisher
2. All material contained in this site is protected by law.
3. If you find one or more articles contained in the journal that violate or potentially infringe your copyright, please contact us via email lppmkwidyagamahusada@ac.id
4. The formal legal aspect of access to any information and articles contained in this journal site refers to the terms of the licensed under a Creative Commons Attribution 4.0 International License. . This allows authors and others to share (copy and redistribute the material in any medium or fomat) and adapt (remix, transform, and build upon the material) for non-commercial purposes.
4. All Information contained in the journal is academic. The journal is not liable for any losses incurred by misuse of information from this site.