BODY IMAGE DIFFERENCES IN BODY IMAGE BETWEEN BEFORE AND AFTER MASTECTOMY TO BREAST CANCER CLIENTS AT RSUD DR. SAIFUL ANWAR MALANG
Slamet Indriyanto

STIKES MAHARANI MALANG
Keywords:
medical surgical nursing
Abstract
ABSTRACT
Indriyanto, Slamet. 2021. Differences in Body Image Between Before And After Mastectomy To Breast Cancer Clients At RSUD Dr. Saiful Anwar Malang. Thesis. Bachelor of Nursing, Maharani Health College Malang. Supervisors: (1) Ns. Wiwik Agustina, S.Kep., M. Biomed, (2) Ns. Rahmawati Maulidia, M.Kep.
Breast cancer is one of the most common  types of cancer in Indonesia and mastectomy is a rational and effective treatment procedure to prevent the spread and disposal of cancer cells. Body image undergoes many changes during breast cancer therapy and treatment, the impact of these changes affects client perception, sexuality, and social function. The purpose of this study is to identify body image before and after the mastectomy, and whether there is a change in body image between before and after the mastectomy. The study used the BREAST-Q Version 2.0 Mastectomy Module and Pre-Post Operative Scales questionnaire.  The design of this study is comparative study with cross sectional analysis. The results of the study, obtained body image before mastectomy almost all respondents (90%) with negative body image. While body image after mastectomy, obtained by all respondents (100%) have a negative body image. Wilcoxon signed rank test results showed a difference in body image between before and after the mastectomy, with a value of p: 0.005 smaller than α= 0.05 Body image has changed before the mastectomy, even decreasing after the mastectomy.
Keywords: Breast Cancer, Body image, Mastectomy.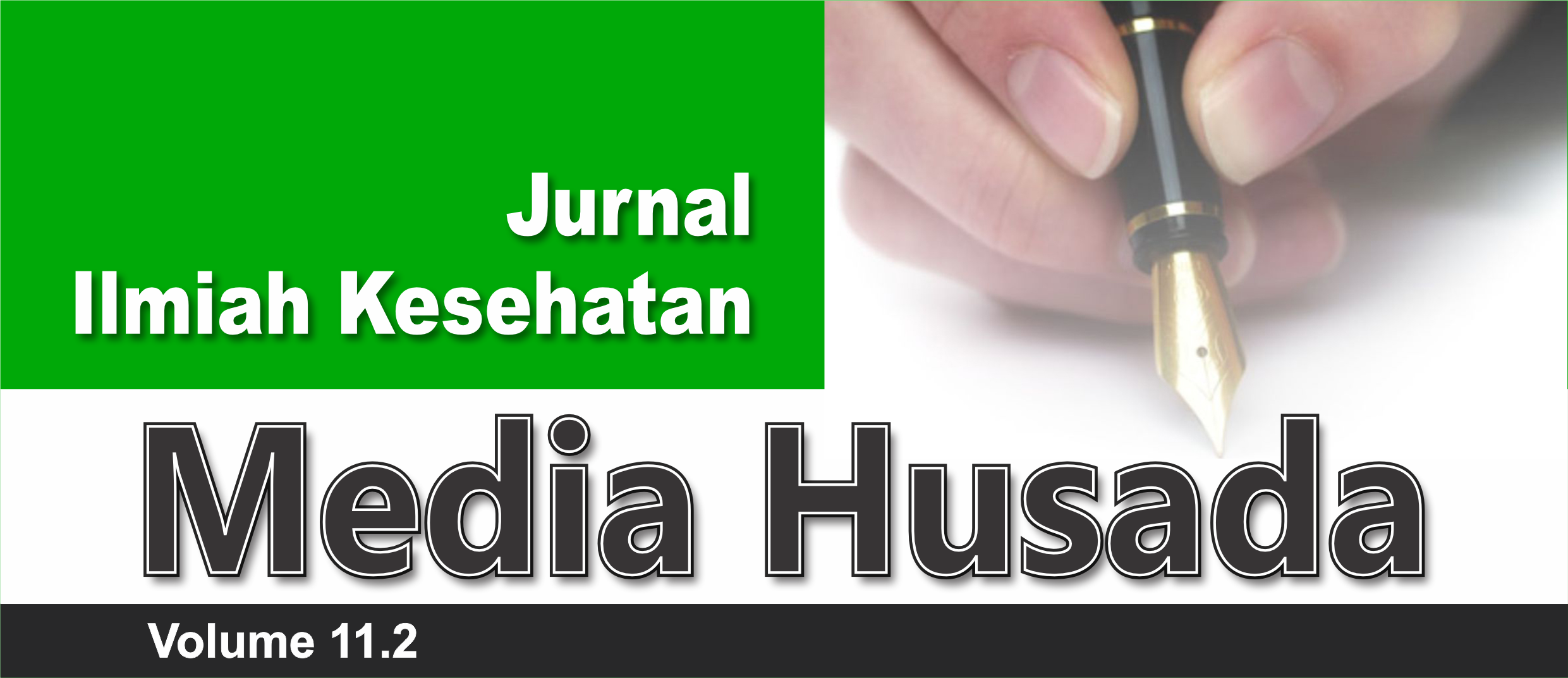 How to Cite
IndriyantoS. (2022). BODY IMAGE DIFFERENCES IN BODY IMAGE BETWEEN BEFORE AND AFTER MASTECTOMY TO BREAST CANCER CLIENTS AT RSUD DR. SAIFUL ANWAR MALANG. Jurnal Ilmiah Kesehatan Media Husada, 11(2), 165-173. https://doi.org/10.33475/jikmh.v11i2.279
Copyright (c) 2022 Jurnal Ilmiah Kesehatan Media Husada
This work is licensed under a Creative Commons Attribution 4.0 International License.
The authors who publish their articles in Jurnal Ilmiah Kesehatan Media Husada must approve the copyright statement as follows :
1. The authors agree to automatic transfer of the copyright to the publisher
2. All material contained in this site is protected by law.
3. If you find one or more articles contained in the journal that violate or potentially infringe your copyright, please contact us via email lppmkwidyagamahusada@ac.id
4. The formal legal aspect of access to any information and articles contained in this journal site refers to the terms of the licensed under a Creative Commons Attribution 4.0 International License. . This allows authors and others to share (copy and redistribute the material in any medium or fomat) and adapt (remix, transform, and build upon the material) for non-commercial purposes.
4. All Information contained in the journal is academic. The journal is not liable for any losses incurred by misuse of information from this site.