PROFIL KARAKTERISTIK INDIVIDU TERHADAP KEJADIAN HIPERURESEMIA
Putu Sintya Arlinda Arsa

STIKes Kendedes Malang

Grisna Putri

STIKES kendedes

Wiwit Nurwidyaningtyas

STIKES kendedes
Abstract
Abstrak
Pendahuluan Hiperuresemia merupakan peningkatan kadar asam urat pada darah. Prevalensi hiperuresemia mengalami peningkatan. Gout merupakan gangguan metabolik yang ditandai dengan peningkatan kadar asam urat (hiperuresemia). Hiperuresemia jika tidak ditangani dengan tepat maka dapat dapat mengancam nyawa manusia. Tujuan dari penelitian ini adalah mengetahui gambaran kejadian hiperuresemia pada warga di RT 02 RW 03 Kelurahan Arjosari Kecamatan Blimbing Kota Malang. Data yang diteliti adalah jenis kelamin, usia, pendidikan, pekerjaan dan pendapatan. Metode penelitian yang digunakan design penelitian observasi analitik cross sectional, pengambilan data dilakukan dengan wawancara dan pengukuran kadar asam urat dalam darah melalui metode test stick kadar asam urat darah. Teknik pengambilan sampel menggunakan Simple Random Sampling dengan jumlah sampel 50 responden. Hasil penelitian didapatkan karakteristik responden berdasarkan jenis kelamin perempuan lebih besar 68,4 %, karakteristik usia sebagian besar berusia 50-59 tahun dengan persentase 42,1%, karakteristik responden berdasarkan pendidikan berasal jenjang perguruan tinggi sebesar 36,8 %, karakteristik responden berdasarkan jenis pekerjaan sebagian besar tidak bekerja/IRT sebesar 52,6% dan karakteristik responden berdasarkan pendapatan sebesar  >2.000.000 perbulan dengan persentase  42,1 %.  Kesimpulan Hasil penelitian ini  diharapkan mampu dijadikan kebijakan kesehatan masyarakat untuk selalu menerapkan pola makan yang sehat, diet rendah purin, dan rutin berolahraga.
Kata Kunci: Hiperuresemia; Asam urat; Karakteristik individu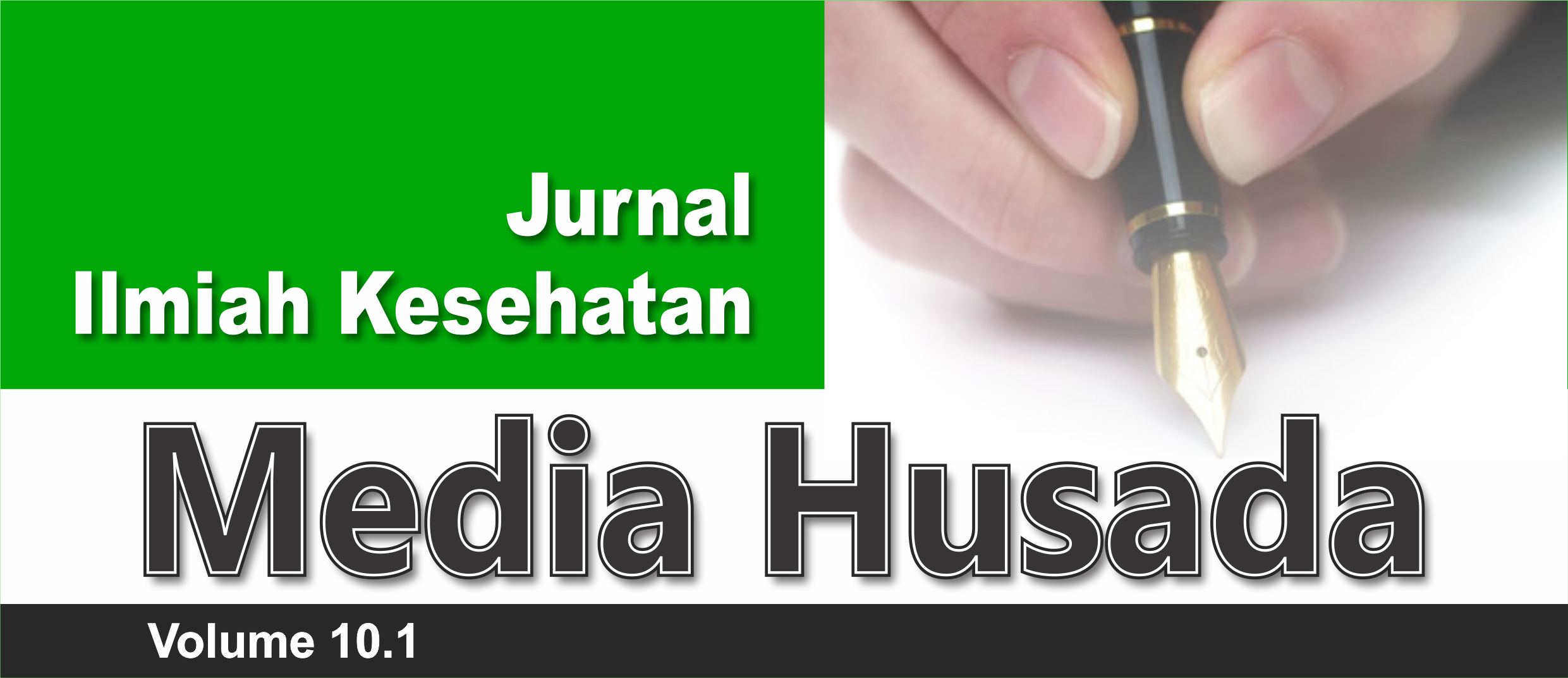 How to Cite
ArsaP., PutriG., & NurwidyaningtyasW. (2021). PROFIL KARAKTERISTIK INDIVIDU TERHADAP KEJADIAN HIPERURESEMIA. Jurnal Ilmiah Kesehatan Media Husada, 10(1), 28-33. https://doi.org/10.33475/jikmh.v10i1.244
Copyright (c) 2021 Jurnal Ilmiah Kesehatan Media Husada
This work is licensed under a Creative Commons Attribution 4.0 International License.
The authors who publish their articles in Jurnal Ilmiah Kesehatan Media Husada must approve the copyright statement as follows :
1. The authors agree to automatic transfer of the copyright to the publisher
2. All material contained in this site is protected by law.
3. If you find one or more articles contained in the journal that violate or potentially infringe your copyright, please contact us via email lppmkwidyagamahusada@ac.id
4. The formal legal aspect of access to any information and articles contained in this journal site refers to the terms of the licensed under a Creative Commons Attribution 4.0 International License. . This allows authors and others to share (copy and redistribute the material in any medium or fomat) and adapt (remix, transform, and build upon the material) for non-commercial purposes.
4. All Information contained in the journal is academic. The journal is not liable for any losses incurred by misuse of information from this site.