PENGARUH PEMBERIAN BOOKLET ASI EKSKLUSIF TERHADAP PENGETAHUAN DAN KETERAMPILAN IBU
Noerma Shovie Rizqiea

STIKes Kusuma Husada Surakarta
Keywords:
breastfeeding, Booklet., Knowledge, skills
Abstract
Exclusive breastfeeding is breast milk given to babies from birth for six months, without adding and / or replacing with other foods or drinks (except drugs, vitamins and minerals). Booklet is one of the media that is used to convey health messages in the form of books, both writing and drawing. The results of a preliminary study obtained from the Village Midwife said that the majority of mothers found it difficult to give exclusive breastfeeding to their children so that she gave up and gave formula milk. The aim of the study: to determine the effect of giving booklets on exclusive breastfeeding to the knowledge and skills of mothers in Gondangrejo Community Health Center, Karanganyar Regency. Method: Type of research experiment with the design of pre and post test without control. The sampling technique used by researchers is non probability sampling with a consecutive sampling method. The number of samples used in this study were 45 respondents with an added 10% estimate of the proportion of drop outs, so the sample amounted to 50 respondents. Results: The normality test obtained results p 0,000 (p <0.05) so that the distribution of data was said to be abnormal. The analysis used was the Wilcoxon test, the results obtained p 0,000 (p <0.05), so that it showed a significant difference in knowledge between before being given the booklet and after giving the booklet. The frequency distribution of skills shows that 64% of respondents get the maximum score (12). Conclusion: The provision of booklets increases the knowledge and skills of mothers in giving exclusive breastfeeding.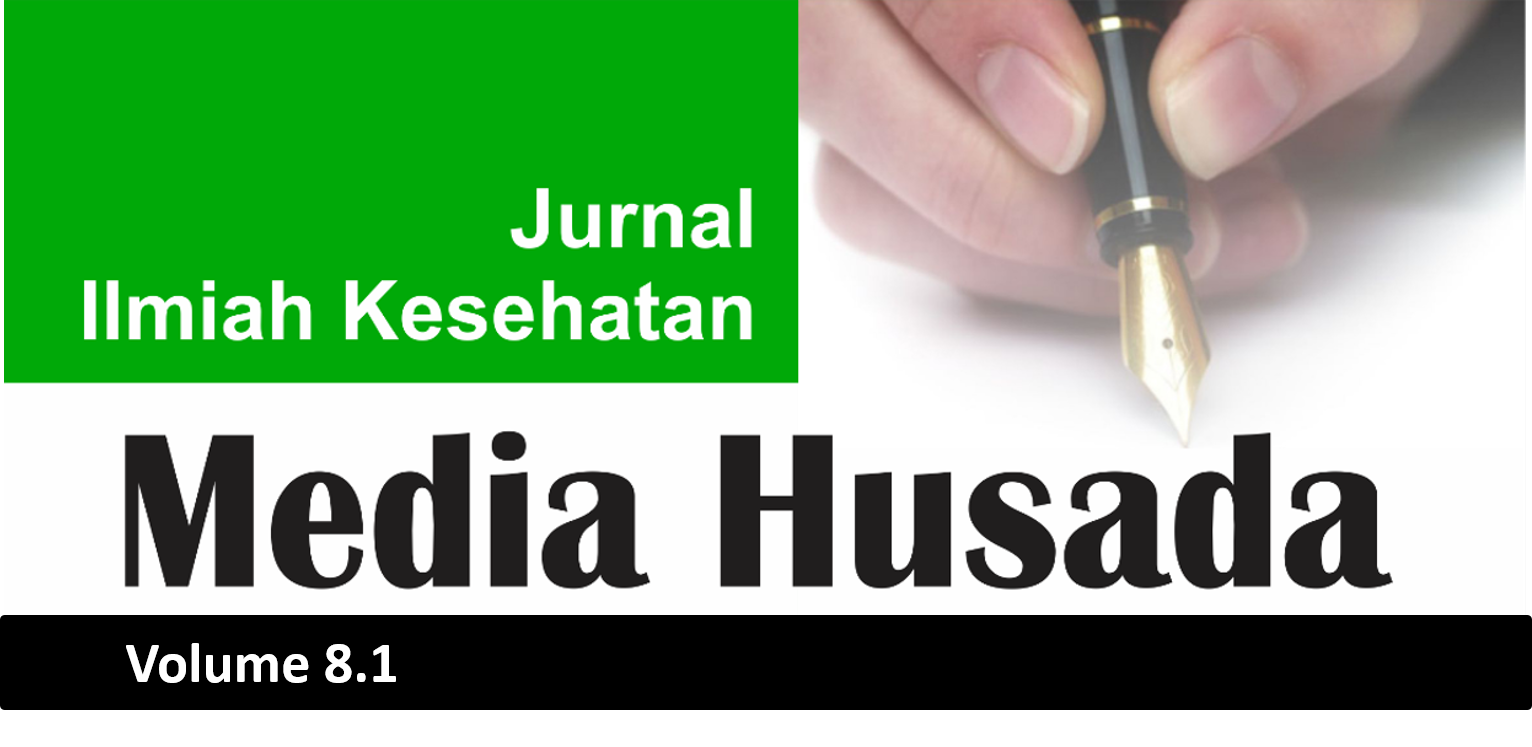 How to Cite
RizqieaN. (2019). PENGARUH PEMBERIAN BOOKLET ASI EKSKLUSIF TERHADAP PENGETAHUAN DAN KETERAMPILAN IBU. Jurnal Ilmiah Kesehatan Media Husada, 8(1), 15-21. https://doi.org/10.33475/jikmh.v8i1.193
Copyright (c) 2019 Jurnal Ilmiah Kesehatan Media Husada
This work is licensed under a Creative Commons Attribution-ShareAlike 4.0 International License.
The authors who publish their articles in Jurnal Ilmiah Kesehatan Media Husada must approve the copyright statement as follows :
1. The authors agree to automatic transfer of the copyright to the publisher
2. All material contained in this site is protected by law.
3. If you find one or more articles contained in the journal that violate or potentially infringe your copyright, please contact us via email lppmkwidyagamahusada@ac.id
4. The formal legal aspect of access to any information and articles contained in this journal site refers to the terms of the licensed under a Creative Commons Attribution 4.0 International License. . This allows authors and others to share (copy and redistribute the material in any medium or fomat) and adapt (remix, transform, and build upon the material) for non-commercial purposes.
4. All Information contained in the journal is academic. The journal is not liable for any losses incurred by misuse of information from this site.