APLIKASI SURVIVAL LAMA PERAWATAN PASIEN DEMAM BERDARAH DENGUE DI RUMAH SAKIT PERMATA BUNDA MALANG
Novia Gita Suriantina

STIKES WIDYAGAMA
Keywords:
product limit Kaplan Meier, lama perawatan, demam berdarah dengue
Abstract
Analisis survival merupakan metode yang digunakan untuk memperkirakan kelangsungan peristiwa sampai periode waktu yang ditentukan. Salah satu metode dalam analisis survival yaitu product limit Kaplan Meier, dalam penelitian ini metode tersebut diterapkan pada permasalahan lama perawatan pasien penderita demam berdarah dengue di Rumah Sakit Permata Bunda Malang yang bertujuan untuk mengidentifikasi karakteristik pasien dan menganalisis lama perawatan DBD. Variabel bebas penelitian adalah usia, jenis kelamin, jumlah trombosit dan nilai leukosit. Jumlah populasi yang menjalani perawatan di Rumah Sakit Permata Bunda Malang pada bulan Februari 2014 sampai Februari 2016 sebanyak 119 yang kemudian diambil 40 sampel berdasarkan teknik simple random sampling. Hasil penelitian yang diperoleh menunjukkan bahwa 40 sampel yang didapatkan dari data rekam medis tidak terdapat data yang tersensor. Usia pasien yang paling banyak yaitu 15-59 tahun. Pasien dengan jenis kelamin perempuan lebih banyak dibandingkan laki-laki. Hasil analisis Kaplan meier menunjukkan lama perawatan pasien DBD rata-rata 4 hari. Variabel bebas yang menunjukkan adanya perbedaan pada lama perawatan yaitu berdasarkan nilai leukosit p = 0,047, sedangkan untuk variabel usia, jenis kelamin, dan trombosit tidak menunjukkan adanya perbedaan lama perawatan. Kesimpulan yang dapat ditarik adalah hanya terdapat satu variabel yang menunjukkan adanya perberdaan lama perawatan yaitu nilai leukosit.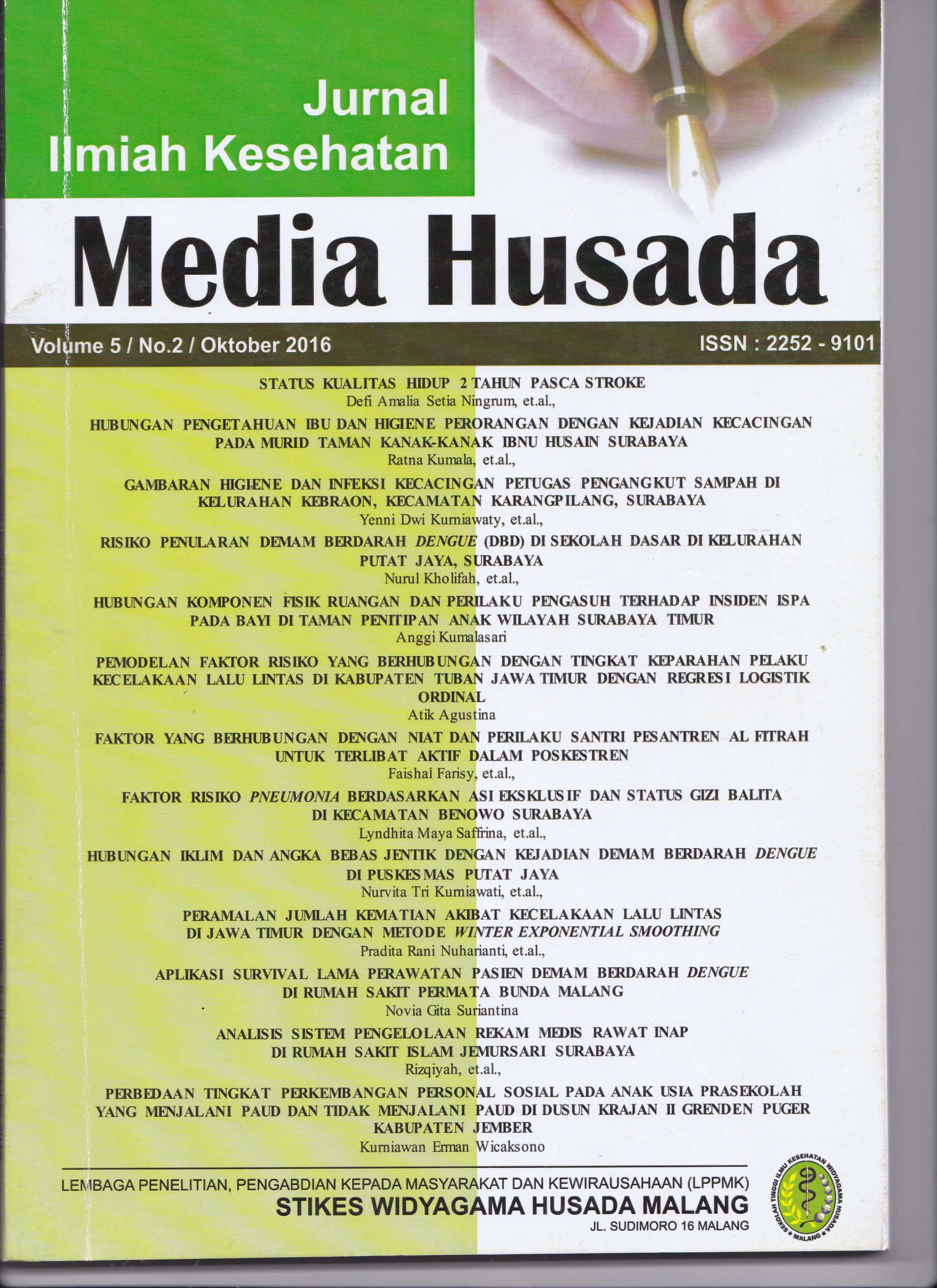 How to Cite
SuriantinaN. (2016). APLIKASI SURVIVAL LAMA PERAWATAN PASIEN DEMAM BERDARAH DENGUE DI RUMAH SAKIT PERMATA BUNDA MALANG. Jurnal Ilmiah Kesehatan Media Husada, 5(2), 179-190. https://doi.org/10.33475/jikmh.v5i2.177
The authors who publish their articles in Jurnal Ilmiah Kesehatan Media Husada must approve the copyright statement as follows :
1. The authors agree to automatic transfer of the copyright to the publisher
2. All material contained in this site is protected by law.
3. If you find one or more articles contained in the journal that violate or potentially infringe your copyright, please contact us via email lppmkwidyagamahusada@ac.id
4. The formal legal aspect of access to any information and articles contained in this journal site refers to the terms of the licensed under a Creative Commons Attribution 4.0 International License. . This allows authors and others to share (copy and redistribute the material in any medium or fomat) and adapt (remix, transform, and build upon the material) for non-commercial purposes.
4. All Information contained in the journal is academic. The journal is not liable for any losses incurred by misuse of information from this site.