HUBUNGAN IKLIM DAN ANGKA BEBAS JENTIK DENGAN KEJADIAN DEMAM BERDARAH DENGUE DI PUSKESMAS PUTAT JAYA
Nurvita Tri Kurniawati

STIKES WIDYAGAMA

Ririh Yudhastuti

STIKES WIDYAGAMA
Keywords:
Iklim, Angka Bebas Jentik, Demam Berdarah Dengue
Abstract
Demam Berdarah Dengue merupakan penyakit yang disebabkan oleh virus dengue dan ditularkan oleh nyamuk Aedes aegypti yang masih menjadi masalah di Puskesmas Putat Jaya. Kejadian DBD dipengaruhi oleh faktor lingkungan seperti iklim dan kepadatan jentik yang ditunjukkan dengan Angka Bebas Jentik (ABJ). Penelitian ini bertujuan untuk menganalisis hubungan faktor iklim dan ABJ dengan kejadian DBD di Puskesmas Putat Jaya tahun 2010-
2014. Penelitian ini merupakan penelitian analitik dengan jenis penelitian studi ecology time series. Waktu pengambilan data dilakukan pada bulan Mei 2016. Data sekunder yang dibutuhkan adalah data iklim (curah hujan, suhu, dan kelembaban) yang diperoleh dari Badan Meteorologi, Klimatologi dan Geofisika (BMKG) Perak dan data kasus DBD serta data ABJ yang diperoleh dari Puskesmas Putat Jaya. Hasil uji korelasi menunjukkan bahwa curah hujan memiliki kekuatan hubungan lemah dan arah hubungan postif dengan kejadian DBD (r=0,141). Suhu memiliki kekuatan hubungan sedang dan arah hubungan postif dengan kejadian DBD (r=0,301). Kelembaban memiliki kekuatan hubungan lemah dan arah hubungan postif dengan kejadian DBD (r=0,23). ABJ Puskesmas Putat Jaya masih rendah dengan ABJ yang tidak mencapai standar Nasional ≥95%. Hubungan antara ABJ dengan kejadian DBD menunjukkan kekuatan hubungan lemah dan arah hubungan postif dengan kejadian DBD(r=0,078). Perlunya kerjasama antara masyarakat dan pihak puskesmas untuk mengendalikan DBD. Masyarakat dapat melakukan Pemberantasan Sarang Nyamuk (PSN) dan pihak puskesmas melaksanakan program pengendalian DBD dengan lebih baik.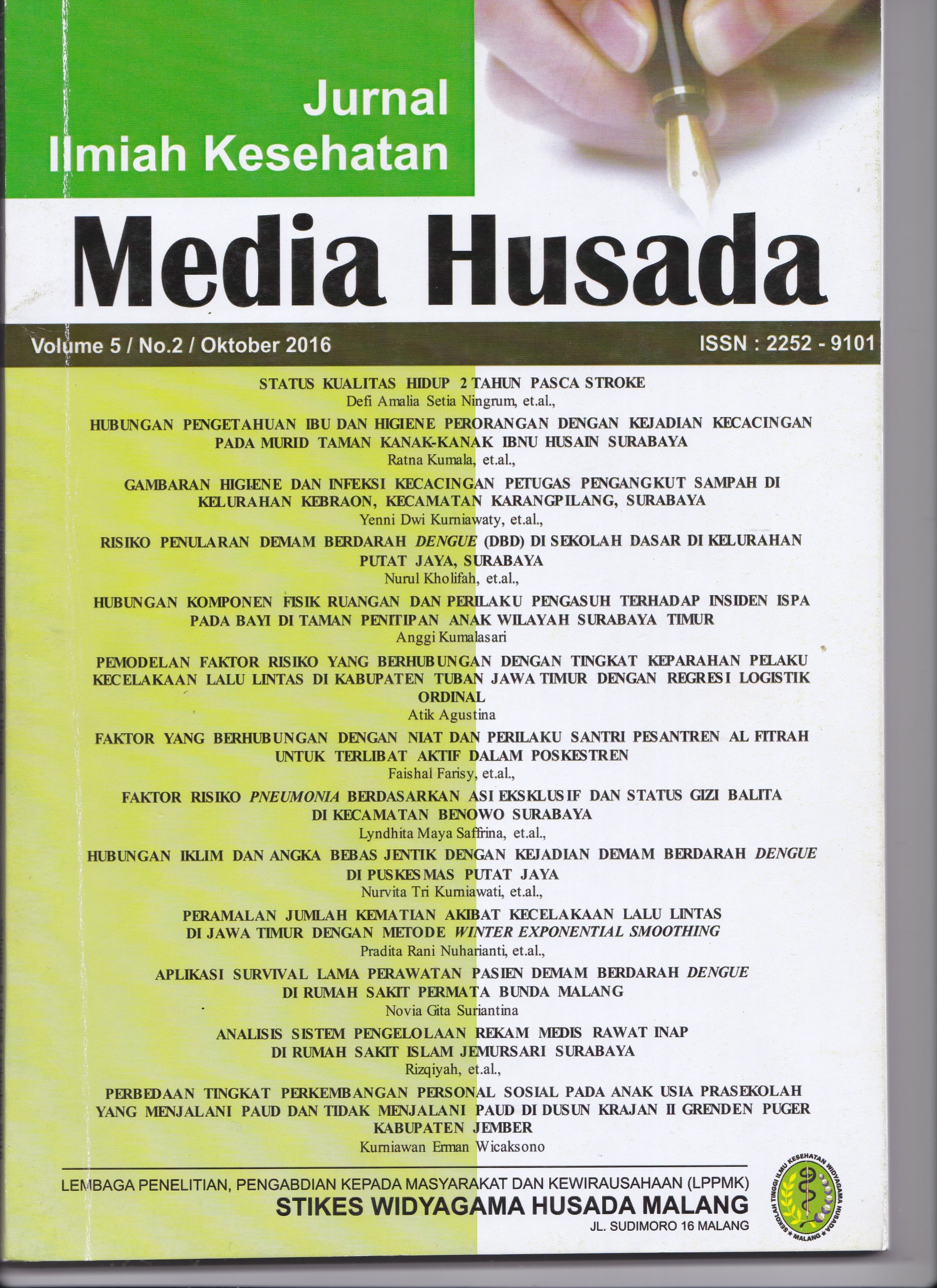 How to Cite
KurniawatiN., & YudhastutiR. (2016). HUBUNGAN IKLIM DAN ANGKA BEBAS JENTIK DENGAN KEJADIAN DEMAM BERDARAH DENGUE DI PUSKESMAS PUTAT JAYA. Jurnal Ilmiah Kesehatan Media Husada, 5(2), 157-166. https://doi.org/10.33475/jikmh.v5i2.175
The authors who publish their articles in Jurnal Ilmiah Kesehatan Media Husada must approve the copyright statement as follows :
1. The authors agree to automatic transfer of the copyright to the publisher
2. All material contained in this site is protected by law.
3. If you find one or more articles contained in the journal that violate or potentially infringe your copyright, please contact us via email lppmkwidyagamahusada@ac.id
4. The formal legal aspect of access to any information and articles contained in this journal site refers to the terms of the licensed under a Creative Commons Attribution 4.0 International License. . This allows authors and others to share (copy and redistribute the material in any medium or fomat) and adapt (remix, transform, and build upon the material) for non-commercial purposes.
4. All Information contained in the journal is academic. The journal is not liable for any losses incurred by misuse of information from this site.