FAKTOR RISIKO PNEUMONIA BERDASARKAN ASI EKSKLUSIF DAN STATUS GIZI BALITA DI KECAMATAN BENOWO SURABAYA
Lyndhita Maya Saffrina

STIKES WIDYAGAMA

Rachmah Indawati

STIKES WIDYAGAMA
Keywords:
regresi logistik ganda, pneumonia, balita
Abstract
Regresi logistik ganda digunakan untuk menganalisa hubungan antara satu variabel dependen yang bersifat dikotom dengan beberapa variabel independen.Analisis diterapkan pada kejadian InfeksiSaluran Pernapasan Akut Pneumonia.Penelitian ini dilakukan untuk mengetahui faktor risiko yang berpengaruh danmendapatkan model prediksi terhadap kejadian Pneumonia di Kecamatan Benowo Surabaya pada tahun 2015.Penelitian bersifat observasional dengan desain cross sectional.Penelitian menggunakan data sekunderdarirekam medik pasien.Pengambilan sampel dengan simple random sampling diperoleh sebanyak 152 balita.Variabel penelitian meliputi pneumonia, jenis kelamin, usia, ASI eksklusif, dan status gizi.Hasil penelitian didapatkan variabel independen yang mempunyai pengaruh terhadap pneumonia adalah usia (p
= 0,004 ; OR 3,013), jenis kelamin ( p = 0,049 ; OR 2,068), ASI eksklusif (p = 0,029 ; OR
2,425), dan status gizi (p = 0,001 ; OR 4,478). Ketepatan prediksi dari variabel independen tersebut adalah 69,7%. Kesimpulannya, logistik ganda dapat digunakan untuk menganalisis faktor risiko Pneumonia di Kecamatan Benowo tahun 2015 dengan ketepatan prediksi yang tinggi. Status gizi merupakan risiko tertinggi kejadian Pneumonia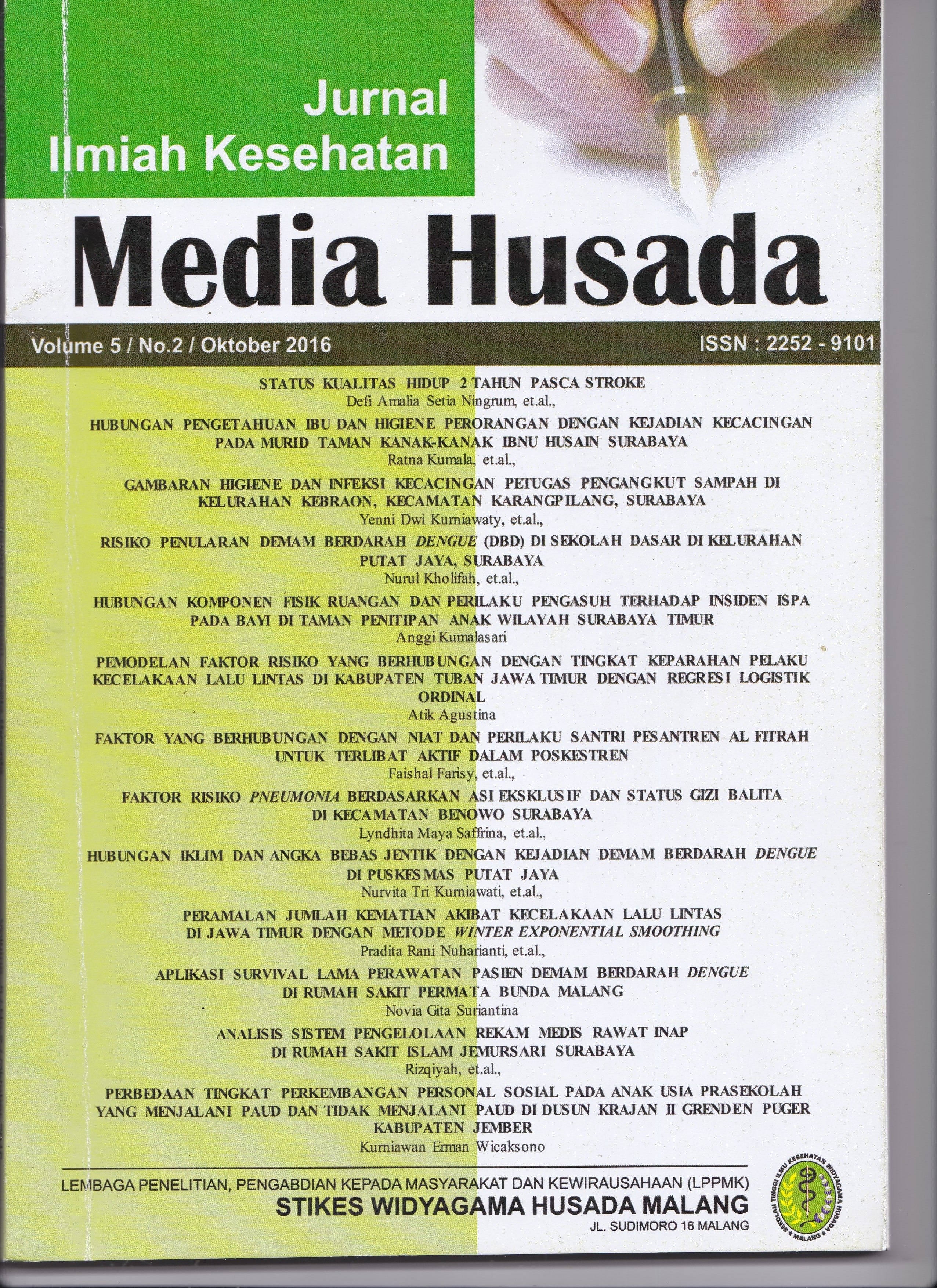 How to Cite
SaffrinaL., & IndawatiR. (2016). FAKTOR RISIKO PNEUMONIA BERDASARKAN ASI EKSKLUSIF DAN STATUS GIZI BALITA DI KECAMATAN BENOWO SURABAYA. Jurnal Ilmiah Kesehatan Media Husada, 5(2), 143-156. https://doi.org/10.33475/jikmh.v5i2.174
The authors who publish their articles in Jurnal Ilmiah Kesehatan Media Husada must approve the copyright statement as follows :
1. The authors agree to automatic transfer of the copyright to the publisher
2. All material contained in this site is protected by law.
3. If you find one or more articles contained in the journal that violate or potentially infringe your copyright, please contact us via email lppmkwidyagamahusada@ac.id
4. The formal legal aspect of access to any information and articles contained in this journal site refers to the terms of the licensed under a Creative Commons Attribution 4.0 International License. . This allows authors and others to share (copy and redistribute the material in any medium or fomat) and adapt (remix, transform, and build upon the material) for non-commercial purposes.
4. All Information contained in the journal is academic. The journal is not liable for any losses incurred by misuse of information from this site.