RISIKO PENULARAN DEMAM BERDARAH DENGUE (DBD) DI SEKOLAH DASAR DI KELURAHAN PUTAT JAYA, SURABAYA
Nurul Kholifah

STIKES WIDYAGAMA

Ririh Yudhastuti

STIKES WIDYAGAMA
Keywords:
dengue, kontainer, jentik, risiko, sekolah
Abstract
Kelurahan Putat Jaya merupakan daerah endemis Demam Berdarah Dengue (DBD) di Surabaya dengan penderita terbanyak adalah anak usia dibawah 14 tahun. Sekolah merupakan suatu tempat  yang berpotensi  sebagai tempat penular penyakit DBD. Tingkat kepadatan Aedes aegypti sebagai vektor utama menjadi indikator risiko penularan DBD. Kontainer sebagai tempat perindukan Aedes aegypti pada suatu wilayah menentukan tingkat kepadatan vektor DBD. Tujuan dari penelitian ini adalah mengetahui hubungan karakteristik kontainer dengan keberadaan jentik di lingkungan sekolah dasar. Penelitian ini menggunakan metode observasional deskriptif dengan desain studi cross sectional. Populasi penelitian ini adalah 9 sekolah dasar di Kelurahan Putat Jaya dengan sampel menggunakan metode total populasi. Observasi dengan metode visual digunakan untuk memperoleh data terkait variabel penelitian. Data dianalisis menggunakan koefisien korelasi Phi untuk mengetahui kuat hubungan antara karakteristik kontainer dengan keberadaan jentik. Hasil penelitian menunjukkan bahwa terdapat hubungan yang sangat lemah antara jenis (r = 0,128), bahan (r = 0,156), dan letak kontainer (r
= 0,103) dengan keberadaan jentik. Terdapat hubungan yang cukup (r = 0,262) antara warna kontainer dengan keberadaan jentik. Nilai Container Index (CI) secara umum = 22,5% yang menunjukkan sekolah dasar di Kelurahan Putat Jaya berisiko tinggi penularan DBD. Kesimpulan dari penelitian ini adalah masih terdapat 7 dari 9 sekolah dasar berisiko tinggi terjadi penularan DBD. Direkomendasikan untuk meningkatkan upaya PSN 3M dan pemantauan jentik secara rutin di lingkungan sekolah khususnya pada kontainer non TPA untuk menurunkan risiko penularan DBD.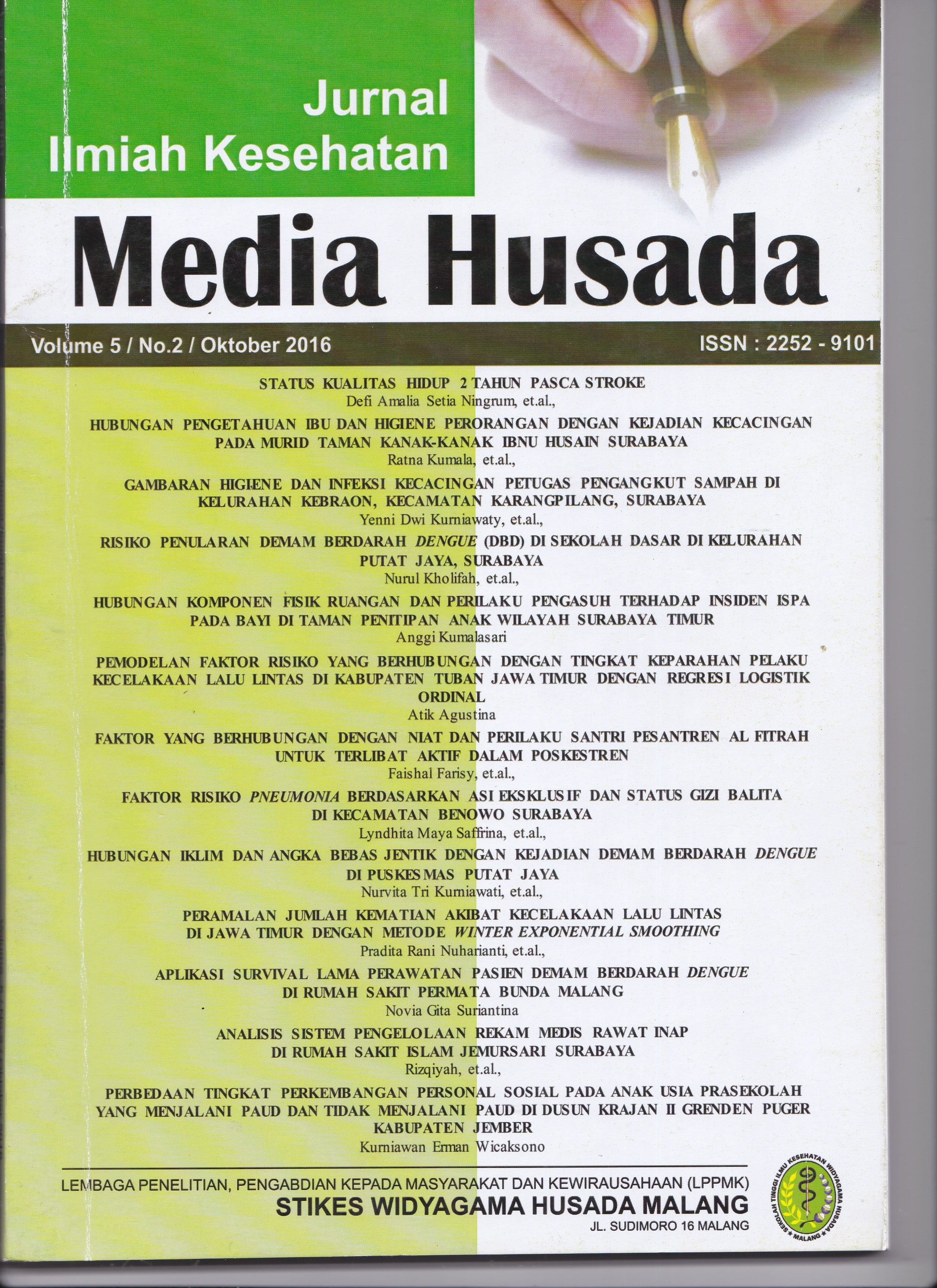 How to Cite
KholifahN., & YudhastutiR. (2016). RISIKO PENULARAN DEMAM BERDARAH DENGUE (DBD) DI SEKOLAH DASAR DI KELURAHAN PUTAT JAYA, SURABAYA. Jurnal Ilmiah Kesehatan Media Husada, 5(2), 95-106. https://doi.org/10.33475/jikmh.v5i2.170
The authors who publish their articles in Jurnal Ilmiah Kesehatan Media Husada must approve the copyright statement as follows :
1. The authors agree to automatic transfer of the copyright to the publisher
2. All material contained in this site is protected by law.
3. If you find one or more articles contained in the journal that violate or potentially infringe your copyright, please contact us via email lppmkwidyagamahusada@ac.id
4. The formal legal aspect of access to any information and articles contained in this journal site refers to the terms of the licensed under a Creative Commons Attribution 4.0 International License. . This allows authors and others to share (copy and redistribute the material in any medium or fomat) and adapt (remix, transform, and build upon the material) for non-commercial purposes.
4. All Information contained in the journal is academic. The journal is not liable for any losses incurred by misuse of information from this site.