RESUSITASI CAIRAN PADA CEDERA KEPALA
Nurma Afiani

STIKES Widyagama Husada
Keywords:
cedera kepala, trauma, resusitasi cairan
Abstract
Cedera kepala merupakan salah satu kasus trauma yang memerlukan perhatian khusus dalam resusitasi cairan. Jumlah dan jenis cairan yang digunakan dalam proses resusitasi cedera kepala harus diperhatikan secara cermat, cairan yang digunakan harus mampu mengontrol tekanan intrakranial (TIK) otak, dapat mengurangi edema otak dan tidak menimbulkan efek samping bagi organ tubuh yang lain. Jenis dan jumlah cairan resusitasi pada kasus cedera kepala masih menjadi topik kontroversial sehingga literatur mengenai cairan resusitasi pada kasus cedera kepala masih terbatas. Artikel berikut ini akan menyajikan jenis dan jumlah cairan yang tepat untuk resusitasi cedera kepala berdasarkan review hasil penelitian terkait yang disajikan dalam EBSCO, PROQUEST, CENGANGE dalam rentang 10 tahun terakhir. Kata kunci yang digunakan adalah 'fluid resusication', 'intracranial pressure', 'head injury', 'traumatic brain injury', 'head trauma'. Artikel diseleksi berdasarkan kesesuaiannya dengan tujuan yakni mengidentifikasi jenis dan jumlah cairan resusitasi. Hasil review menunjukkan bahwa tidak ada suatu jenis cairan resusitasi 'ideal' yang dapat digunakan untuk semua kasus trauma. Metode pemberian cairan (waktu, volume dan tujuan yang diharapkan) lebih penting dibandingkan dengan jenis cairan itu sendiri. Hypertonis saline solution (HTS) menjadi salah satu jenis cairan resusitasi yang dapat digunakan dengan beberapa pilihan dosis sebagai berikut: 3% HTS 3ml/kg secara IV selama 10-20 menit; dua bolus 250ml 5% HTS atau 500ml 3% HTS; 4-5ml/kg HTS. HTS sebagai cairan resusitasi cedera kepala unggul dalam menurunkan edema otak dan tidak menimbulkan efek berbahaya bagi organ lain (renoprotective agent).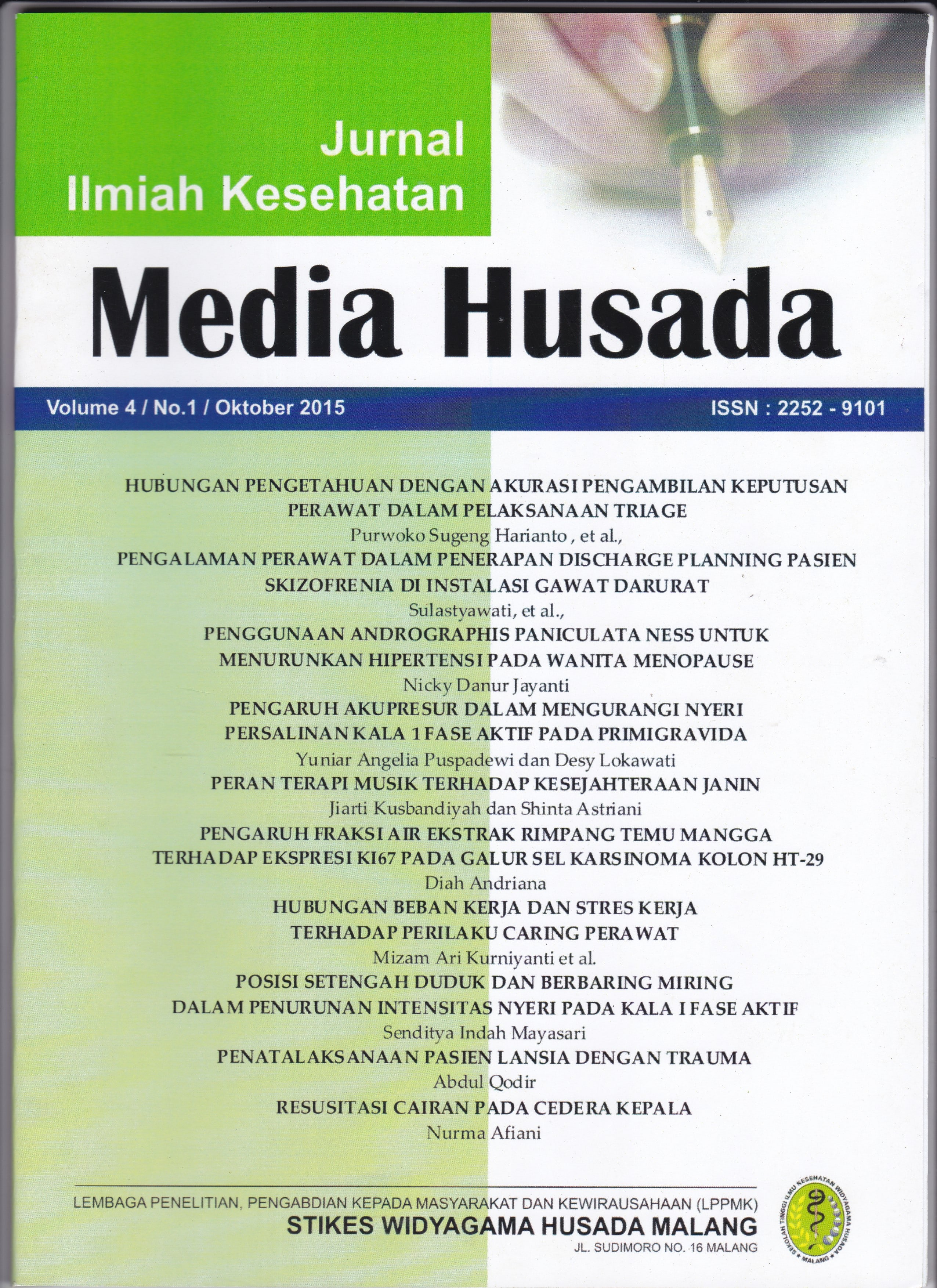 How to Cite
AfianiN. (2015). RESUSITASI CAIRAN PADA CEDERA KEPALA. Jurnal Ilmiah Kesehatan Media Husada, 4(1), 75-83. https://doi.org/10.33475/jikmh.v4i1.169
The authors who publish their articles in Jurnal Ilmiah Kesehatan Media Husada must approve the copyright statement as follows :
1. The authors agree to automatic transfer of the copyright to the publisher
2. All material contained in this site is protected by law.
3. If you find one or more articles contained in the journal that violate or potentially infringe your copyright, please contact us via email lppmkwidyagamahusada@ac.id
4. The formal legal aspect of access to any information and articles contained in this journal site refers to the terms of the licensed under a Creative Commons Attribution 4.0 International License. . This allows authors and others to share (copy and redistribute the material in any medium or fomat) and adapt (remix, transform, and build upon the material) for non-commercial purposes.
4. All Information contained in the journal is academic. The journal is not liable for any losses incurred by misuse of information from this site.