PENATALAKSANAAN PASIEN LANSIA DENGAN TRAUMA
Abdul Qodir

STIKES Widyagama Husada
Keywords:
manajemen, lansia, trauma
Abstract
Trauma adalah penyebab utama kelima kematian pada pasien yang berusia lebih dari 65 tahun. Perubahan anatomi dan fisologi akibat proses menua mengakibatkan peningkatan morbiditas dan mortalitas pada lansia, kurang lebih 28 % pasien lansia meningal  akibat  trauma.  Pasien  lansia  mungkin  mempunyai  penyakit  pemberat  dan penurunan sensitifitas terhadap obat-obat tertentu sehingga akan mempersulit resusitasi. Analisis literatur ini bertujuan untuk menganalisis penatalaksanaan pasien lansia dengan trauma.Metode yang digunakan dalam penelitian ini adalah analisis literatur yang relevan dengan penatalaksanaan trauma pada lansia.Penatalaksanaan pasien lansia dengan trauma pada prinsipnya adalah sama dengan dewasa yang meliputi airway, breathing,  circulasion. Akan tetapi ada hal-hal yang harus diperhatikan oleh perawat terkait dengan proses penuan. Proses penuan mengakibatkan penurunan berbagai fungsi organ sehingga penaganannya harus lebih intensif dari pada pasien yang lebih muda pada trauma yang sama. Segera melakukan resusitasi secara cepat dan tepat dapat menghasilkan outcome yang lebih baik dan menurunkan mortalitas dan morbiditas pada pasien lansian dengan trauma.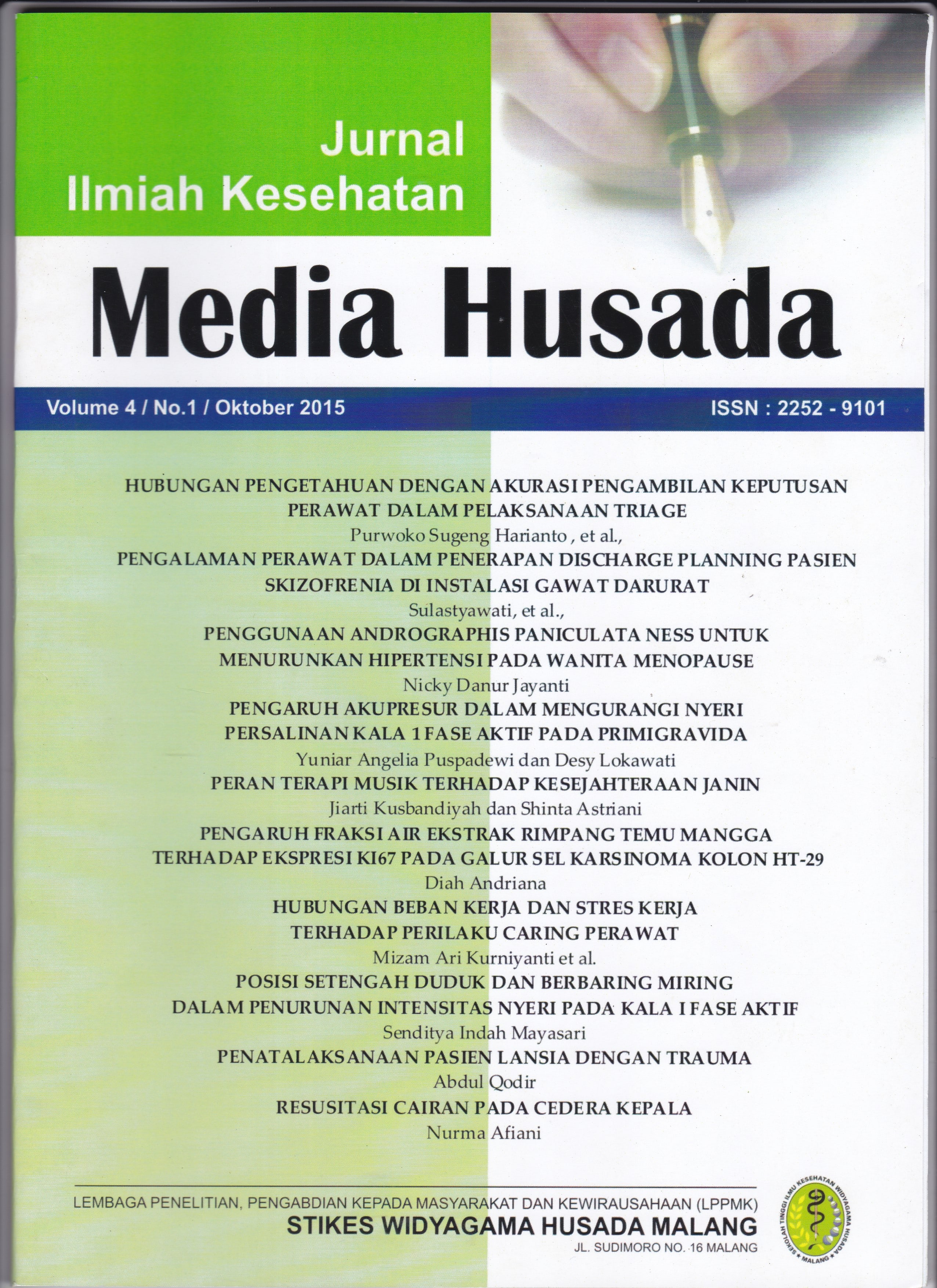 How to Cite
QodirA. (2015). PENATALAKSANAAN PASIEN LANSIA DENGAN TRAUMA. Jurnal Ilmiah Kesehatan Media Husada, 4(1), 67-74. https://doi.org/10.33475/jikmh.v4i1.168
The authors who publish their articles in Jurnal Ilmiah Kesehatan Media Husada must approve the copyright statement as follows :
1. The authors agree to automatic transfer of the copyright to the publisher
2. All material contained in this site is protected by law.
3. If you find one or more articles contained in the journal that violate or potentially infringe your copyright, please contact us via email lppmkwidyagamahusada@ac.id
4. The formal legal aspect of access to any information and articles contained in this journal site refers to the terms of the licensed under a Creative Commons Attribution 4.0 International License. . This allows authors and others to share (copy and redistribute the material in any medium or fomat) and adapt (remix, transform, and build upon the material) for non-commercial purposes.
4. All Information contained in the journal is academic. The journal is not liable for any losses incurred by misuse of information from this site.