PENGARUH AKUPRESUR DALAM MENGURANGI NYERI PERSALINAN KALA 1 FASE AKTIF PADA PRIMIGRAVIDA DI BPM NGADILAH KECAMATAN PAKIS - MALANG
Yuniar Angelia Puspadewi

STIKES Widyagama Husada

Desy Lokawati

STIKES Widyagama Husada
Keywords:
nyeri persalinan, akupresure, primigravida
Abstract
Nyeri persalinan merupakan proses fisiologis yang dialami selama proses persalinan. Nyeri tersebut dapat diatasi dengan metode non farmakologi, salah satunya adalah akupresure. Dimana akupresure dapat merangsang pengeluaran hormon endorphin dalam darah. Endorphin adalah zat penghilang rasa sakit yang secara alami diproduksi oleh tubuh. Berdasarkan studi pendahuluan pada tgl 20 Maret 2014 diantara 5 persalinan, semuanya hanya diberikan teknik relaksasi dan belum menggunakan metode akupresure. Penelitian ini bertujuan untuk mengetahui pengaruh akupresur terhadap nyeri persalinan ibu primigravida. Desain penelitian yang digunakan adalah one group pretest-postest. Teknik sampling menggunakan purposive sampling dengan jumlah responden 15 orang. Analisa data menggunakan Wilcoxon Sign Rank Test, dimana untuk mengetahui pengaruh akupresure untuk mengurangi nyeri persalinan.Berdasarkan hasil analisa menggunakan Wilcoxon didapat nilai Asymp. Sig. 0,03. Dimana apabila nilai Asymp. Sig < 0,05 maka H0 ditolak dan H1 diterima. Sehingga dapat disimpulkan bahwa ada pengaruh akupresure dalam mengurangi nyeri persalinan kala 1 fase aktif. Diharapkan dapat menjadi alternatif pengobatan non-farmakologi dalam mengurangi nyeri persalinan yang bisa dilakukan oleh bidan maupun ibu bersalin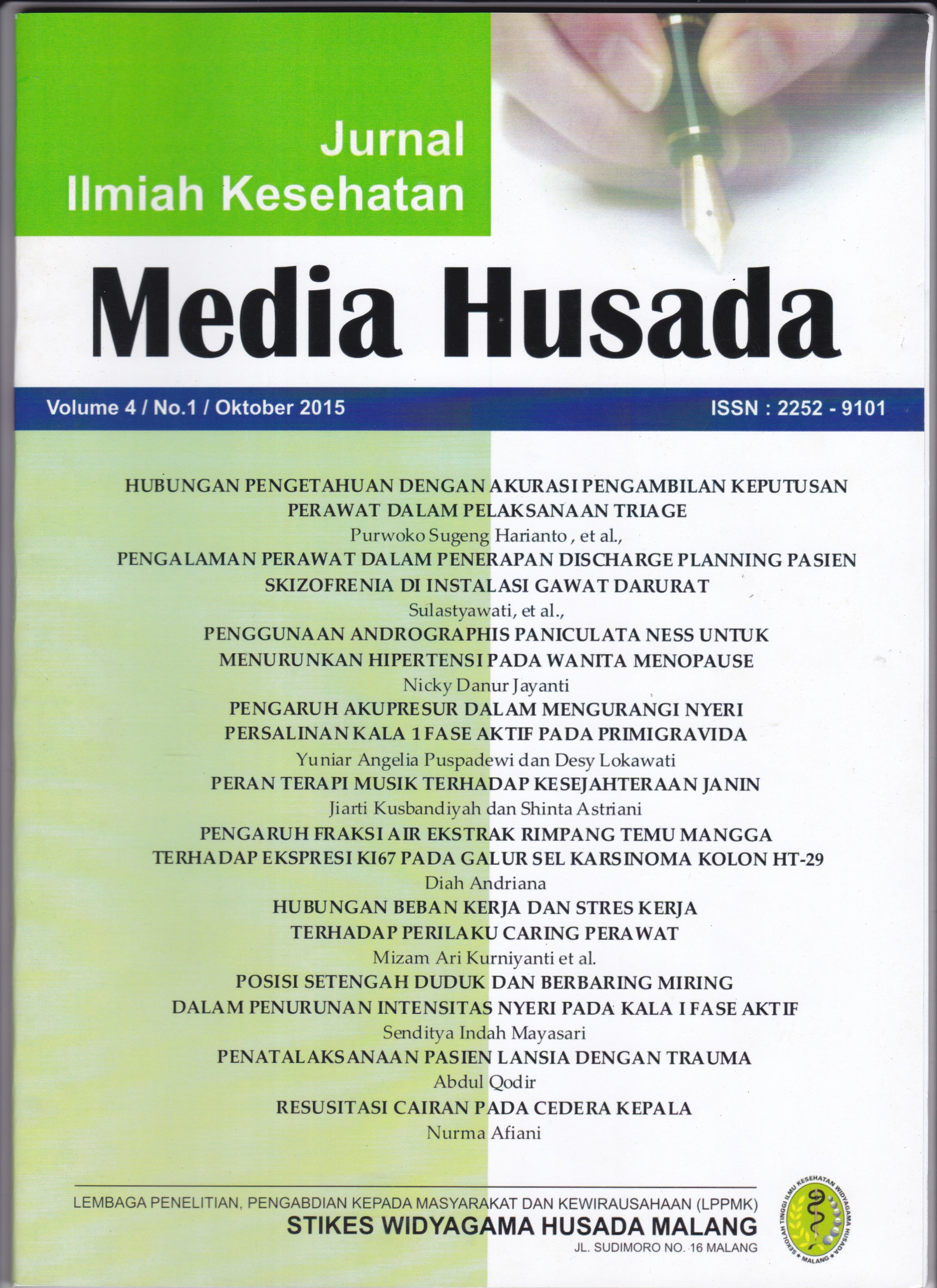 How to Cite
PuspadewiY., & LokawatiD. (2015). PENGARUH AKUPRESUR DALAM MENGURANGI NYERI PERSALINAN KALA 1 FASE AKTIF PADA PRIMIGRAVIDA DI BPM NGADILAH KECAMATAN PAKIS - MALANG. Jurnal Ilmiah Kesehatan Media Husada, 4(1), 25-29. https://doi.org/10.33475/jikmh.v4i1.164
The authors who publish their articles in Jurnal Ilmiah Kesehatan Media Husada must approve the copyright statement as follows :
1. The authors agree to automatic transfer of the copyright to the publisher
2. All material contained in this site is protected by law.
3. If you find one or more articles contained in the journal that violate or potentially infringe your copyright, please contact us via email lppmkwidyagamahusada@ac.id
4. The formal legal aspect of access to any information and articles contained in this journal site refers to the terms of the licensed under a Creative Commons Attribution 4.0 International License. . This allows authors and others to share (copy and redistribute the material in any medium or fomat) and adapt (remix, transform, and build upon the material) for non-commercial purposes.
4. All Information contained in the journal is academic. The journal is not liable for any losses incurred by misuse of information from this site.