PENGGUNAAN ANDROGRAPHIS PANICULATA NESS UNTUKMENURUNKAN HIPERTENSI PADA WANITA MENOPAUSE
Nicky Danur Jayanti

STIKES Widyagama Husada
Keywords:
Daun Sambiloto, Hipertensi, Wanita Menopause, Obat Tradisional
Abstract
Hipertensi pada menopause telah diakui sebagai silent killer atau penyakit yang dapat menimbulkan kematian tanpa disertai dengan gejala-gejala terlebih dahulu. Mengobati hipertensi dapat dilakukan secara medis maupun tradisional. Masyarakat sekarang ini lebih menggemari obat tradisional, karena merupakan pengobatan alternatif yang baik, biaya murah, tanpa efek samping dan jika tekanan darah sudah normal, dapat dihentikan pemakaiannya.Daun sambiloto didukung oleh kandungan zat andrographolide yang pahit rasanya, alkaloid, dan kalium.Kandungan andrographolide mampu meningkatkan sistem pertahanan tubuh seperti produksi sel darah putih yang menyerang bakteri dan benda asing lainnya.Kalium tinggi pada sambiloto berguna untuk mengeluarkan air dan garam untuk mengatasi hipertensi.
 Terdapat 26 responden pada penelitian deskriptif ini.Teknik pengambilan sampel menggunakan teknik total sampling yang mana jumlah sampel adalah keseluruhan dari jumlah populasi yaitu 26 wanita menopause penderita hipertensi yang menggunakan daun sambiloto. Teknik pengumpulan data dalam penelitian ini menggunakan wawancara dan pemeriksaan tekanan darah. 
 Angka hipertensi pada wanita menopause mengalami penurunan, hipertensi berat dari 46,1% menjadi 0%, sedangkan hipertensi sedang dari 38,5% menjadi 11,5%, hipertensi ringan dari 15,4% menjadi 57,7% dan tekanan darah normal dari 0% menjadi 30,8%. Diharapkan petugas kesehatan lainnya memberikan penyuluhan cara penggunaan daun sambiloto yang benar dan disarankan kepada wanita menopause untuk menjaga pola hidup dan menggunakan obat tradisional dengan benar.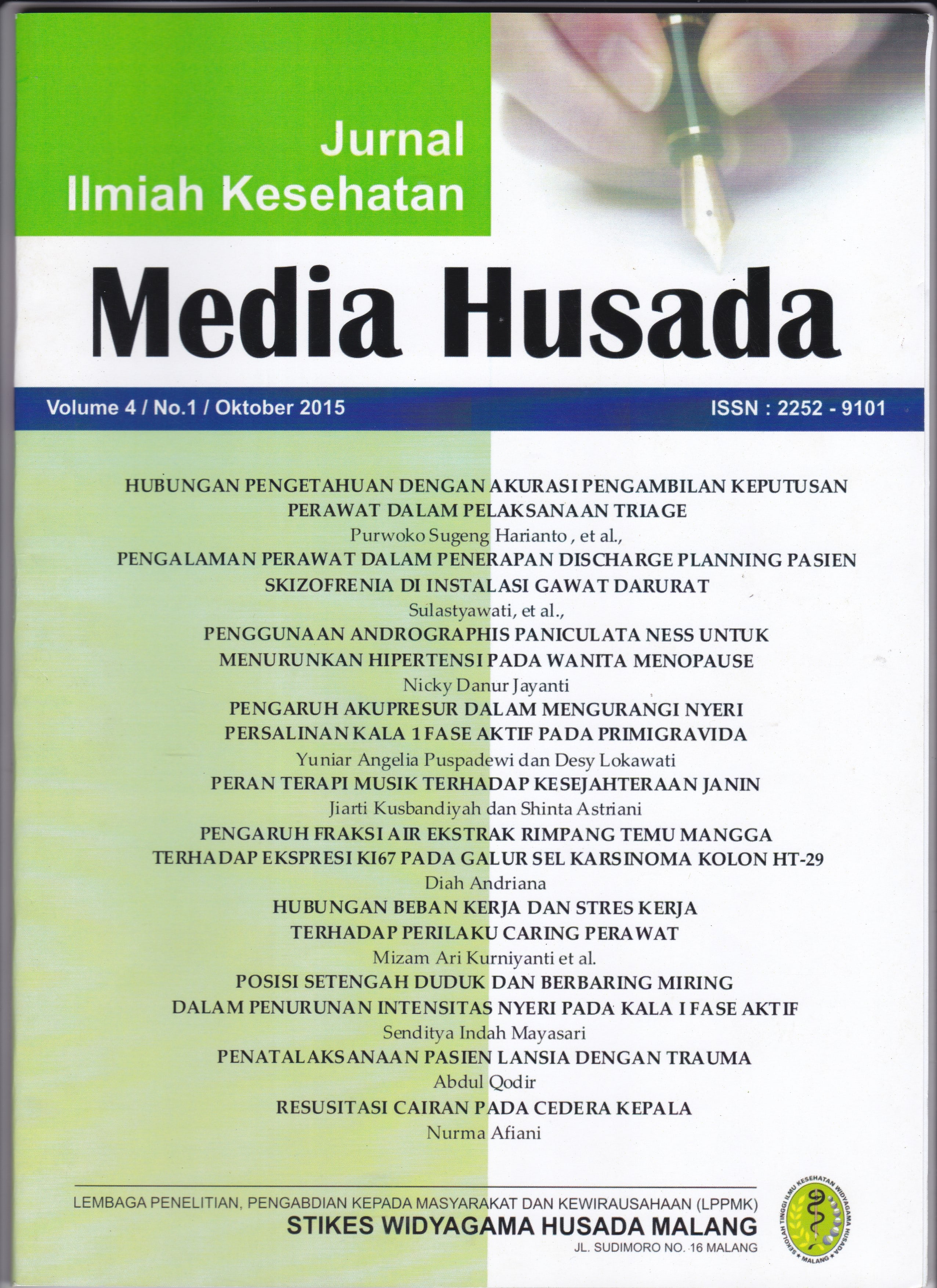 How to Cite
JayantiN. (2015). PENGGUNAAN ANDROGRAPHIS PANICULATA NESS UNTUKMENURUNKAN HIPERTENSI PADA WANITA MENOPAUSE. Jurnal Ilmiah Kesehatan Media Husada, 4(1), 19-24. https://doi.org/10.33475/jikmh.v4i1.163
The authors who publish their articles in Jurnal Ilmiah Kesehatan Media Husada must approve the copyright statement as follows :
1. The authors agree to automatic transfer of the copyright to the publisher
2. All material contained in this site is protected by law.
3. If you find one or more articles contained in the journal that violate or potentially infringe your copyright, please contact us via email lppmkwidyagamahusada@ac.id
4. The formal legal aspect of access to any information and articles contained in this journal site refers to the terms of the licensed under a Creative Commons Attribution 4.0 International License. . This allows authors and others to share (copy and redistribute the material in any medium or fomat) and adapt (remix, transform, and build upon the material) for non-commercial purposes.
4. All Information contained in the journal is academic. The journal is not liable for any losses incurred by misuse of information from this site.