PENGALAMAN PERAWAT DALAM PENERAPAN DISCHARGE PLANNING PASIEN SKIZOFRENIA DI INSTALASI GAWAT DARURAT
Sulastyawati Sulastyawati

Program Magister Keperawatan Gawat Darurat Fakultas Kedokteran Universitas Brawijaya
Keywords:
Skizofrenia, Discharge planning, Perawat IGD
Abstract
Discharge planning merupakan bagian penting dalam proses pemindahan dan pemulangan, karena masalah yang lebih kompleks biasanya terjadi pada masa-masa tersebut. Terlebih pada pasien yang mendapatkan perawatan untuk jangka waktu lama, seperti pasien skizofrenia. Idealnya discharge planning sudah dilakukan sejak awal pasien masuk rumah sakit. Penelitian ini bertujuan untuk mengeksplorasi pengalaman perawat dalam penerapan discharge planning pada pasien skizofrenia di IGD.Desain penelitian yang digunakan adalah kualitatif fenomenlogi dengan pendekatan interpretif.Pengumpulan data dilakukan pada 4 partisipan dengan in-depth interview menggunakan pedoman wawancara semi terstruktur.Hasil penelitian ini mendapatkan 4 tema yaitu teknik pengkajian yang diterapkan, tahapan discharge planning belum adekuat, dokumentasi tidak akurat dan pertimbangan pemindahan pasien tidak konsisten.Kesimpulan hasil penelitian ini bahwa penerapan discharge planning yang ada di IGD tersebut belum adekuat.Untuk itu, sangat penting bagi rumah sakit segera menyusun pedoman pelaksanaan discharge planning supaya bisa menjadi acuan bagi perawat.Aspek pendokumentasian juga sebaiknya mendapat perhatian karena dokumentasi merupakan aspek legal perawat dalam pelaksanaan asuhan keperawatan.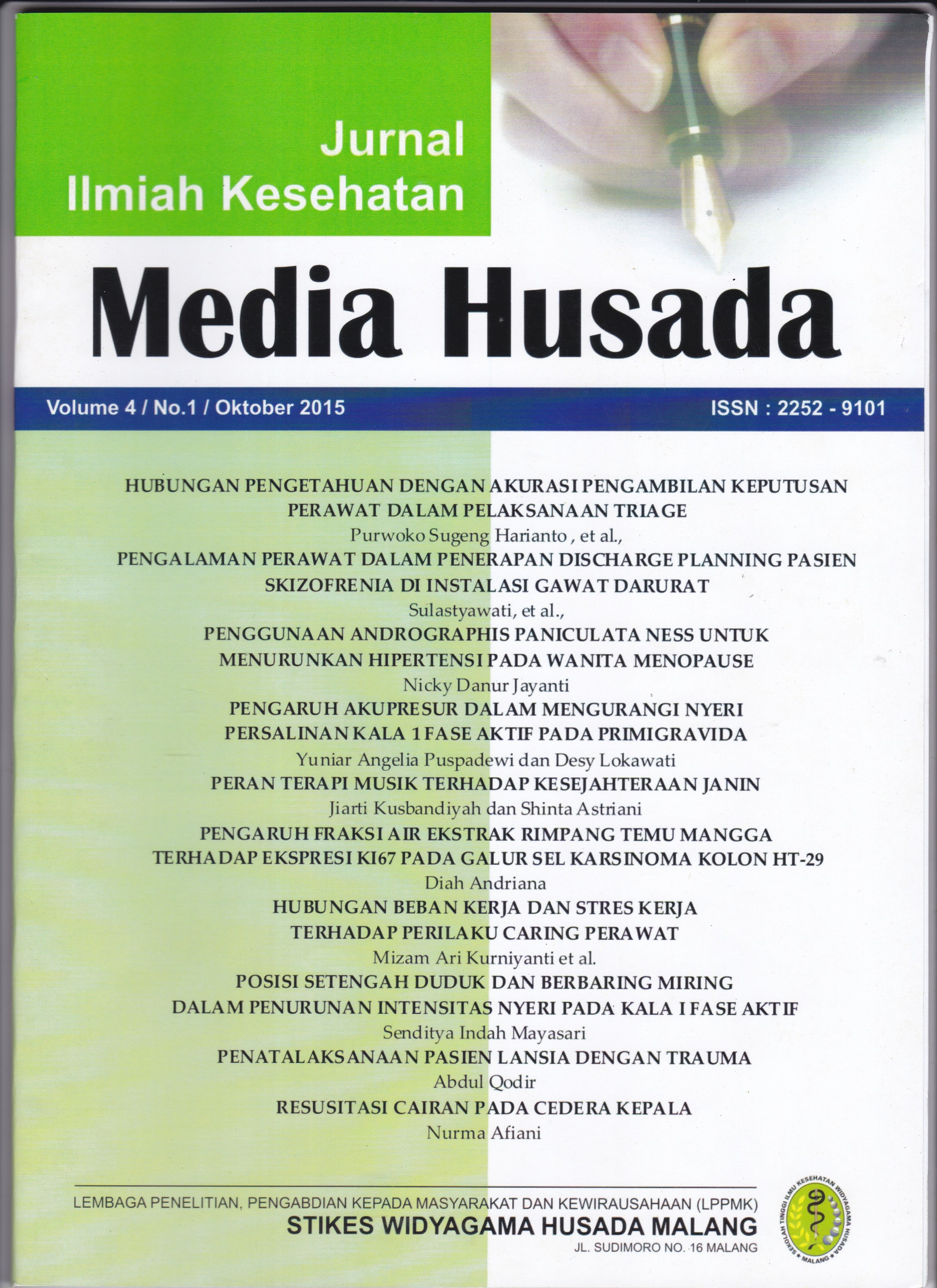 How to Cite
SulastyawatiS. (2015). PENGALAMAN PERAWAT DALAM PENERAPAN DISCHARGE PLANNING PASIEN SKIZOFRENIA DI INSTALASI GAWAT DARURAT. Jurnal Ilmiah Kesehatan Media Husada, 4(1), 9-18. https://doi.org/10.33475/jikmh.v4i1.162
The authors who publish their articles in Jurnal Ilmiah Kesehatan Media Husada must approve the copyright statement as follows :
1. The authors agree to automatic transfer of the copyright to the publisher
2. All material contained in this site is protected by law.
3. If you find one or more articles contained in the journal that violate or potentially infringe your copyright, please contact us via email lppmkwidyagamahusada@ac.id
4. The formal legal aspect of access to any information and articles contained in this journal site refers to the terms of the licensed under a Creative Commons Attribution 4.0 International License. . This allows authors and others to share (copy and redistribute the material in any medium or fomat) and adapt (remix, transform, and build upon the material) for non-commercial purposes.
4. All Information contained in the journal is academic. The journal is not liable for any losses incurred by misuse of information from this site.