KULIT JERUK UNTUK AROMATERAPI DAN PENGARUHNYA TERHADAP PENURUNAN NYERI HAID
Ari Christiana

STIKES Widyagama Husada

Mizam Ari Kurniyanti

STIKES Widyagama Husada
Keywords:
Aromaterapi Kulit Jeruk, Nyeri Haid
Abstract
Kulit jeruk mandarin diketahui mengandung minyak atsiri yang berguna untuk menstabilkan system saraf sehingga dapat menimbulkan efek tenang bagi yang menghirupnya. Kandungan minyak astiri pada jeruk mandarin yakni lonalol, limonen, linalil, danterpinol yang memiliki fungsi sebagi penenang, rileksdandamai.Pada penelitian ini ingin diketahui fungsi aromaterapi jeruk dalam menurunkan intensitas nyeri haid.Metode penelitian dengan cara mengukur intensitas nyeri haid sebelum diberikan perlakuan kemudian selama periode menstruasi responden diberikan aromaterapi kulit jeruk mandarin melalui teknik bowling lalu intensitas nyeri diukur kembali menggunakan VAS (Visual Analog Scale).Hasil yang dicapai pada penelitian ini adalah dari 30 responden yang telah diberikan aromaterapi, 7 responden tidak mengalami nyeri, 19 responden mengalami nyeri ringan dan 4 responden mengalami nyeri sedang. Setelah dilakukan analisis data menggunakan uji T sampel berpasangan didapatkan tingkat signifikasi 0,000 < α 0,05. Sehingga dapat disimpulkan bahwa terdapat perbedaan skala nyeri haid sebelum perlakuan dan sesudah perlakuan.Kesimpulan dari penelitian ini adalah terjadi penurunan tingkat nyeri haid dari responden setelah diberikan aromaterapi jeruk, dan dari hasil wawancara responden mengatakan selain nyeri berkurang responden juga merasa lebih rileks.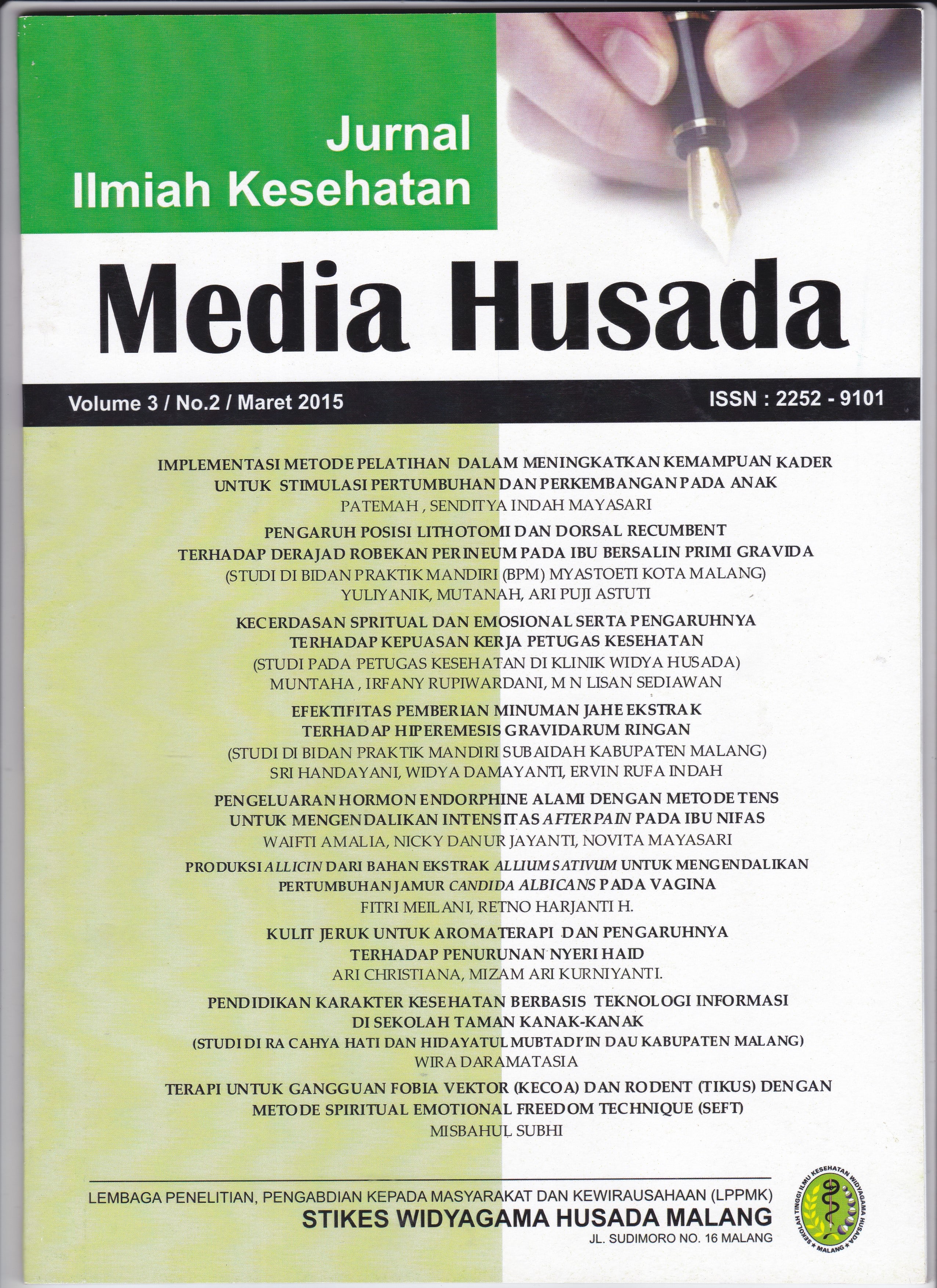 How to Cite
ChristianaA., & KurniyantiM. (2015). KULIT JERUK UNTUK AROMATERAPI DAN PENGARUHNYA TERHADAP PENURUNAN NYERI HAID. Jurnal Ilmiah Kesehatan Media Husada, 3(2), 115-118. https://doi.org/10.33475/jikmh.v3i2.159
The authors who publish their articles in Jurnal Ilmiah Kesehatan Media Husada must approve the copyright statement as follows :
1. The authors agree to automatic transfer of the copyright to the publisher
2. All material contained in this site is protected by law.
3. If you find one or more articles contained in the journal that violate or potentially infringe your copyright, please contact us via email lppmkwidyagamahusada@ac.id
4. The formal legal aspect of access to any information and articles contained in this journal site refers to the terms of the licensed under a Creative Commons Attribution 4.0 International License. . This allows authors and others to share (copy and redistribute the material in any medium or fomat) and adapt (remix, transform, and build upon the material) for non-commercial purposes.
4. All Information contained in the journal is academic. The journal is not liable for any losses incurred by misuse of information from this site.