PRODUKSI ALLICIN DARI BAHAN EKSTRAK BAWANG PUTIH "LANANG" (ALLIUM SATIVUM)
Untuk Mengendalikan Pertumbuhan Jamur (Candida Albicans) Pada Vagina
Fitri Meilani

STIKES Widyagama Husada
Keywords:
Candida Albicans, Allicin
Abstract
Vagina adalah organ reproduksi wanita yang sangat rentan terhadap infeksi, seperti candidiasis yang dikarenakan jamur Candida Albicans. Banyak jenis perawatan vagina yang ditawarkan baik berupa obat-obatan dan juga ramuan herbal tradisional. Namun, pemakaian yang tidak sesuai dengan anjuran menyebabkan jamur menjadi resisten pada obat-obatan yang ada. Allicin adalah salah satu senyawa yang ada di bawang putih (Alliun Sativum) yang berfungsi segabai antibakteri pada bakteri gram positif dan gram negatif, seperti Candida Albicans. Untuk mendapatkan ekstrak allicin dari bawang putih, bawang putih "lanang" melewati beberapa tahapan. Allicin dari ekstrak bawang putih menjadi pilihan utama dalam penggunaan terapeutik, karena pembentukan resisten terhadap allicin lebih sulit 1000 kali dari antibiotik β-Laktam. Tujuan daripenelitian ini adalah untuk mengetahui level produksi Allicin untuk mengendalikan pertumbuhan jamur Candida Albicans pada vagina. Metode penelitian ini adalah pre-eksperiment. Terdapat 3 tahap penelitian, mendapatkan allicin dari bawang putih "lanang", Candida Albicans dikembangbiakan pada media dan mencari dan mendapatkan konsentrasi allicin untuk mengendalikan jumlah Candida Albicans. Analisa data yang dipakai yaitu T-Test. Menurut analisa pada kelompok yang diberi 50 µg allicin, nilai asymp sig=0,001<0,01 dan nilai t hitug> t tabel, 8.961>3,747 yang berarti ada signifikansi produksi allicin dapat mengendalikan jumlah candida albicans.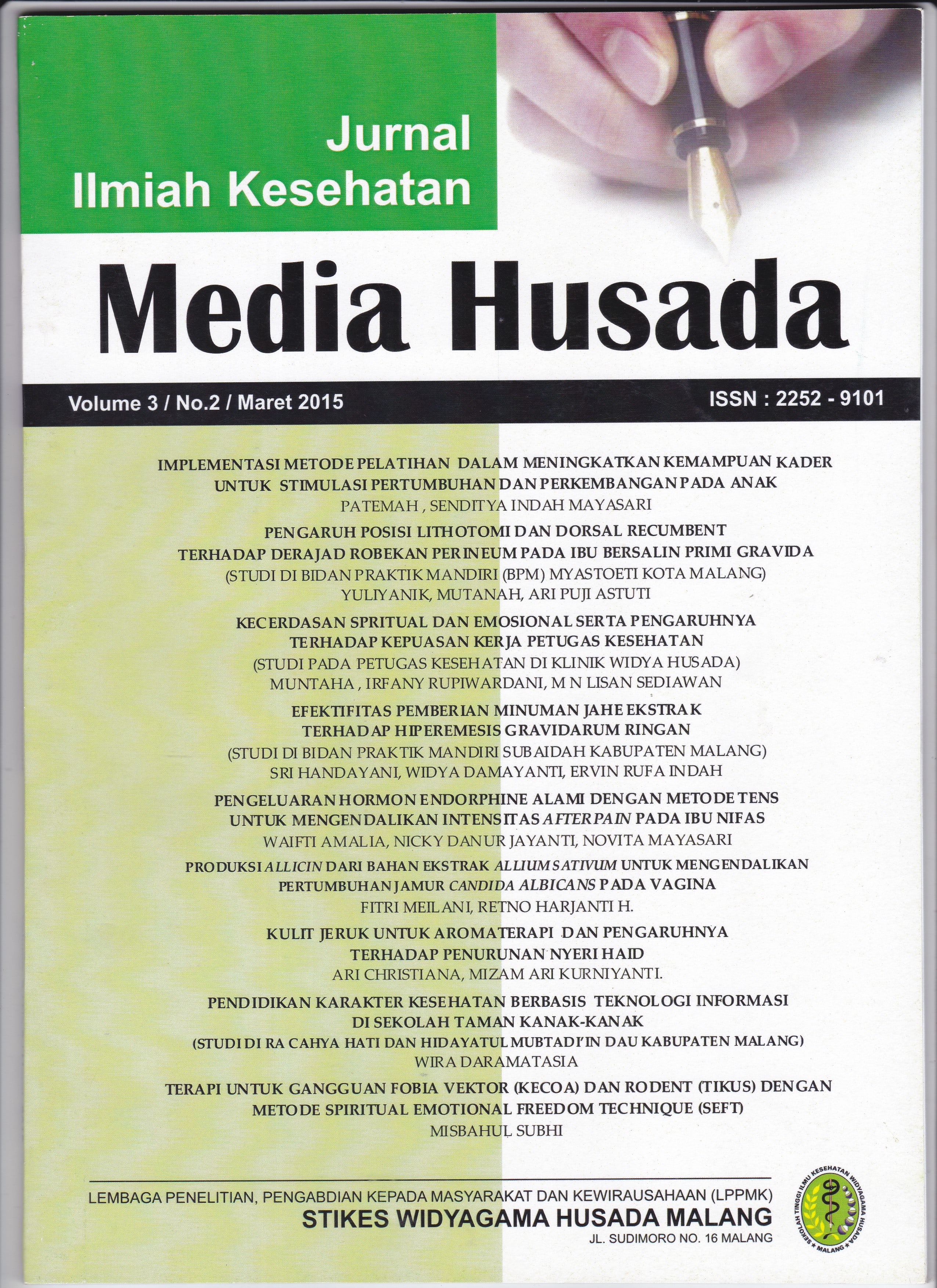 How to Cite
MeilaniF. (2015). PRODUKSI ALLICIN DARI BAHAN EKSTRAK BAWANG PUTIH "LANANG" (ALLIUM SATIVUM). Jurnal Ilmiah Kesehatan Media Husada, 3(2), 111-114. https://doi.org/10.33475/jikmh.v3i2.158
The authors who publish their articles in Jurnal Ilmiah Kesehatan Media Husada must approve the copyright statement as follows :
1. The authors agree to automatic transfer of the copyright to the publisher
2. All material contained in this site is protected by law.
3. If you find one or more articles contained in the journal that violate or potentially infringe your copyright, please contact us via email lppmkwidyagamahusada@ac.id
4. The formal legal aspect of access to any information and articles contained in this journal site refers to the terms of the licensed under a Creative Commons Attribution 4.0 International License. . This allows authors and others to share (copy and redistribute the material in any medium or fomat) and adapt (remix, transform, and build upon the material) for non-commercial purposes.
4. All Information contained in the journal is academic. The journal is not liable for any losses incurred by misuse of information from this site.