KARAKTERISTIK PENGETAHUAN TENTANG LAKTASI DENGAN TEKNIK MENYUSUI PADA KALANGAN KADER POSYANDU DI KOTA MALANG
Wira Daramatasia

STIKES Widyagama Husada
Keywords:
Posyandu, Laktasi, Teknik Menyusui
Abstract
Data kesehatan di Kota Malang diketahui bahwa cakupan ASI eksklusif pada tahun 2009 sebesar 58,47%, cakupan ASI eksklusif ini masih relatif rendah jika dibandingkan dengan target nasional 80%. Untuk mencapai keberhasilan pemberian ASI pada bayi harus didukung oleh manajemen laktasi yang baik dan teknik menyusui yang tepat agar manfaat dari ASI lebih maksimal. Peran aktif kader posyandu dalam menyumbangkan tenaga dan pikirannya untuk meningkatkan kesehatan masyarakat sangatlah penting. Penelitian ini bertujuan untuk mengetahui karakteristik pengetahuan tentang laktasi dengan teknik menyusui pada kalangan kader posyandu di kota Malang, serta hubungan pengetahuan dengan sikap kader posyandu mengenai teknik menyusui. Metode penelitian ini adalah Survey Analitik dengan pendekatan cross sectional. Pengambilan sampel dengan teknik simple random sampling. Jumlah sampel penelitian ini berjumlah 50 responden dari jumlah populasi kader posyandu yang mewakili 5 kecamatan di Kota Malang. Instrumen penelitian ini menggunakan kuesioner dan lembar observasi berupa checklist. Data yang diperoleh yaitu karakteristik responden meliputi usia, pendidikan, pekerjaan, dan masa/lama menjadi kader posyandu, kemudian variable pengetahuan tentang laktasi dan tehnik menyusui kader posyandu. Analisis data menggunakan Korelasi Somers'd. Hasil penelitian diperoleh bahwa pengetahuan kader posyandu mengenai menyusui sebagian besar baik sejumlah (68%), Sikap kader posyandu mengenai teknik menyusui sebagian besar kurang (62%). Tidak terdapat korelasi yang bermakna antara pengetahuan kader posyandu dengan sikap mengenai tehknik menyusui (p>0,05).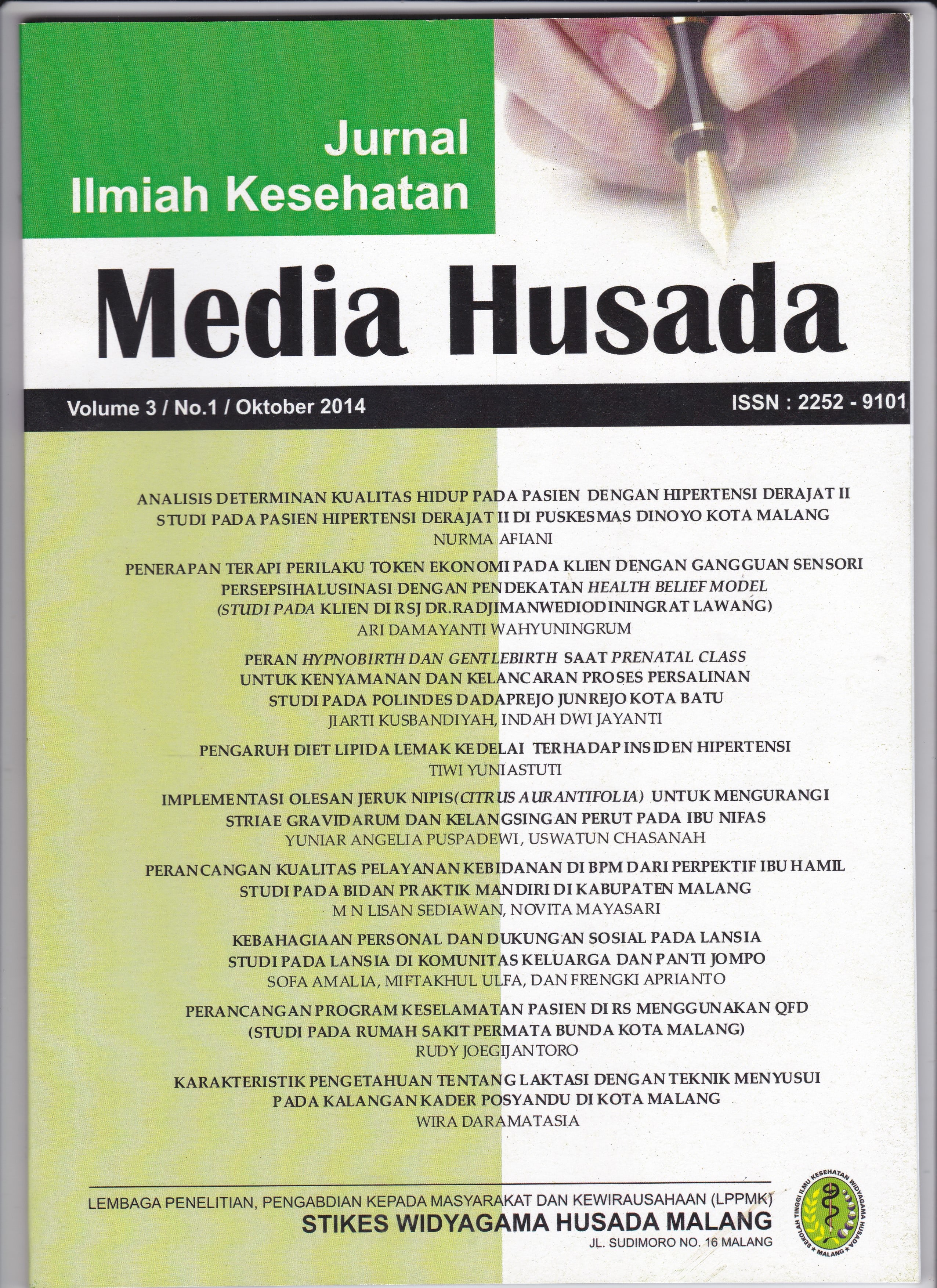 How to Cite
DaramatasiaW. (2014). KARAKTERISTIK PENGETAHUAN TENTANG LAKTASI DENGAN TEKNIK MENYUSUI PADA KALANGAN KADER POSYANDU DI KOTA MALANG. Jurnal Ilmiah Kesehatan Media Husada, 3(1), 67-74. https://doi.org/10.33475/jikmh.v3i1.150
The authors who publish their articles in Jurnal Ilmiah Kesehatan Media Husada must approve the copyright statement as follows :
1. The authors agree to automatic transfer of the copyright to the publisher
2. All material contained in this site is protected by law.
3. If you find one or more articles contained in the journal that violate or potentially infringe your copyright, please contact us via email lppmkwidyagamahusada@ac.id
4. The formal legal aspect of access to any information and articles contained in this journal site refers to the terms of the licensed under a Creative Commons Attribution 4.0 International License. . This allows authors and others to share (copy and redistribute the material in any medium or fomat) and adapt (remix, transform, and build upon the material) for non-commercial purposes.
4. All Information contained in the journal is academic. The journal is not liable for any losses incurred by misuse of information from this site.