CLEAN AND HEALTHY BEHAVIOR WITH OREM THEORY APPROACH TO IMPROVE KNOWLEDGE AND ATTITUDES ADOLESCENT ABOUT PREVENTION OF SCABIES IN THE ORPHANAGE
Ari Damayanti Wahyuningrum

Stikes Widyagama husada

Misbahul Subhi

Stikes Widyagama husada
Keywords:
clean and healthy behavior, Orem theory approach, knowledge and attitudes,, orphanage
Abstract
Scabies is a skin infestation by Sarcoptes scabiei. Several risk factors for scabies infestation is individual personal hygiene and environmental sanitation is not maintained, density, crowding, poverty, lack of knowledge, direct contact with the infested person and use of contaminated equipment. According to Orem theory of self care every individual has the ability to care for themselves so that they can maintain the health and welfare of yourself. The purpose of the study was to investigate knowledge and attitude of adolescent in Nurul Abyadh Orphanage Malang in healthy behavior and on handling scabies. Desain use pre test post test non equivalent control group. The population adolescent Orphanage Nurul Abyadh as the treatment group was 38 respondents and adolescent Orphanage Sunan Ampel as the control group was 29 respondents, taken according to inclusion criteria. Research variables include of knowledge variable and attitude variable. Data were collected using structure questionnaire. Data were then analyzed using level of significance ≤ 0,05. Before and after treatment using analysis of the Wilcoxon and Mc Nemar, treatment and control groups using Mann Whitney and Chi Square.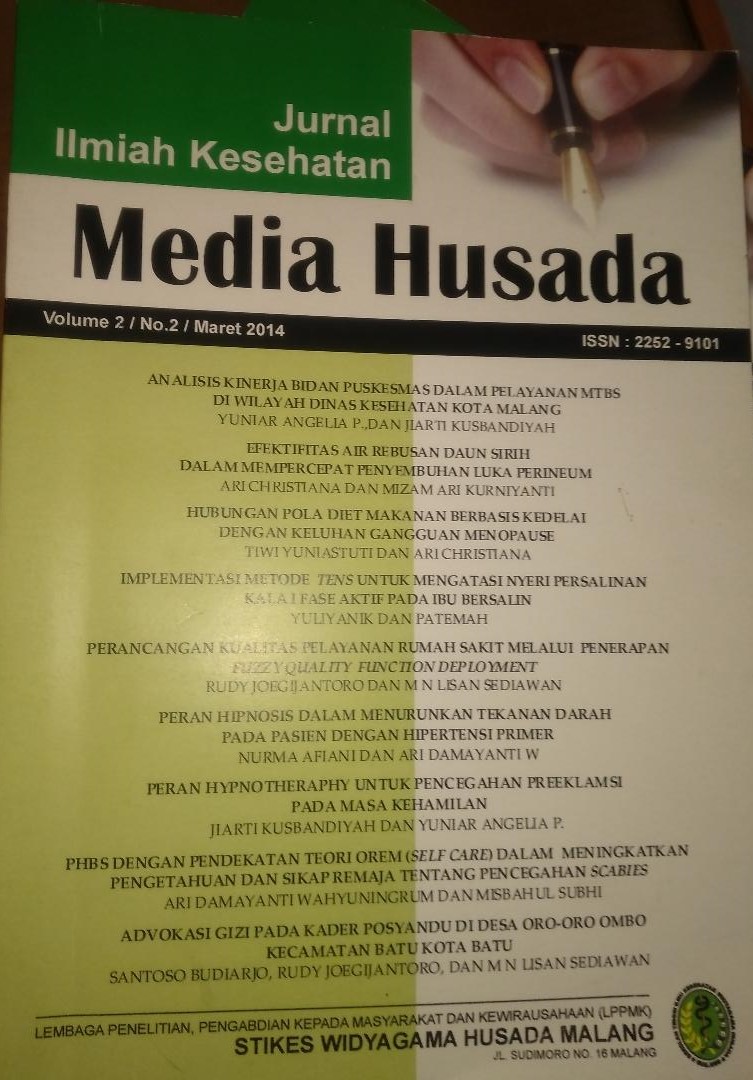 How to Cite
WahyuningrumA., & SubhiM. (2014). CLEAN AND HEALTHY BEHAVIOR WITH OREM THEORY APPROACH TO IMPROVE KNOWLEDGE AND ATTITUDES ADOLESCENT ABOUT PREVENTION OF SCABIES IN THE ORPHANAGE. Jurnal Ilmiah Kesehatan Media Husada, 2(2). https://doi.org/10.33475/jikmh.v2i2.143
The authors who publish their articles in Jurnal Ilmiah Kesehatan Media Husada must approve the copyright statement as follows :
1. The authors agree to automatic transfer of the copyright to the publisher
2. All material contained in this site is protected by law.
3. If you find one or more articles contained in the journal that violate or potentially infringe your copyright, please contact us via email lppmkwidyagamahusada@ac.id
4. The formal legal aspect of access to any information and articles contained in this journal site refers to the terms of the licensed under a Creative Commons Attribution 4.0 International License. . This allows authors and others to share (copy and redistribute the material in any medium or fomat) and adapt (remix, transform, and build upon the material) for non-commercial purposes.
4. All Information contained in the journal is academic. The journal is not liable for any losses incurred by misuse of information from this site.