PERANCANGAN KUALITAS PELAYANAN KEBIDANAN DI BPM DARI PERPEKTIF IBU HAMIL
Studi Pada Bidan Praktik Mandiri di Kabupaten Malang
M. Natsir Lisan Sediawan

STIKES Widyagama Husada
Keywords:
Bidan Praktik Mandiri, Kualitas Layanan, Strategi
Abstract
Permintaan pelayanan oleh bidan dari tahun ke tahun terus meningkat. Hal ini menunjukan bahwa eksistensi bidan di mata masyarakat semakin memperoleh kepercayaan, penghargaan, dan pengakuan. Berdasarkan hal inilah, Bidan Paraktik Mandiri (BPM) dituntut untuk selalu berusaha meningkatkan kemampuan sekaligus mempertahankan dan meningkatkan kualitas pelayanannya. Tujuan penelitian untuk mengetahui faktor yang berpengaruh terhadap kualitas mutu pelayanan kebidanan dari perspektif ibu hamil di Bidan Praktik Mandiri Kabupaten Malang, JawaTimur. Metode penelitian ini menggunakan rancangan penelitian jenis observasional dan bersifat analitik, pendekatan waktu pengumpulan data cross sectional, dan metode wawancara dengan kuesioner kepada 158 ibu hamil di Kabupaten Malang kemudian data di analisa menggunakan program MS Excel dan SPSS. Hasil dari penelitian ini menunjukkan bahwa secara berturut-turut aspek kualitas layanan yang paling berpengaruh terhadap kepuasan di BPM Kabupaten malang adalah persepsi: tampilan fisik, keandalan, ketanggapan, jaminan, kemampuan, keramahan, komunikasi, akses, kepedulian, dampak terhadap pasien dan persepsi kolaborasi. Secara umum perlu adanya peningkatan layanan terutama pada aspek responsiveness dengan: menyediakan kotak saran yang diletakkan di tempat strategis dan menjadikan bidan dan seluruh petugas di BPM sebagai customer relationship.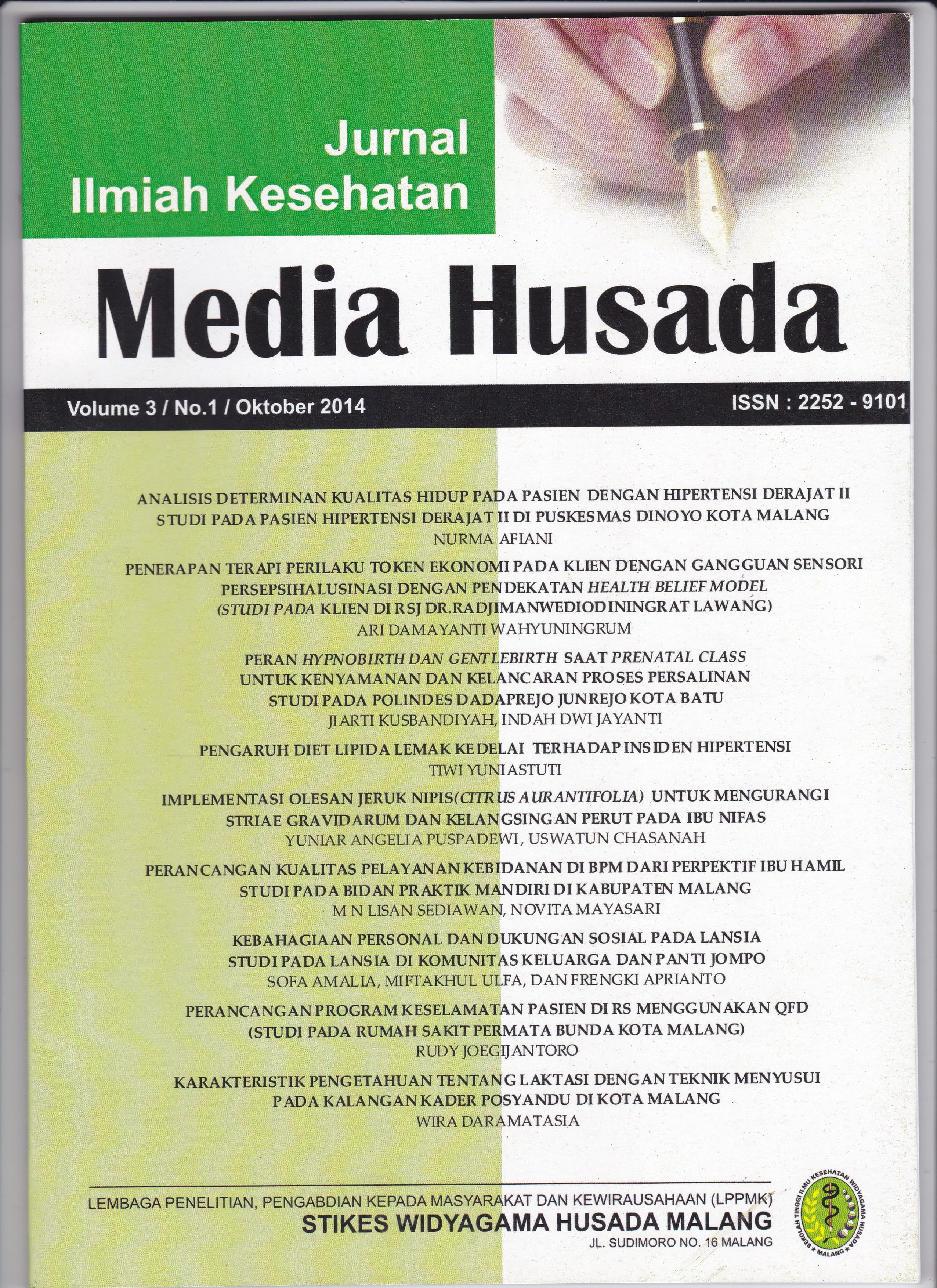 How to Cite
SediawanM. N. (2014). PERANCANGAN KUALITAS PELAYANAN KEBIDANAN DI BPM DARI PERPEKTIF IBU HAMIL. Jurnal Ilmiah Kesehatan Media Husada, 3(1), 45-52. https://doi.org/10.33475/jikmh.v3i1.135
The authors who publish their articles in Jurnal Ilmiah Kesehatan Media Husada must approve the copyright statement as follows :
1. The authors agree to automatic transfer of the copyright to the publisher
2. All material contained in this site is protected by law.
3. If you find one or more articles contained in the journal that violate or potentially infringe your copyright, please contact us via email lppmkwidyagamahusada@ac.id
4. The formal legal aspect of access to any information and articles contained in this journal site refers to the terms of the licensed under a Creative Commons Attribution 4.0 International License. . This allows authors and others to share (copy and redistribute the material in any medium or fomat) and adapt (remix, transform, and build upon the material) for non-commercial purposes.
4. All Information contained in the journal is academic. The journal is not liable for any losses incurred by misuse of information from this site.