PENGARUH DIET LIPIDA LEMAK KEDELAI TERHADAP INSIDEN HIPERTENSI
Tiwi Yuniastuti

STIKES Widyagama Husada
Keywords:
Hipertensi, Susu Kedelai, Vasodilator
Abstract
Hipertensi dikenal sebagai salah satu penyebab kematian di Indonesia. Penderita hipertensi tidak hanya beresiko tinggi menderita penyakit jantung, tetapi juga menderita penyakit lain, seperti penyakit ginjal, syaraf, dan pembuluh darah. Tujuan dalam penelitian ini adalah untuk mengetahui pengaruh konsumsi susu kedelai terhadap tingkat insiden hipertensi. Penelitian ini dilakukan dengan rancangan cohort retrospective dengan pengambilan sampel secara accidental sampling. Penelitian ini menggunakan rancangan acak lengkap dengan 2 variabel dan 2 kelompok sampel, yaitu kelompok tanpa hipertensi dan kelompok hipertensi. Teknik pengambilan sampel dilakukan dengan kuisioner, wawancara terbuka, dan data sekunder. Data dianalisa dengan metode Exact Fisher Test. Hasil penelitian menunjukkan adanya pengaruh yang signifikan antara konsumsi susu kedelai dengan insiden hipertensi pada kelompok umur diatas 40 tahun. Hal ini berkaitan dengan adanya efek vasodilator pada flavonoid yang terkandung di dalam susu kedelai. Kesimpulan dari penelitian ini adalah adanya pengaruh konsumsi susu kedelai dengan insiden hipertensi. Untuk itu, peningkatan konsumsi susu kedelai kemungkinan dapat menurunkan insiden hipertensi dan penyakit kardiovaskuler lainnya secara jangka panjang.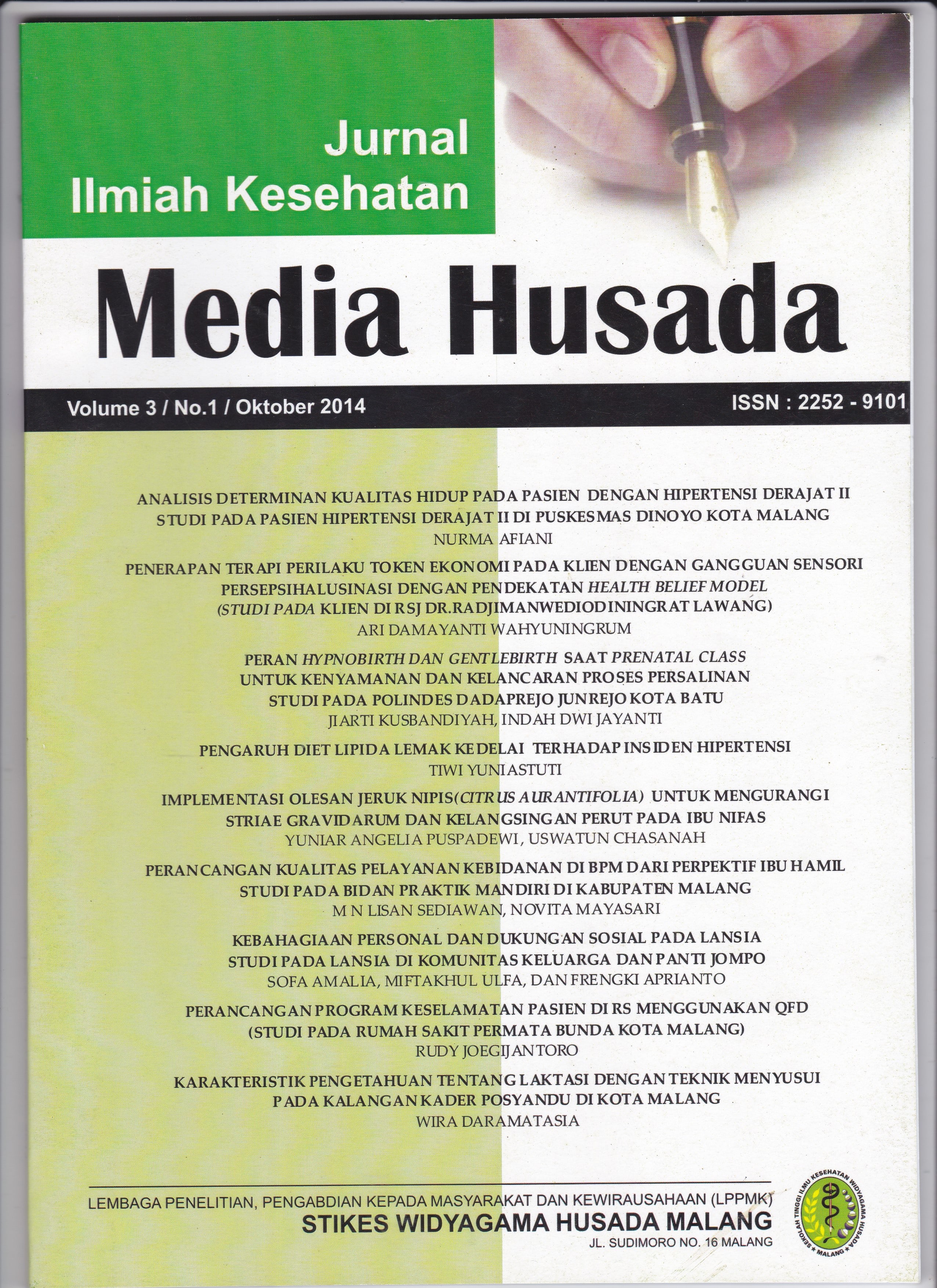 How to Cite
YuniastutiT. (2014). PENGARUH DIET LIPIDA LEMAK KEDELAI TERHADAP INSIDEN HIPERTENSI. Jurnal Ilmiah Kesehatan Media Husada, 3(1), 31-37. https://doi.org/10.33475/jikmh.v3i1.133
The authors who publish their articles in Jurnal Ilmiah Kesehatan Media Husada must approve the copyright statement as follows :
1. The authors agree to automatic transfer of the copyright to the publisher
2. All material contained in this site is protected by law.
3. If you find one or more articles contained in the journal that violate or potentially infringe your copyright, please contact us via email lppmkwidyagamahusada@ac.id
4. The formal legal aspect of access to any information and articles contained in this journal site refers to the terms of the licensed under a Creative Commons Attribution 4.0 International License. . This allows authors and others to share (copy and redistribute the material in any medium or fomat) and adapt (remix, transform, and build upon the material) for non-commercial purposes.
4. All Information contained in the journal is academic. The journal is not liable for any losses incurred by misuse of information from this site.