GAMBARAN HIGIENE DAN INFEKSI KECACINGAN PETUGAS PENGANGKUT SAMPAH DI KELURAHAN KEBRAON, KECAMATAN KARANGPILANG, SURABAYA
Yenni Dwi Kurniawaty

STIKES WIDYAGAMA

R Azizah

STIKES WIDYAGAMA
Keywords:
Higiene, infeksi kecacingan, petugas pengangkut sampah.
Abstract
Petugas pengangkut sampah memiliki risiko terkena penyakit infeksi kecacingan karena bekerja di lingkungan yang berisiko. Infeksi kecacingan merupakan penyakit yang diakibatkan oleh parasit. Penelitian ini dilakukan untuk mengidentifikasi kondisi higiene dan infeksi kecacingan pada petugas pengangkut sampah di Kelurahan Kebraon, Kecamatan  Karangpilang, Kota Surabaya. Penelitian ini dilakukan dengan rancangan studi cross sectional. Besar sampel yang digunakan sebanyak 15 orang. Karakteristik individu yang diteliti oleh peneliti adalah lama bekerja, usia pekerja, jumlah pendapatan, etnis, dan tingkat pendidikan. Kelompok umur pekerja yang dominan adalah 45-54 tahun sebanyak 40%, sebanyak 46.6% pekerja telah bekerja selama lebih dari 20 tahun, sebanyak 46.7% pekerja memiliki pendapatan yang didominasi sebesar Rp 550.001-1.100.000 tiap bulannya, seluruh pekerja berasal dari Jawa Timur, dan sebanyak 53.3% pekerja memiliki pendidikan terakhir di tingkat sekolah menengah pertama. Perilaku higiene yang diteliti adalah pemakaian alat pelindung diri saat bekerja, kebiasaan mencuci tangan dengan air bersih dan sabun, kebiasaan memotong kuku, dan kebiasaan mandi. Hasil dari penelitian ini adalah seluruh petugas memiliki perilaku higiene yang baik. Selain itu, skor pada masing-masing variabel perilaku higiene termasuk dalam kategori baik. Diagnosis tetap infeksi kecacingan dilakukan dengan pemeriksaan laboratorium sampel tinja. Hasil pemeriksaan sampel tinja menunjukkan bahwa 100% petugas pengangkut sampah tidak mengalami infeksi kecacingan. Kesimpulan dari penelitian ini adalah pekerja yang memiliki perilaku higiene yang baik tidak terkena infeksi kecacingan. Meskipun petugas pengangkut sampah tidak mengalami infeksi kecacingan, keadaan ini harus tetap dijaga dan ditingkatkan agar tidak terkena penyakit lain karena bekerja dengan sampah.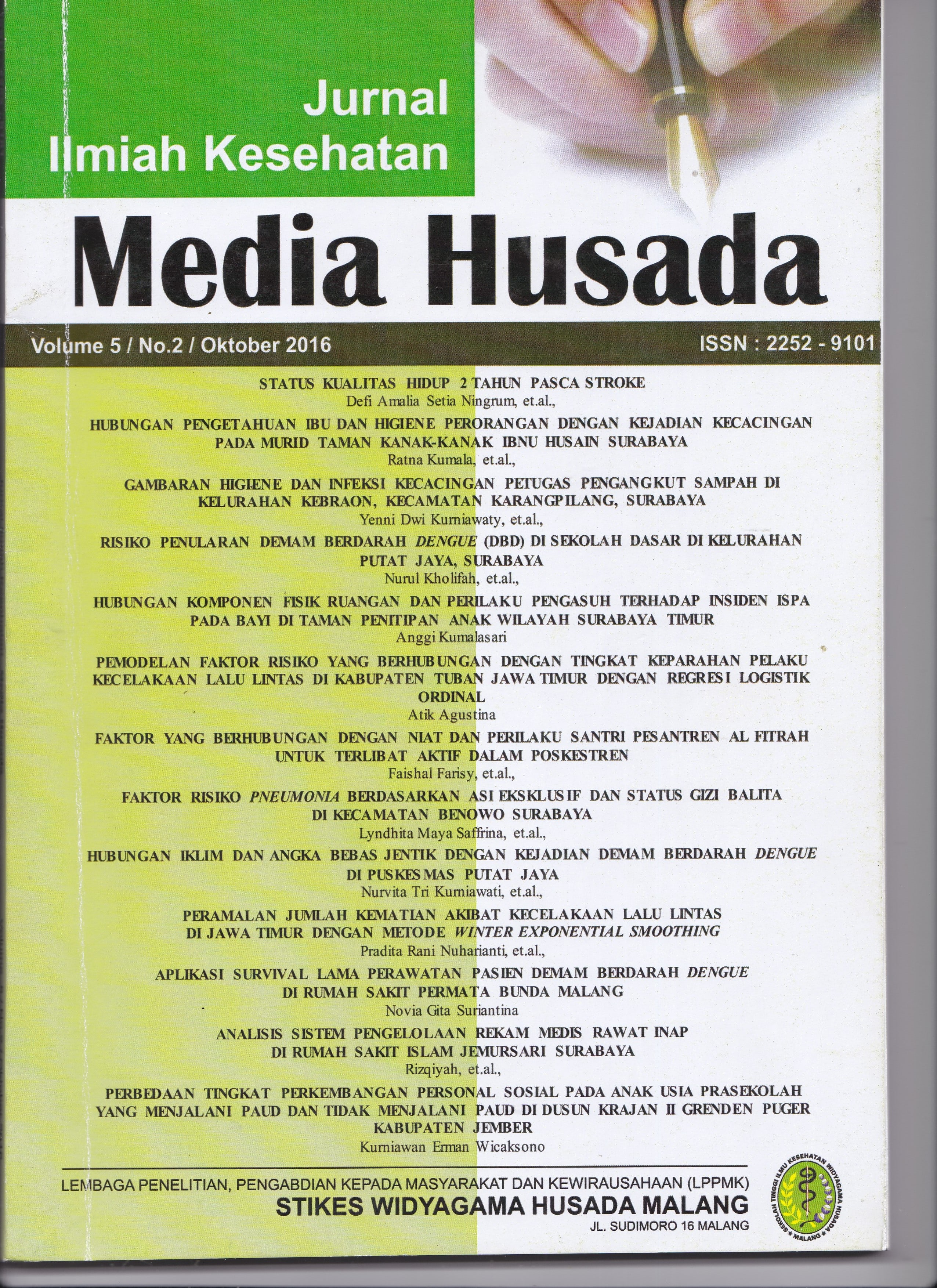 How to Cite
KurniawatyY., & AzizahR. (2016). GAMBARAN HIGIENE DAN INFEKSI KECACINGAN PETUGAS PENGANGKUT SAMPAH DI KELURAHAN KEBRAON, KECAMATAN KARANGPILANG, SURABAYA. Jurnal Ilmiah Kesehatan Media Husada, 5(2), 83-94. https://doi.org/10.33475/jikmh.v5i2.130
The authors who publish their articles in Jurnal Ilmiah Kesehatan Media Husada must approve the copyright statement as follows :
1. The authors agree to automatic transfer of the copyright to the publisher
2. All material contained in this site is protected by law.
3. If you find one or more articles contained in the journal that violate or potentially infringe your copyright, please contact us via email lppmkwidyagamahusada@ac.id
4. The formal legal aspect of access to any information and articles contained in this journal site refers to the terms of the licensed under a Creative Commons Attribution 4.0 International License. . This allows authors and others to share (copy and redistribute the material in any medium or fomat) and adapt (remix, transform, and build upon the material) for non-commercial purposes.
4. All Information contained in the journal is academic. The journal is not liable for any losses incurred by misuse of information from this site.