HUBUNGAN PENGETAHUAN IBU DAN HIGIENE PERORANGAN DENGAN KEJADIAN KECACINGAN PADA MURID TAMAN KANAK-KANAK IBNU HUSAIN SURABAYA
Ratna Kumala

STIKES WIDYAGAMA

Ririh Yudhastuti

STIKES WIDYAGAMA
Keywords:
kecacingan, pengetahuan ibu, higiene perorangan
Abstract
Infeksi cacingan merupakan penyakit berbasis lingkungan yang masih menjadi masalah kesehatan masyarakat. Kejadian umumnya tinggi pada daerah dengan kepadatan penduduk yang tinggi dengan sanitasi yang buruk. Penelitian bertujuan untuk menganalisis hubungan antara pengetahuan ibu dan higiene perorangan dengan kejadian kecacingan pada murid Taman Kanak-kanak Ibnu Husain Surabaya. Penelitian menggunakan metode observasional dengan rancangan studi cross sectional. Sampel penelitian ini adalah murid dan ibu murid TK Ibnu Husain Surabaya sebanyak 24 orang. Pengambilan data primer dengan metode wawancara dan pemeriksaan laboratorium. Analisis data menggunakan uji korelasi phi untuk mengetahui kuat hubungan antar variabel. Hasil penelitian menunjukkan sebesar 91,7% ibu memiliki pengetahuan yang cukup mengenai masalah cacingan pada anak. Sebesar 79,2% responden memiliki kebiasaan mencuci tangan yang kurang, sebesar 79,2% responden memiliki kebiasaan memotong kuku seminggu sekali, sebesar 75% responden memiliki kebiasaan bermain di tanah dan sebesar 45,8% responden memiliki kebiasaan memakai alas kaki yang kurang. Kejadian kecacingan pada responden sebesar 16,7%. Terdapat 3 variabel yang memiliki kuat hubungan cukup dengan kejadian kecacingan pada murid TK Ibnu Husain Surabaya antara lain kebiasaan memotong kuku (r=0,321), kebiasaan bermain di tanah (r=0,258) dan kebiasaan memakai alas kaki (r=0,486). Disarankan kepada pihak TK Ibnu Husain Surabaya untuk memberikan materi belajar tambahan terkait  perilaku hidup bersih dan sehat pada murid khususnya perilaku pencegahan infeksi cacingan.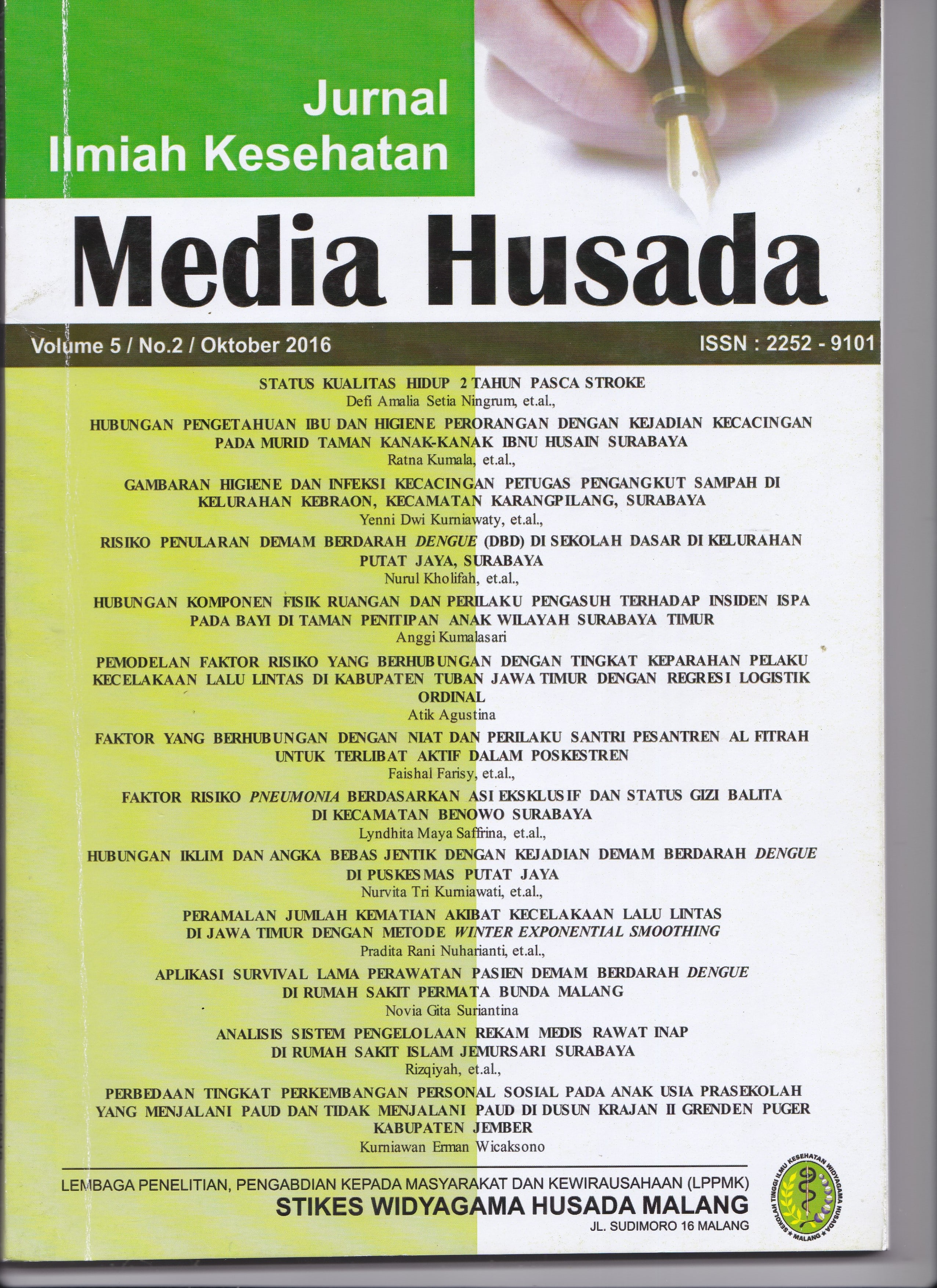 How to Cite
KumalaR., & YudhastutiR. (2016). HUBUNGAN PENGETAHUAN IBU DAN HIGIENE PERORANGAN DENGAN KEJADIAN KECACINGAN PADA MURID TAMAN KANAK-KANAK IBNU HUSAIN SURABAYA. Jurnal Ilmiah Kesehatan Media Husada, 5(2), 73-82. https://doi.org/10.33475/jikmh.v5i2.129
The authors who publish their articles in Jurnal Ilmiah Kesehatan Media Husada must approve the copyright statement as follows :
1. The authors agree to automatic transfer of the copyright to the publisher
2. All material contained in this site is protected by law.
3. If you find one or more articles contained in the journal that violate or potentially infringe your copyright, please contact us via email lppmkwidyagamahusada@ac.id
4. The formal legal aspect of access to any information and articles contained in this journal site refers to the terms of the licensed under a Creative Commons Attribution 4.0 International License. . This allows authors and others to share (copy and redistribute the material in any medium or fomat) and adapt (remix, transform, and build upon the material) for non-commercial purposes.
4. All Information contained in the journal is academic. The journal is not liable for any losses incurred by misuse of information from this site.