HUBUNGAN POLA DIET MAKANAN BERBASIS KEDELAI DENGAN KELUHAN GANGGUAN MENOPAUSE
Tiwi Yuniastuti

Stikes Widyagama husada

Ari Christina

Stikes Widyagama husada
Keywords:
menopause, complaint disorder menopause, food DNA-based soybeans menopausal rating scale
Abstract
Menopause is the process of cessation of menstruation permanently because of aging the ovary that is influential on secretions of estrogen, progesterone, and prostaglandins. Menopause result in condition vasomotor, cardiovascular, psychological and sexually will influence the quality of life woman. This condition necessary repairs through setting a diet of foods containing fitoestrogen an alternative as a substitute for estrogen natural. The purpose of this study is to see how the influence of soy-based food diet by female age group 51- 70 years against disturbances of menopause, especially disorders of cardiovascular disease by the method of Menopausal Rating Scale (MRS). This research using methods interview open observation lapangan kuisioner by method and menopausal rating scale. Data analyzed by employing correlation pearson through spss aid program. The results of data analysis of respondents indicated that there was no significant influence between consumption of especially food dna-based soybean with impaired complaint menopause. It is caused by the presence of factors of who also affecting, namely nutrition status, a disease that suffered and physical activity that is performed. The conclusion is consumption of especially food dna-based soybean only paid little influence against the minimization of disorder, complaints menopause because there were of factors of who participate in influence.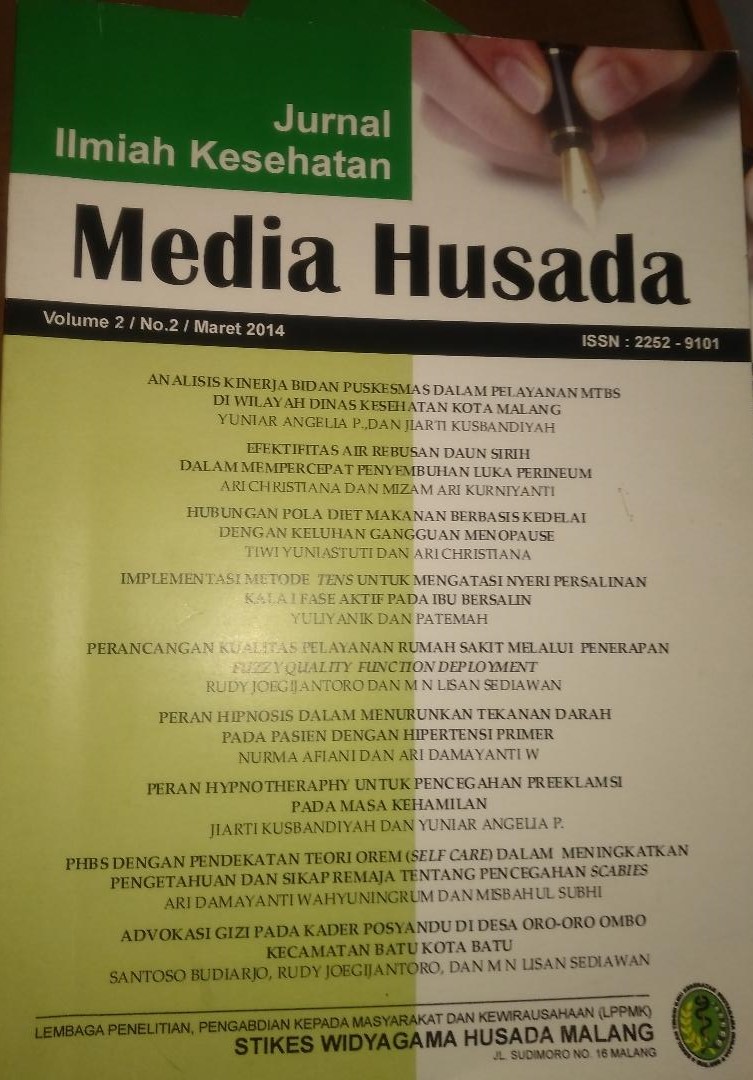 How to Cite
YuniastutiT., & ChristinaA. (2014). HUBUNGAN POLA DIET MAKANAN BERBASIS KEDELAI DENGAN KELUHAN GANGGUAN MENOPAUSE. Jurnal Ilmiah Kesehatan Media Husada, 2(2). https://doi.org/10.33475/jikmh.v2i2.116
The authors who publish their articles in Jurnal Ilmiah Kesehatan Media Husada must approve the copyright statement as follows :
1. The authors agree to automatic transfer of the copyright to the publisher
2. All material contained in this site is protected by law.
3. If you find one or more articles contained in the journal that violate or potentially infringe your copyright, please contact us via email lppmkwidyagamahusada@ac.id
4. The formal legal aspect of access to any information and articles contained in this journal site refers to the terms of the licensed under a Creative Commons Attribution 4.0 International License. . This allows authors and others to share (copy and redistribute the material in any medium or fomat) and adapt (remix, transform, and build upon the material) for non-commercial purposes.
4. All Information contained in the journal is academic. The journal is not liable for any losses incurred by misuse of information from this site.