EFEKTIFITAS AIR REBUSAN DAUN SIRIH DALAM MEMPERCEPAT PENYEMBUHAN LUKA PERINEUM
Ari Christina

Stikes Widyagama husada

Mizam Ari Kurniyanti

Stikes Widyagama husada
Keywords:
Daun Sirih, vulva higiene, kecepatan penyembuhan luka perineum
Abstract
Daun sirih (Piper betle ) mengandung kavikol yang bisa dimanfaatkan untuk perawatan tradisional, diantaranya untuk mematikan kuman, antioksidasi, fungisida dan anti jamur. Pada penelitian ini ingin diketahui fungsi kavikol yang memiliki daya antiseptic dalam mempercepat penyembuhan luka perineum pada ibu nifas yang dipergunakan saat vulva hygiene. Metode penelitian terdiri dari tiga tahapan, tahap pertama adalah melakukan ekstraksi daun sirih untuk mendapatkan kavikol dengan teknik perebusan selama 10, 15 dan 20 menit dengan suhu 100°C dan melakukan uji kimia dan karakteristik. Tahap kedua adalah implementasi pemanfaatan ekstrak kavikol untuk vulvahygiene pada ibu nifas terhadap kecepatan penyembuhan luka perineum Kesimpulan hasil penelitian adalah kadar kavikol tertinggi terdapat pada perebusan air rebusan daun sirih dengan waktu 20 menit dan dari hasil pengambilan data serta observasi dari 19 responden yang didapatkan sampai dengan tanggal 9 Nopember didapatkan data bahwa luka jahitan perineum pada ibu nifas sembuh dan mengering pada hari ke 3-4 post partum serta tidak ada tanda-tanda infeksi, sedangkan dari hasil wawancara dengan responden didapatkan informasi bahwa responden menyatakan nyeri pada luka jahitan perineum juga cepat berkurang dan terasa lebih kesat. Hasil yang didapatkan dari hasil uji T dari penelitian ini adalah tingkat signifikasi sebesar 0,000 sehingga dapat ditarik kesimpulan bahwa air rebusan daun sirih (Piperbetle) efektif terhadap kecepatan penyembuhan luka perineum pada ibu nifas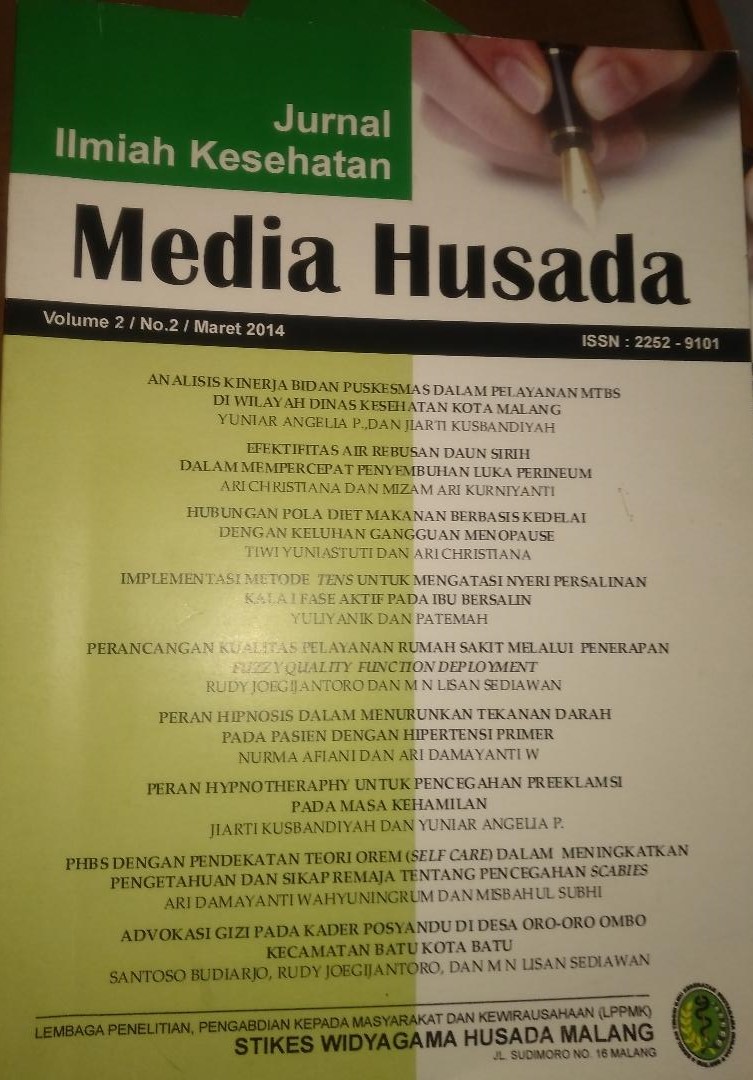 How to Cite
ChristinaA., & KurniyantiM. (2014). EFEKTIFITAS AIR REBUSAN DAUN SIRIH DALAM MEMPERCEPAT PENYEMBUHAN LUKA PERINEUM. Jurnal Ilmiah Kesehatan Media Husada, 2(2). https://doi.org/10.33475/jikmh.v2i2.115
The authors who publish their articles in Jurnal Ilmiah Kesehatan Media Husada must approve the copyright statement as follows :
1. The authors agree to automatic transfer of the copyright to the publisher
2. All material contained in this site is protected by law.
3. If you find one or more articles contained in the journal that violate or potentially infringe your copyright, please contact us via email lppmkwidyagamahusada@ac.id
4. The formal legal aspect of access to any information and articles contained in this journal site refers to the terms of the licensed under a Creative Commons Attribution 4.0 International License. . This allows authors and others to share (copy and redistribute the material in any medium or fomat) and adapt (remix, transform, and build upon the material) for non-commercial purposes.
4. All Information contained in the journal is academic. The journal is not liable for any losses incurred by misuse of information from this site.