EFEKTIVITAS PEMBERIAN DOSIS TINGGI METHYLPREDNISOLONE PADA TRAUMA SPINAL CORD AKUT
Abdul Qodir

Stikes Widyagama husada
Keywords:
Acute spinal cord, injury, Methylprednisolone
Abstract
Acute spinal cord injury is a devastating condition typically affecting young people, mostly males. High-Dose Methylprednisolone treatment in the early hours after the injury is aimed at reducing the extent of permanent paralysis during the rest of the patient's life. The aim To review randomized trials of High-Dose Methylprednisolone in Acute Spinal Cord Injuries. All randomized controlled trials of steroid treatment for acute spinal cord injury in any language. Data have been extracted from original trial reports. For the NASCIS, Japanese and French trials, additional data (e.g. SDs) have been obtained from the original authors. The evidence produced by this systematic review support the use of high dose methylprednisolone in acute spinal cord injury to improve neurological recovery. Patients who received high-dose methylprednisolone therapy should be observed with intensive in order to reduce complications from such therapy.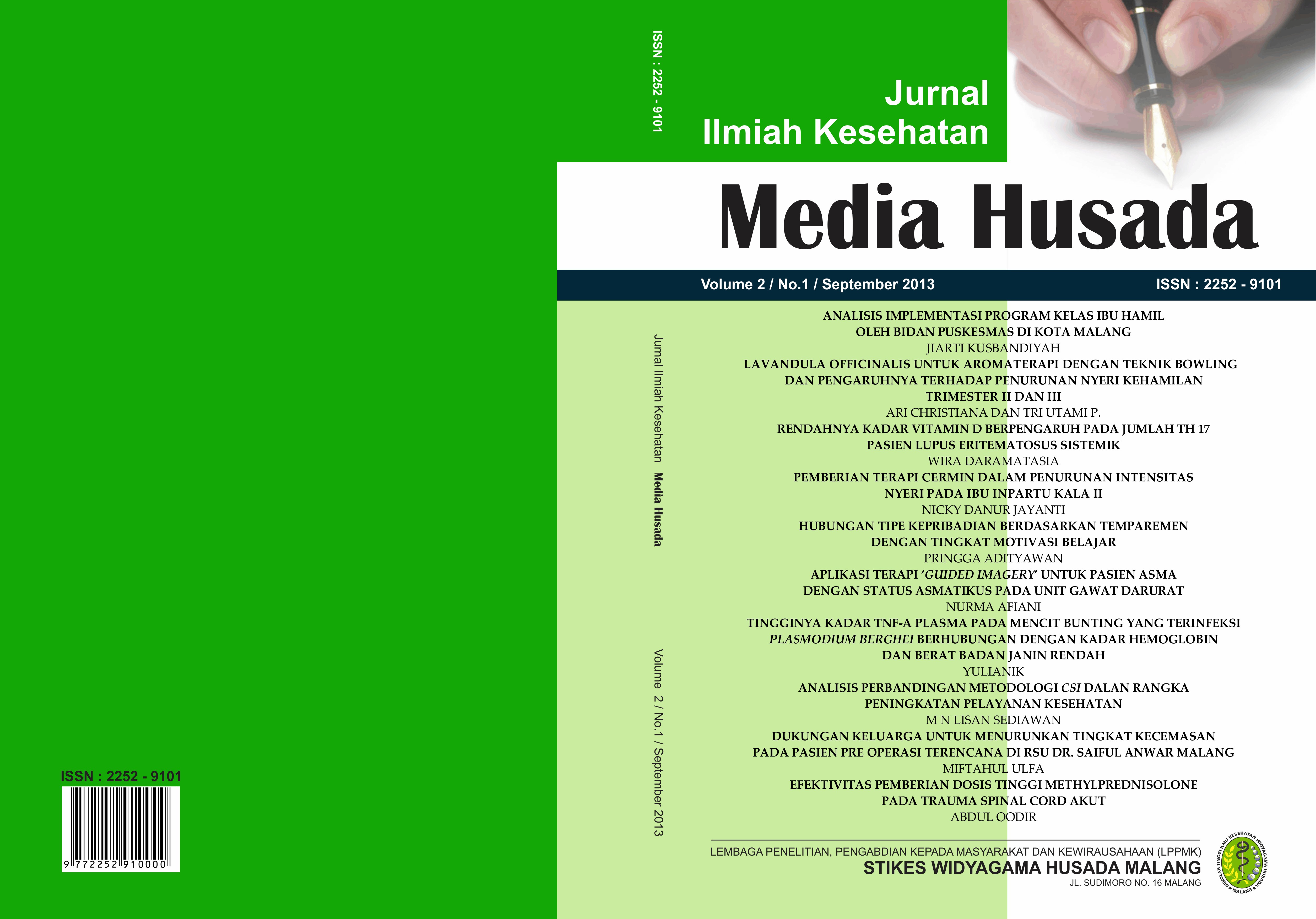 How to Cite
QodirA. (2013). EFEKTIVITAS PEMBERIAN DOSIS TINGGI METHYLPREDNISOLONE PADA TRAUMA SPINAL CORD AKUT. Jurnal Ilmiah Kesehatan Media Husada, 2(1), 81-85. https://doi.org/10.33475/jikmh.v2i1.112
The authors who publish their articles in Jurnal Ilmiah Kesehatan Media Husada must approve the copyright statement as follows :
1. The authors agree to automatic transfer of the copyright to the publisher
2. All material contained in this site is protected by law.
3. If you find one or more articles contained in the journal that violate or potentially infringe your copyright, please contact us via email lppmkwidyagamahusada@ac.id
4. The formal legal aspect of access to any information and articles contained in this journal site refers to the terms of the licensed under a Creative Commons Attribution 4.0 International License. . This allows authors and others to share (copy and redistribute the material in any medium or fomat) and adapt (remix, transform, and build upon the material) for non-commercial purposes.
4. All Information contained in the journal is academic. The journal is not liable for any losses incurred by misuse of information from this site.