TINGGINYA KADAR TUMOR NECROSIS FACTOR-α (TNF-α) PLASMA PADA MENCIT BUNTING YANG TERINFEKSI PLASMODIUM BERGHEI BERHUBUNGAN KUAT DENGAN KADAR HEMOGLOBIN YANG RENDAH TETAPI TIDAK BERHUBUNGAN DENGAN BERAT BADAN JANIN RENDAH
Yuliyanik Yuliyanik

Stikes Widyagama husada
Keywords:
Plasmodium berghei, Tumour Necrosis Factor-α (TNF- α),, Hemoglobin, Birth Weight
Abstract
Malaria infection in pregnancy may increase the morbidity and mortality of both mother and fetus. In pregnant women, it can lead to severe anemia, cerebral malaria, pulmonary edema, renal failure and even death, while in the fetus it can cause abortion, premature birth, low birth weight, and fetal death. Elevated levels of tumor necrosis factor-α(TNF-α ) is associated with low birth weight and anemia in pregnant women. This study was conducted to measure the levels of TNF-α in plasma and placental tissue, and hemoglobin levels as well as fetal weight to determine the relationship between them in P. berghei infected pregnant mice and normal pregnant mice. Seventeen BALB/c mice used in this study were divided into two groups, those were the study group (9 pregnant mice infected with P. berghei) and control group (8 pregnant mice not infected with P. berghei). Level of TNF-α were measured using Enzyme Linked Immunosorbent assay (R&D Systems, catalog A00B MT). Hemoglobin levels were determined using flowcytometri, whereas fetal weight were performed with Mettler analytical balance AE 50. T-test statistical analysis showed that the levels of TNF-α in plasma and placental tissue in study group were higher than control group (p=0.000, p=0.034). Hemoglobin levels in the study group were lower than control group (p=0.025). Fetal weights were also lower in fetuses of infected mice than fetuses of uninfected mice (p=0.002). Pearson correlation test showed increasing plasma levels of TNF-α in infected P. berghei pregnant mice were related with the decreasing levels of Hb, (r=-0.748; p=0.020,), whereas levels of placental TNF-α were not associated with hemoglobin level (p=0.337). Both plasma and placental levels of TNF-α were not associated with the incidence of fetal low weight (p=0.380, and p=0.365). It can be concluded that the increased levels of TNF-α is associated with decreased levels of hemoglobin (Hb), but not associated with fetal low weight.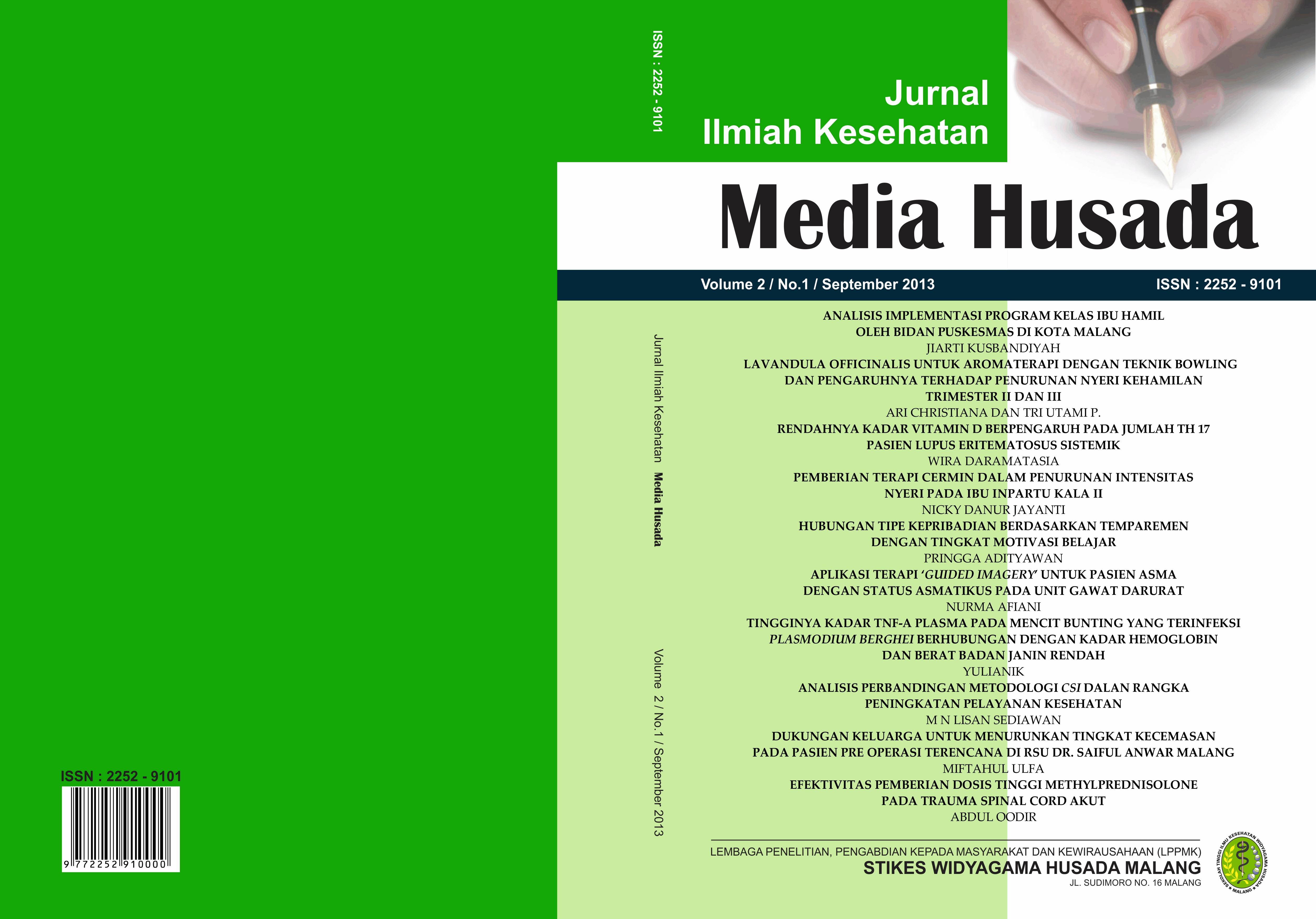 How to Cite
YuliyanikY. (2013). TINGGINYA KADAR TUMOR NECROSIS FACTOR-α (TNF-α) PLASMA PADA MENCIT BUNTING YANG TERINFEKSI PLASMODIUM BERGHEI BERHUBUNGAN KUAT DENGAN KADAR HEMOGLOBIN YANG RENDAH TETAPI TIDAK BERHUBUNGAN DENGAN BERAT BADAN JANIN RENDAH. Jurnal Ilmiah Kesehatan Media Husada, 2(1), 51-64. https://doi.org/10.33475/jikmh.v2i1.107
The authors who publish their articles in Jurnal Ilmiah Kesehatan Media Husada must approve the copyright statement as follows :
1. The authors agree to automatic transfer of the copyright to the publisher
2. All material contained in this site is protected by law.
3. If you find one or more articles contained in the journal that violate or potentially infringe your copyright, please contact us via email lppmkwidyagamahusada@ac.id
4. The formal legal aspect of access to any information and articles contained in this journal site refers to the terms of the licensed under a Creative Commons Attribution 4.0 International License. . This allows authors and others to share (copy and redistribute the material in any medium or fomat) and adapt (remix, transform, and build upon the material) for non-commercial purposes.
4. All Information contained in the journal is academic. The journal is not liable for any losses incurred by misuse of information from this site.