APLIKASI TERAPI 'GUIDED IMAGERY' UNTUK PASIEN ASMA DENGAN STATUS ASMATIKUS PADA UNIT GAWAT DARURAT
Nurma Afiani

Stikes Widyagama husada
Keywords:
asthma, Guide Imagery, Force Expiratory Volume
Abstract
Asthma is a disease of the respiratory tract that can be caused by multifactor. Psychological stress may be one trigger of asthma attacks. One of the psychological therapies that can be performed on patients with asthma is guided imagery. The method used in this study is a literature review as a basis for research to be conducted. The study of literature shows that there is a positive effect of guided imagery therapy against one of the lung function parameters forced expiratory lung capacity (force expiratory volume / FEV). Complementary therapies guided imagery is in line with medical treatment by other health care team to achieve optimal patient conditions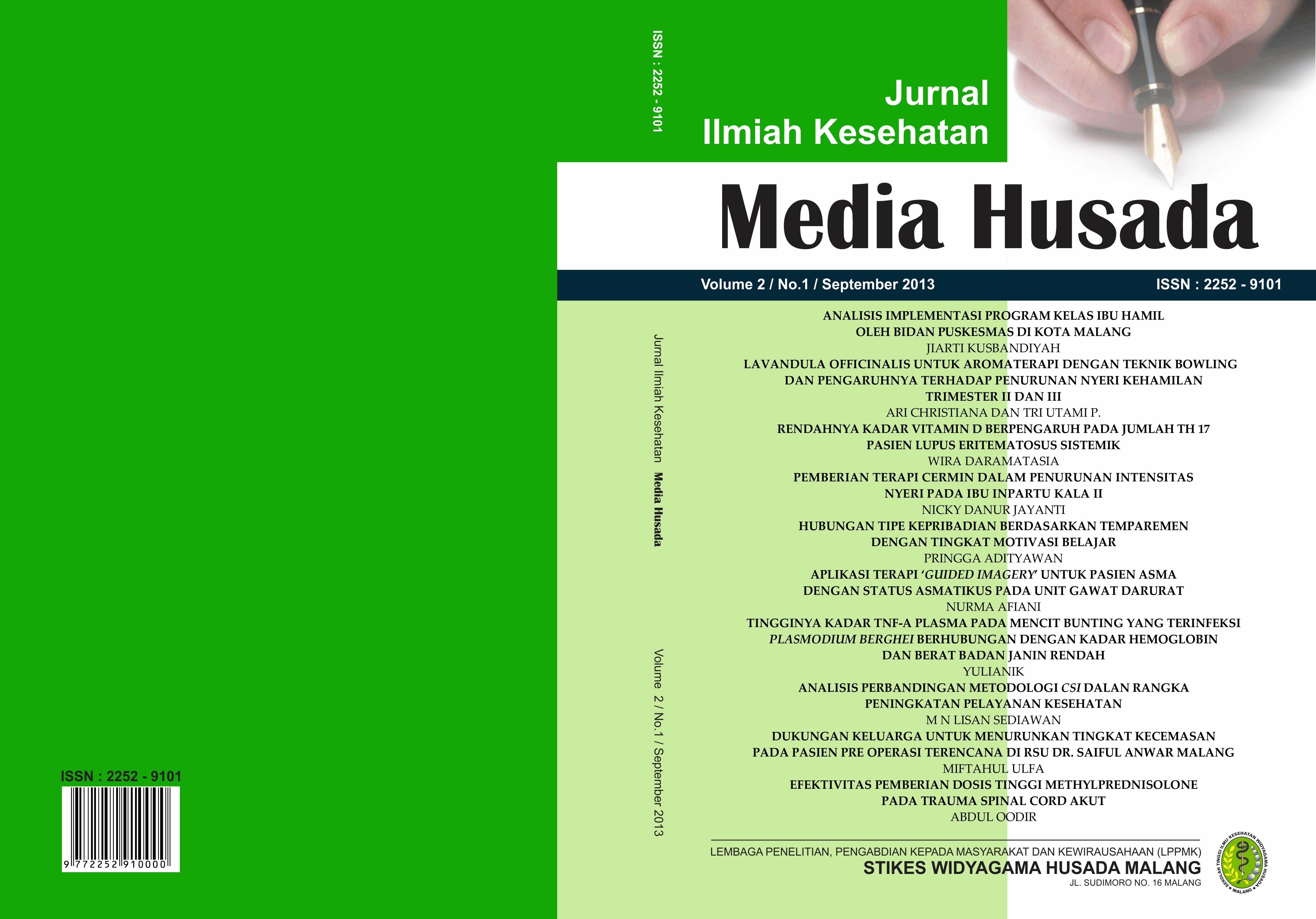 How to Cite
AfianiN. (2013). APLIKASI TERAPI 'GUIDED IMAGERY' UNTUK PASIEN ASMA DENGAN STATUS ASMATIKUS PADA UNIT GAWAT DARURAT. Jurnal Ilmiah Kesehatan Media Husada, 2(1), 45-50. https://doi.org/10.33475/jikmh.v2i1.105
The authors who publish their articles in Jurnal Ilmiah Kesehatan Media Husada must approve the copyright statement as follows :
1. The authors agree to automatic transfer of the copyright to the publisher
2. All material contained in this site is protected by law.
3. If you find one or more articles contained in the journal that violate or potentially infringe your copyright, please contact us via email lppmkwidyagamahusada@ac.id
4. The formal legal aspect of access to any information and articles contained in this journal site refers to the terms of the licensed under a Creative Commons Attribution 4.0 International License. . This allows authors and others to share (copy and redistribute the material in any medium or fomat) and adapt (remix, transform, and build upon the material) for non-commercial purposes.
4. All Information contained in the journal is academic. The journal is not liable for any losses incurred by misuse of information from this site.